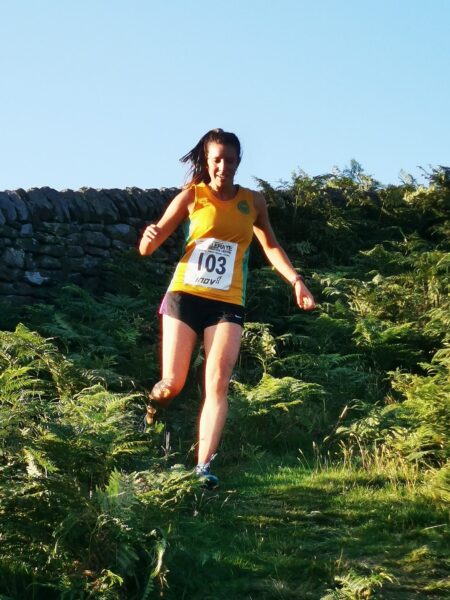 Race date: 5 August 2022
Race distance: 10.9km (7.1 miles)
Ascent: 486m (1535ft) – Category BM
This year's Salt Cellar race took place in glorious sunshine in the gap between two heatwaves. The course was almost entirely dry, though being Salt Cellar a few boggy bits had clung on. The bracken section was extremely (head heightily) brackeny and the midges by the dam were as hungry as they always are.
As always, Striders volunteer organisers Stephen, Simon and Dean and a team of enthusiastic marshals made a superb job of organising, planning and marshalling the event, as well as acting as cheerleaders when the going got tough, as it tends to on this challenging course. As well as giving a load of runners a smashing evening out, they enable the club to raise money for Edale Mountain Rescue, keeping fell runners and everyone else who uses the hills that bit safer.
112 runners finished the course, 8 of whom were Striders. The race was won by Ben Kelsey of Dark Peak (53:51.9).
Striders women were first (Abbie Pearse, 1:02:56.4) and third (Rebecca Pease, 1:08:37.4).
Striders results:
| | | | |
| --- | --- | --- | --- |
| P | Name | Cat | Time |
| 14 | Daniel Bent | M40 | 1:01:47.0 |
| 20 | Abbie Pearse | WSEN | 1:02:56.4 |
| 32 | Rebecca Pease | WSEN | 1:08:37.4 |
| 58 | Matt Broadhead | M40 | 1:16:15.6 |
| 69 | Will Day | M50 | 1:20:13.3 |
| 86 | Stephanie Millar | WSEN | 1:26:39.7 |
| 94 | Richard Taylor | M40 | 1:29:59.9 |
| 108 | Chris Reece | M70 | 1:41:27.7 |
https://www.webscorer.com/race?raceid=285436