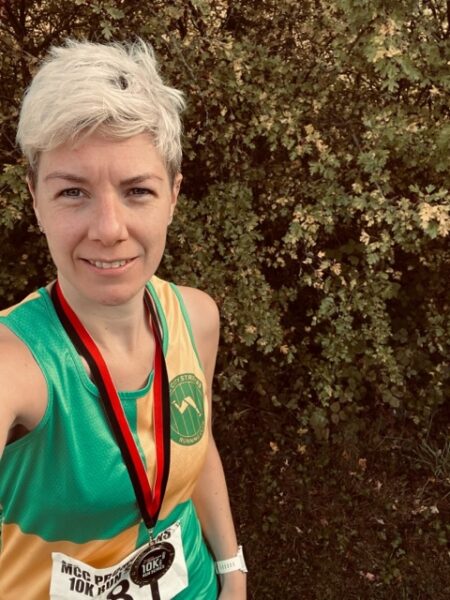 Race date: 9 October 2022
Race distance: 10km
Report by Helen Royles-Jones
The Sheffield City 10k is held at Rother Valley Country Park, and so not that close to the city. However, with 2 anti-clockwise laps around the lakes starting close to the water activity centre, the course has speed potential. No official chip timing but a measured course and a medal at the end was enough to tempt me for a 10k PB. Fast road shoes it was.
At £16 it's also a much cheaper option than the 101010 held on the same day.There was ample parking costing £1 an hour and a good selection of working toilets, with no queue for the ladies. The weather was bright and dry with not a lot of wind even close to the lakes.At the start line we heard a yell of 'sub-40 at the front!' and so we all stepped decidedly backwards, and then off we went.
With only an handful of ladies ahead of me, the race was going well until we reached the end of the first lap and were faced with an inexplicable section of diagonal, upwards, slippery wet grass. This did not match the course description of a 'paved' route and the road shoes weren't really up to it. I struggled to get up it the first time, knowing the second time at about 9.5km would be a nightmare.
Being Rother Valley, the second lap was the same as the first, if maybe a little slower and with more dogs to hurdle over. Soon I was back at the wretched grass banking but knew the finish line was just over the top of the hill.
I finished fast and to a small crowd of cheers. Strava clocked me passing 10k at 47:56. The course runs a little long and my official time was 48:18. A PB even with the grass sabotage.
There's a cafe at the end and I picked up some treats from the dog bakery. There was only one machine to take car parking payments and so we all had to queue to pay, and then had to queue in our cars to get out of Rother Valley. All in all a good race and I'd do it again.
The race was won by Marcus Dey of Loughborough Performance Triathlon Centre in 33:38, and by Fiona Kesteven of Totley AC in 39:54. 174 runners finished.
Striders results