Report By: Kimberley MacPherson
Race Date: Sunday 17th July 2022
The Sir Titus Summer Trot is a Grim Up North event with distance options ranging from 5km to UltraMarathon. The marathon distance starts in Saltaire and goes out towards Leeds on the Leeds-Liverpool Canal, back to the start, then out towards Silsden and back. Dave Beech did a smashing report on the history of the place if you're interested… Sir Titus Trot Autumnal Trail Weekend 2021 results and report by Dave BeechSteel City Striders Running Club Sheffield
Anyway, it's got to be said, it was a weird choice for a first marathon, but after getting halfway through a training plan for Edinburgh (twice!) and it being postponed (twice!) I just thought a smaller event would have more chance of going ahead. The date worked well for me too.
My training felt good. Wednesday night Hillsborough runs kept me motivated, and I tagged along on some longer runs at the weekends with a few very lovely and encouraging Striders.
As race day approached and I started to taper (which I didn't enjoy by the way, felt weird after running taking over my life for 18 weeks!). I was about 80% excited, about 20% scared to death.
Then the weather forecast arrived. What. The. Hell. My first ever marathon was due to take place on the hottest day in the entire history of planet earth. The week that followed was not enjoyable. I even emailed the organisers to check it was still going ahead!
Sunday morning arrived and I just thought "now or never". Although the forecast improved slightly, it was still 30+ degrees and humid. I hadn't trained in this and had no idea what to expect.
I told myself "you can do this, you can finish, just don't expect to keep your training pace, finishing is the important thing".
So, I got myself (#42) to the start for a briefing with the other marathon runners. And another Strider! Sarah Percival (#56). I can't explain how much better I felt for seeing her there too. Something about being part of the Striders that's made race days much more enjoyable for me.
As it was my first, my closest friends and family came to cheer me on and were all there at the start – turned out to be quite a support crew!
Off we went at 9.30am and headed out towards Leeds. I deliberately positioned myself at the back and was quite happy with that. Just over three miles out, to a cone and then back to the start line. Over six miles in the bag and I felt good. I had maintained my sub five hour target pace. I got the biggest cheer from everyone as I passed through and thought yes! I can do this!
The route then heads out towards Silsden, and at about eight miles there's a series of very short and steep rising canal locks (Bingley onwards). I knew they were coming and had already planned to walk up them.
But all of a sudden I had that horrible "wall" feeling creeping up on me. I don't know whether it was my inexperience in the heat, my adrenaline wearing off or just the pure shock that I was actually running a marathon, but I hit the "wall" like never before. At eight miles. And it was HOT by this time.
I should say at this point, as far as an "out and back" course goes, the canal path along here is very scenic. The views are beautiful. And the marshals were lovely.
Anyway, I had family and friends positioned along the route as I didn't know how well marshalled it would be. I saw them in the distance at mile 11 and by this point I was walking. And crying. Not managing to persuade myself that finishing was enough. After all my training! Why was this happening! It was so unfair!
I got some comfort from ice water and a cold sponge and started to jog/walk again.
The next five miles were all kinds of hell. My head just telling me to stop. I struggled to eat and drink, just immediately feeling sick as soon as I took anything. The salted peanuts I had come to rely on turning into peanut butter. And the constant fretting that I was drinking too much water… then not enough water. It was a nightmare.
I started to see other (faster) runners coming back and I don't think I was alone in my suffering. I saw Sarah and we just looked at each other like "this is ridiculous". It was so reassuring to see her still powering on and she gave me an encouraging boost.
Between mile 16-17 the trail ground was uneven, and my dizzy head told me to walk. By this point I knew it was going to be impossible to finish under five hours. I think I just came to terms with it. I pushed through. And from that point on I just let go completely. I walked in the blistering sun. I jogged in the shade. I soaked in the cheering from my friends and family, who jog/walked by my side for sections with ice and water. And I FINALLY enjoyed my last 10 miles.
I saw the finish line in the distance and just couldn't believe I was nearly there. I crossed it at 5:40:23. A painful 40 mins longer than I wanted to be out there for. AND it was 26.5 miles. But I crossed the line. And actually, in those conditions, finishing WAS all that mattered.
32 people completed the marathon, and all of us can say we ran a marathon on one of the hottest days in history. Sarah who I swear must be superhuman was 3rd lady! And if you're a medal fan… this was a cool one!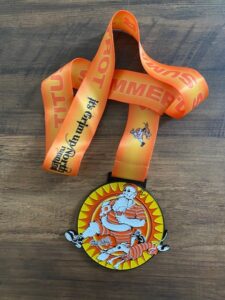 I've had so much support since, and this is exactly why I'm a Strider. Because we come first, we come last, and all the way in between, and everyone's running is equally as valued and celebrated.
From a first time marathon runner to any other first time marathon runners out there that are interested… some good advice I was given and followed (most of the time!):
Make a plan, but you don't need to stick to it religiously. Be flexible. Listen to your body. Rest when you need to. And go a bit further if you want to.
No shame in walking bits of your long runs.
If there's a local event on that matches a distance on your training plan, then go for it. It takes some self-restraint to stick to your marathon pace in a shorter race, but if you can do it then it means a change of scenery and some race day nerves practice. I did Buxton Half, Hull Half and Ashbourne Half all as training runs and loved them as there was no pressure to go fast!
Practicing running whilst taking on fuel needs to start early. I swore by fizzy fish, salt and vinegar peanuts and Trek lemon protein flapjack (all vegan).
Speed training is only necessary if you want to be speedy, which I'm not.
Stretching (yoga or similar) was a life saver for tight legs.
I'm convinced sports massage kept me injury free during training. Every 2-3 weeks. If you've not had a sports massage before then be ready for a painful hour, but I promise it's so worth it. Can highly recommend Sports Massage by Felipe Del Solar.
And beetroot is the superfood for runners!
I'll definitely revisit marathon territory in the (not near) future, but maybe book a winter one next time!
The race was won by Stephen Hayes in 3:17:51 and first woman was Emma Burckhardt in 4:14:50.
| | | | |
| --- | --- | --- | --- |
| Name | Position | Cat | Time |
| Sarah Percival | 14 | F | 4:39:32 |
| Kimberley MacPherson | 25 | F | 5:40:23 |
Full race results here.