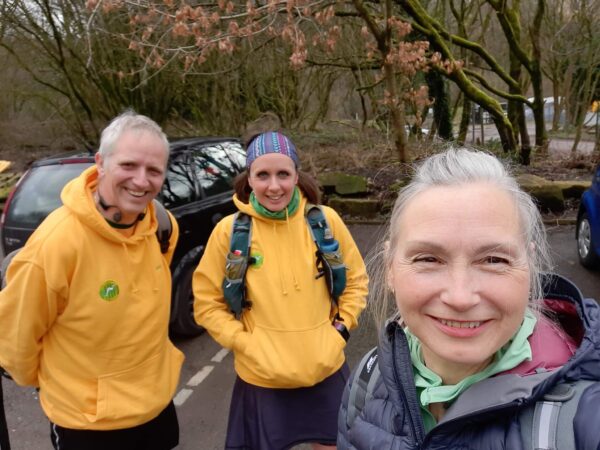 Race date: Saturday 5 March 2022
Race report by Cara Hanson
The Sithee at Slawit slog jumble is organised by Grim up North and starts in Slaithwaite, there were a range of distances on offer ranging from 5k to Ultra, all with staggered starts, the longer distances setting off first.
Chris, Nada and I entered this as a day out somewhere different, we opted for the half marathon. It's just over an hour away and the drive was lovely taking us through stunning scenery and through the pretty town of Holmfirth.
The race started on the canal in Slaithwaite, we got there early but luckily registration was in the Waves centre, a nice little community centre, so we could stay warm while we waited to start. The weather wasn't too bad, a bit cold but dry.
Our race started at 11am and consisted of two out and backs along the canal. Despite being a canal it was not flat, there was a fair bit of climbing on the way out as we climbed lock after lock, it was very muddy and cobbley (if that is a word). We then came off the canal and up a grass verge and onto another trail, where we then turned around and headed back only this time we had a head wind making hard to pick up the pace as we went downhill.I some how managed to keep a fairly consistent pace and enjoyed the run, despite finding it hard, I think the scenery helped, lots of lovely hills to look at and the usual canal going-ons. It was tricky navigating round people and their dogs but luckily no one fell in the canal.
As my watch hit 21k I realised the finish line was a little further away and I finished at 21.6 k, an extra 500 metres. It didn't bother me, I was just happy to finish. Grim up North have had a fair bit of stick over their distances being wrong but they do have the following disclaimer on their website "PLEASE NOTE OUR MEASUREMENTS ARE NOT EXACT, THIS IS TRAIL RUNNING NOT ROAD RUNNING. WE TRY TO GET AS NEAR TO THE EXACT MEASUREMENT AS POSSIBLE. HOWEVER, YOU WILL USUALLY GET A LITTLE BIT MORE FOR YOUR MONEY. WE CAN ONLY PUT OUR LOVELY MARSHALS AND FEED STATIONS WHERE IT IS FEASIBLE TO PUT THEM. THANK YOU FOR YOUR UNDERSTANDING."
I was happy to finish first female with Nada finishing just after Chris as third female.
At the finish we were greeted with usual yummy selection of cake, beer and chocolate and lots of friendly chat.
I fully recommend Grim up North races if you like cake, trails and friendly atmosphere.
The race was won by Luke Smith of Belgrave Harriers, in 1:24:34, and Cara Hanson, of Steel City Striders, in 1:52:36.
Striders results
| | | | | |
| --- | --- | --- | --- | --- |
| P | Name | Cat | Time | Cat P |
| 13 | Cara Hanson | F | 1:52:36 | 1 |
| 20 | Chris Smith | M | 2:06:04 | 18 |
| 21 | Nada Ross | F | 2:06:20 | 3 |
Full result: https://bookings.itsgrimupnorthrunning.co.uk/uploads/results/2022/Draft%20Results%20Slawit%20Slog.pdf