Spencer's Dash is a 3 race series hosted by Barnsley AC.  Held on Thursday nights this a back to basic running.  Meet at Barugh Green, pick up your number and your ready to go.   Race is limited to 200 runners with 150 signed up for the series and 50 available on the night.
The start is an informal, and interesting arrangement.  Waiting in the pub carpark the field waits for the traffic lights to go red, our favourite starter call the field into the road and with the bang of the gun off we go.
It's a pretty simple affair,  downhill road section,  turn left to the uphill drag (and it is), turn left (there's a pattern here) more downhill, another left onto the trail section.  Not too long but mainly uphill.  Another left, back under the motorway (uphill) and your home.  6Km.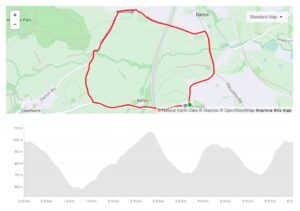 Race 1 was won by Kai Sunman of Holmfirth Harriers AC in a time of 20.13.  First lady home was Vicky Shaw of Barnsley AC in 25.03.
Race 2 was won by Gareth Cooke of Barnsley AC in 20.40.  First lady was Lydia Race again of Barnsley AC in 25.17.
Race 1 Full results – https://racebest.com/results/gqf4u
Race 2 Full results – https://racebest.com/results/t4y56
Final Race in the series is September 1st
So far the only Strider has been Simon Gleadhall
| | | | | |
| --- | --- | --- | --- | --- |
| Race | Name | Position | Cat Position | Time |
| 1 | Simon Gleadhall | 129 | 9 | 35.06 |
| 2 | Simon Gleadhall | 85 | 4 | 35.31 |