Race Date: 14th May 2022
Report By: Mandy Taylor
The Spire Ultra is based on the 34 mile Round Chesterfield Walk. The not so good scenery re passing industrial estates and back alley type paths is made up for by plenty of beautiful scenery around Chesterfield at Press, Barlow and Heath, the route passes the historic building of Sutton Scarsdale Hall and takes in Linacre Dams. A fair amount of the route passes though working farms, as well as an old railway line and the Five pits trail.
The Spire ultra is 33 miles due to slight changes re health and safety/road crossings.  There are 6 checkpoints round the course that have to be passed in order to finish.
The day dawned bright, too bright for me, it was hot. Heat and hills a definite killer. Where you might think the breeze will blow out in the open actually the sun seemed to intensify.
The marshals were very nice, friendly and encouraging, and 3 of the 6 stops has sweets, bananas, biscuits as well as plenty to drink. Definitely needed. A nice touch was the ice lolly at Barlow.
The run however, seemed to be jinxed for me from the off, 2 days before my tracker/watch strap broke and I had to tape it together for the day! For some reason my hydration vest is just not suiting me and after the 10th mile mark started to give me pain across the shoulder blades in my back, leading me to carry it like a handbag! (There are pics to prove it.) And as I know I'm usually prone to swelling feet in the heat I put on trainers with room. Mistake, feet decided to shrink? And I was left with blisters on my little toes by mile 20.  Luckily enough a friend met me at the canal near Whittington where I managed a shoe and sock swap, I also had a breather, teacake and flapjack, much better.
There were areas of shade though in lots of small woods that you had to go through and this did help during the course of the day. Had to go through a field of rapeseed, have to say I didn't realise it grew so high, me being 5 foot, and the plants around 7 foot, I just had to concentrate on a 2 foot wide path on the ground!
It's an interesting route very hilly in places and it is waymarked most of the way round so fairly easy to follow if you don't have GPS (I don't) though I did come across a few lost souls and helped them back onto the right track.
Not sure if the heat of the day had anything to do with it but there were quite a few that did a no show.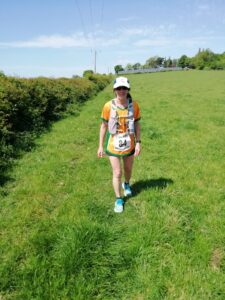 Report By: Douglas Armstrong
The Spire Ultra is an undulating 33 mile loop around Chesterfield. A bit like the Round Sheffield route there were long sections of really pretty running interspersed with stretches that were distinctly less pretty, but overall it was more scenic than I'd expected with an abundance of bluebells and blue skies all day. Oh yes, the blue sky and the sun… it was hot, really hot. I'd started fine but the heat took it's toll in the final 10 miles. Still, I made it round in 25th place (75 starters), albeit a fair bit slower than I'd hoped. Mandy was the next person over the finish line just a few minutes behind. It was my first ultra and I'm not immediately ruling out doing another which seems like a victory!
There were 3 teams of 3 doing the relays. In all 75 solo runners set off from North Wingfield with 69 completing. 1st Male was Kevin Hoult in 4hrs 45mins. 1st Female was Sarah Challener in 5hrs 43mins. There were no age categories.
Striders Results
| | | | | |
| --- | --- | --- | --- | --- |
| P | Name | Cat | Cat Pos | Time |
| 25 | Douglas Armstrong | M | 22 | 06:43:49 |
| 26 | Mandy Taylor | F | 4 | 06:48:30 |
Link to full results here.