Thursday 18th August 2022
Report by Laura Greaves
Stan's Toffee Run isn't your standard trail race name, so naturally I googled who Stan was, turns out he was a bit of a running legend, who passed away in 2009. He loved running around Elsecar/Wentworth and was known for handing out toffees at races. So his club Kimberworth Striders set up a race in his honour. Stan sounds great! The bit that made me sign up to this race was the free bag of toffees and buffet at the end, and the fact it was only 4 miles.
It got me thinking if I ever become a running legend (doubtful) and inconveniently die on you all, what would I like a race named after me to be called. I settled on Laura's Wispa Gold Run, as I love Wispa Gold, and the gold makes it sound like I used to win stuff. You can all bash out a lap of Damflask, and then climb up a horrible, steep hill to Bradfield, where I was forced to do cross country at school. Fag breaks halfway round are optional.   Anyway, enough about my fantasies.
I'd cleaned the bird shit off my car and petrol prices had come down a bit, so I was back offering lifts to races again. This time I picked up Steve and Cara. If you think I'm mental, you've clearly not met Steve Blake yet.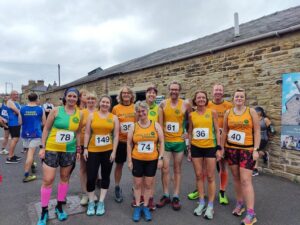 The race started at Elsecar Heritage Centre. Apparently, there's a market out there for finding out about the history of Barnsley. Who knew!  A small but perfectly formed bunch of Striders had gathered near the start. The main talking point was Neil Schofield's silky green, eye wateringly short shorts, paired with the 40th anniversary vest. What were you all thinking in the 80s, is all I have to say!  The pre-race briefing was some inaudible shouting from the organiser, who seemed to be describing every twist and turn of the route in great detail, complete with the marshal's names. I admired his optimism for expecting me to remember all that after a long day at work.
16 marshal's names and the geography of the local area thoroughly described later; we were off. A gravelly start was followed by a wooded section, before the big climb of the route up through several stiles and fields to Wentworth. Halfway up some cows were trying to cross in front of us, but politely waited for us to pass like they understood what was happening. I reasoned with myself that, as this race only happens once a year, they clearly didn't know what was happening. That, and the fact that they are cows.
After some walking I reached the top of the hill to be greeted by some liars (marshals) telling me it was the last hill. Last big one, yes, but not the last one!  When it flattened out a bit, we passed the Needle's Eye. When I told my dad about the race afterwards, he said, 'Do you know why that's there?' 'No, dad', so he then proceeded to tell me that it was built in the 18th century and was believed to have been commissioned by the Second Marquess of Rockingham to win a wager, by claiming he was able to 'drive a coach and horses through the an eye of a needle'. The lengths men will go to, to get bragging rights. I was hoping we would run through it, but we just skirted past.  Next, we popped out onto the road, for a lovely downhill section, before heading back through some fields and the final wooded section, which was most definitely undulating.
Around here a guy fell at my feet. Turns out he doesn't love short, sweaty, distinctly average female runners, he did in fact just trip up over a rock and face plant some gravel. I stopped for a while to check he was ok, before carrying on as I hadn't paused my Garmin. If that sends me to hell, then so be it.  We then re-entered the heritage centre for the final sprint to the finish. Here I spotted a lady in front slowly running to the line, so I decided to take her, spurred on by some cheers from fellow Striders.   At the finish I caught back up with Neil, and despite a bit of thigh chafing due to their shortness, the shorts were a success as he came in as first Strider. Well done, Neil.
A bag of mixed toffees later, we eagerly awaited the opening of the buffet in the pub, which timed perfectly with the heavens opening. Inside we were greeted by tables and tables of beige delights. There were 180 people running and you could still go back for seconds, which is my kind of buffet. I've decided all races should end at a pub with a buffet.  Prize giving followed, with Sarah Allcard and Karen Clark both picking up prizes, before a lovely sunset and then home.
Overall, it's a great little local race, with your tea and some toffees all for £5. I will be back.
16 Striders Ran.  It was won by Alan Ford of Barnsley Harriers in 25:21, and first lady was Naomi Drakeford of Barnsley AC in 29:44.
Pos
Cat
Time
Cat Pos
20
Neil Schofield
30:22
29
Sarah Allcard
W45
32:17
1
32
Paddy Treehowes
32:36
33
Ian Black
32:42
49
Tom Cossham
34:24
55
Steve Blake
35:26
59
Claire Wren
35:43
62
Karen Clark
W55
35:59
1
64
Kate Scott
36:03
74
Kevin Haighton
36:45
78
Cara Hanson
36:58
122
Laura Greaves
42:11
139
Jo Gleig
45:06
144
Jane Huws
45:38
149
Rosie Smith
46:13
151
Paul Shelton
47:11
;
Full results see http://kimberworthstriders.co.uk/joomla3/images/joomgallery/Striders/Results/Stan2022.pdf