Attempt Date: Friday/Saturday 1st/2nd July 2022
Where to start on writing about this challenge. I suppose walking home from The Crown in 2019 after having had 7 pints and deciding that 2021 would be the year to give the BGR a go. As I'd had 'a few' it was easy to type up on Facebook my intentions and click post. The following morning it didn't seem like such a good idea but it was out there now so what the hell.
Fast forward a few months and Covid put a dampener on everyone plans including mine so the 2021 plan was shelved. However, 2021 was the year when I vowed to do at least one ultra a month come rain or shine and I certainly got plenty of both. I managed somehow to keep the South West Coastal Paths running holidays with Ben and Steve going too so there was ample practice time.
2022 was to be the year of the big challenge. Jason Brannan had an attempt in July 2021 but got injured at the end of leg 1 and pulled out at the end of leg 2. He approached me about training and attempting together and I gladly accepted.  I put big mileage weeks in during the dreary winter months through running to work and back as a minimum (40 miles) and topped up with weekend events.
Training became more focussed during late winter/early spring with a Kinder Dozen, a weekend away at Black Sail (conditions, horrendous) reccie of leg 1 (conditions grim), night reccie of leg 2 (conditions even grimmer ) day reccie of leg 2 (conditions – out of this world, crisp, snowed topped mountains, pure blue skies), the tea round (conditions, cold but quite nice), the old county tops followed by leg 1 the next day (we bailed halfway through leg 1 as the conditions were so bad). Basically, go the the lake district, expect crap conditions (can't have lakes without water) and be pleasantly rewarded when the conditions aren't horrendous – which doesn't seem very often – maybe I'm just unlucky)
Anyway, the date of 1st/2nd July was chosen. I've been up there twice before for the Saunders mountain marathon on this weekend and had mixed weather but it's summer so it surely must be ok right? Optimist not a pessimist always :). I picked my support team with a mixture of Striders, ex Striders, second claim Striders and a few friends and family from back home (Penrith).
Jason and I went to do leg 3 and 4 reccies as our last big run before the event. The weather was average (which was good for me) and we both felt strong. About a week later (3 weeks before BGR day) Jason messaged me to say he'd torn his calf muscle and was out for 3 months so I was on my own. I was gutted for him but the show must go on. With a few days to go, Louis Wood caught Covid and he had to drop out. With some shuffling of the pack, Simon Bayliss kindly offered to do legs 2 and 3 instead of 3 and 4. However, on the night before the attempt, his car hit a rock on Winnat's pass and the petrol tank burst. He messaged me to say he might not be able to make it. Huge panic ensued until he managed to get a rental car and therefore was able to make the journey. As you can see, there's a lot goes into this organisation and things can go drastically wrong. The ends that people will go to not to let me down are outstanding. Thankfully I had a team together and was ready to go on the 1st July
Come the day, the weather forecast was not looking too appealing. Torrential rain starting at about 11pm right through until 4am including high winds. I messaged Simon about the grim forecast and his reply was, 'we've ran through worse', which indeed I suspected was true. The plan was to leave Keswick at 7pm but another group had also planned to leave at 7pm. I was there with my leg 1 support team and supporters early and really keen to get going so at 6.45pm I thought, 'sod it, let's just go'. I was supported on leg 1 by Caroline Brock, my cousin Clare McKeown (21 hour BGR), my ex school and rugby mate Gary Johnson (21 hour BGR) and their mate Richard (21 hour BGR) so top quality pedigree support.
I don't think I've ever seen the top of Skiddaw before but it was a clear evening and maybe this was to the exception. Ha! as if. The clag soon descended and visibility was down to 50 metres or so. Not long after the first drops of rain came and out came the rain coats.Great Calva then Blencathra came through the mist. Light was fading badly, rain was constant and my Inov8 x-talon 260 ultras are shocking on wet rock (as those who saw me tumble into the river at Buckden can testify). A few slides and a forward roll down Halls Fell got me down to Threlkeld 6 minutes ahead of schedule. My leg 1 team had been awesome in keeping me on schedule, navving in the mist and dark, nagging me to eat and drink. I really can't thank them enough.
I changed my sopping wet shirt at the leg 1/2 changeover only to put my drenched OMM back on. I put my mittens on. We all suspected that leg 2 was going to be 'interesting' . We'd already had an interesting recce of leg 2 in the dark when the wind almost blew us back to Threlkeld. Tonight was forecast to be the same but this time with added fog and heavy rain. Before I'd reached the top of Clough Head, I had pools of water in my mittens and my hands were clenched into balls. Simon was navving but he had disappeared (he was about 15 metres ahead but we couldn't see him). Al Cook and I put our heads down (the rain lashed and stung your face if your head was up) and caught up with Simon. The next 4 hours was as grim as it could get. The only positive was that the rain wasn't cold. Simon did an absoluely amazing job at navving leg 2 in these horrendous conditions. We came off Dollywagon and were a little disorientated but soon found our way to Fairfield. This peak is a pain in the arse at the best of times as it's an out and back and there's no reason for it to be on a 'round' course. To add insult to injury, the path zig zags up the mountain so we got blasted by the wind from all directions. Morale was low, at it's lowest and once we reached the summit, my statement was, 'let's get the fuck off this hill'. Down we went, only to be harassed by the wind all the way down. It was at this point that I was thinking, 'why am I doing this, it's supposed to be fun and I hate it'. However, there was a team of support runners waiting for me, an immense road support team and umpteen supporters at home cheering me on and all of this spurred me on. The last peak on leg 2, Seat Sandall, came and went and with it came the first rays of light.
As we descended into Dunmail Raise, there was Richard Pegg and Amy Duck, ready for me. The time was 4am and these amazing people were there to ensure I could fulfil my ambition of completing a Bob Graham Round. How could I even contemplate quitting? Al Cook gave me his coat as mine was useless. I had a bit of food and when we left Dunmail it was daylight, the wind had stopped and the rain had also ceased. It was like good old God had flicked the weather switch. Spirits rose and off we went. Amy set her stall out very early, 'eat this or I'll shove it in your mouth anyway'. Whilst Simon continued his amazing nav on leg 3, Amy ensured I was kept well fed and watered. The caffeine bullets were now called for and soon I was buzzing my way along the leg 3 peaks. We ascended Bowfell and Amy told me we were 46 minutes down on the 23 hours schedule I'd set myself. This didn't compute in my tired brain as only a few minutes earlier I'd cheerily said, 'we've done 33 miles in 11 hours 15 minutes, Halfway!' I was therefore expecting to be on a 22 hour 30 minute schedule. Morale dropped again and the couple more peaks came and went and we were now 57 minutes over the 23 hour schedule. I could feel it slipping away, despair was creeping in and I now had to reconcile the fact that I might not succeed. Both Simon and Amy again were excellent though in keeping my spirits up and saying that I can make up time on legs 4 and 5.
I still felt strong and was first to the top of the West Wall Traverse (it's a horrible scramble with 16 hours in yours leg) but the scree run down into Wasdale was awesome. As soon as your foot hits the scree, you slide about 3 feet before you plant the next step. Was great fun. Into Wasdale I came, on a 24 hour 15 minute schedule. I had to make at least 15 minutes up. I told the crew to ensure that the support runners at Honister were ready to go when I got there at the end of leg 4 as I didn't have time to rest or eat, I'd be going right through. More caffeine helped me power up Yewbarrow having picked up my new crew of Hal Roberts and Alasdair Menmuir. Amy Duck and her dog, Betty, continued on through leg 3 onto leg 4. Simon passed the baton on after leg 3 and I really can't say a big enough thank you to him for his help on leg 3 and especially leg 2.
Simon had told me previously that Pillar was his favourite peak on the round as you can see the whole round from it. He lied because we couldn't see more that 10 metres. The clag and rain were back. Hal kept me informed of my progress in respect of making time up and throughout leg 4 we kept eking out a little bit of time. As we came off Great Gable, we were met by Andy Green. It was so nice to see him. As we ran up Green Gable, there was a bunch of my non-running Sheffield friends who had organised a flash mob to cheer me on. I could just about see them through the mist but was left confused by who most of them were.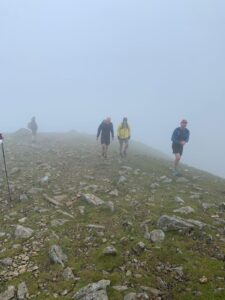 Hal lead a great line down into Honister and I felt like I was flying down that hill. I could see the support crew down in the car park and could hear my Dad shouting, 'come on Nick'.
I was so pleased to get to Honister but I was literally just passing thorugh. I picked up Emma Neilson, Helen Burgess and Jon Tombs, kept Alasdair and dropped Hal.
Helen took on Amy's role of feeding, watering and encouraging me. She was brilliant as was Emma. Jon is an expert on leg 5, knew all of the best lines off Robinson, especially the lines avoiding the rocky descents and promised me he would get me to Keswick ahead of time. Dale Head seemed to go on forever with two false summits. However, it came and went, Hindsgarth was next and finally Robinson. What a feeling to touch the 42nd peak. I said to Jon, you've got 1 hour 46 minutes to get me to Keswick'. 'No problem' was his response.
The lines of Robinson were, indeed, excellent. We dropped down into Newlands Valley. Quick stop just past the church to change top and shoes. Also dropped my bag off which contained the tracker so there was a brief moment when it looked like I was in a car as Andy Buck grabbed it and drove after us to return it.
The last 5 miles or so on the road can only be described as torturous. Notice I'd stopped talking about the weather but now the sun was out and it was really hot. I'd had enough and just wanted it to end. Helen and Emma kept me company, as did Caroline B who had joined me for the final run in. It was a matter of counting down the miles, ticked off Portinscale, across the bridge, along the path into Keswick, crossing the roundabout – no stopping, cars can wait for me -, bottom of the market place, can see the Moot Hall, it'll be over in less than a minute, loads of people standing, cheering, I can hear Syd again.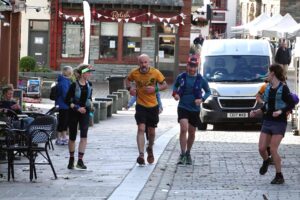 Past all my friends, run up the steps, THERE'S A PINT ON THE STEPS WAITING FOR ME!!!, touch the door. Done. 23 hours and 38 minutes. 22 minutes to spare. OMG, unbelievable. Pick up the pint, soak in the applause and good wishes. Drink. It tasted so good.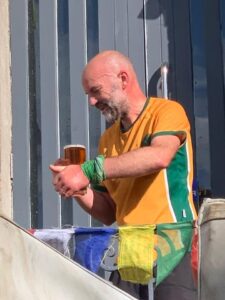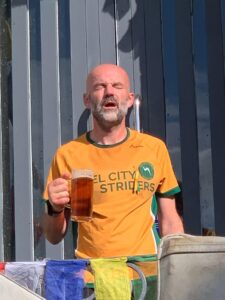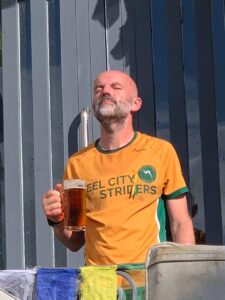 I was told by numerous people that the BGR was either the best day of your life or the best and worst day of your life. There were some pretty grim moments but the day is up there as one of the best. It had taken a lot of planning, training and organising. It became all encompassing. I've held the LDS medal 3 years out of the last 4 because I like to race. All of this went on the backburner. I actually had been (reasonably) sensible for once.
There were 2 people absent from my crew who I would have loved to have been there to witness and take part in my day, those being my Mum and Trevor Burton. Both were in my thoughts a lot during training and especially during the grim times on the round. Your presence was felt.
Finally, I couldn't have done this without the amazing generosity of the running crew, the road crew, the supporters and the training partners. You all know who you are and I thank you from the bottom of my heart. It was a brilliant experience and I feel extremely privileged to have such a brilliant family, such brilliant friends and a brilliant running club. Thank you!!