Race date: 3 July 2022
Race distance: 4.2 miles
(Video of the race from another runner: https://www.youtube.com/watch?v=D6P9NfjYhUM&feature=youtu.be)
Looking back at previous race reports, not many Striders do the Thurlstone Chase. Al Cook and Andy Fry did it in 2017 and 2018 respectively, and Lee Mills and I finished 3 seconds apart last year. A whole three Striders did it in 2014. This is something I've occasionally noticed about Penistone races. Maybe they don't have the glamour or ruggedness of the Peaks, or maybe they're just in the wrong direction. It's a pity though, they're always well-organised and fun.
Although Thurlstone Chase is an FRA accredited race, it's almost exclusively on trail and farm track. Coupled with it being short, free of bottlenecks and never steep enough to walk, it encourages you to give it some welly.
The start was on the Thurlstone FC pitch, with its modern facilities (below). We lined up and were unable to listen to the race briefing because one of the competitors was a dog, and it was really eager to start. I have a grudge against dogs in races ever since one beat me in the Litton Christmas Cracker a few years ago.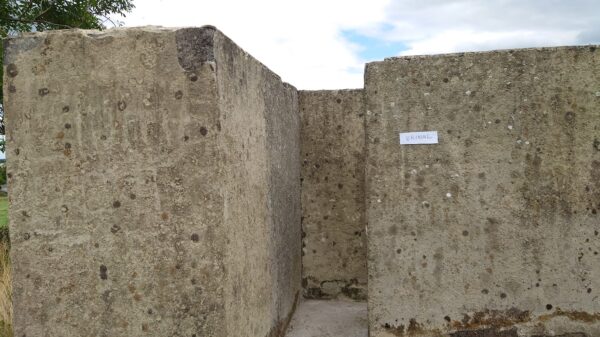 And then we were off, in bright sunshine, round the football pitch and up the hill that's the main climb in this race. Once that's done, the majority of the rest of the course is downhill, including a couple of fields and a silage-smelling farmyard, with some lovely views across to Emley Moor if you can find a moment to look up. It's fast as you can all the way, until just before the end there's a nasty single-file sloggy climb, before a downhill flail and back round the football pitch for an uphill whatever-you've-got-left final sprint. I've been running well over short distances this year (long distances is another story) so I knocked just under a minute off last year's time, which I'm pretty pleased with.
The winner, in 25:15, was Philip Montgomery of Penistone Footpath Runners; first woman was Zanthe Wray of Dark Peak, in 29:10. The winning time would have been a new course record if the first two runners hadn't gone off course a bit (though not enough to disqualify them).
I was 23rd, just under a minute faster than last time. And I beat the dog by ages. Ha.
Striders result