7th Voritsi Mountain Routes Sunday 4th September 2022 
Race report by Christine Booth
Whilst on holiday in Crete I was aware of what I thought was a monthly trail race in a little village called Voritsi near Gouves, this turned out to be a yearly event and much more like a fell run in the mountains. My research on google and ability to translate from Greek to English didn't go as well as I thought.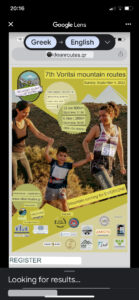 After a week of not doing very much and just a 3 mile run the morning before to see how I felt running in the heat we set off on a Quad bike from Anissaras to Voritsio, the views as we climbed into the mountains were spectacular and we made it there without getting lost and in good time to sort everything out including registering for the event.
There was a 12km and a 5.5km race, I very sensibly entered the 5.5km race paid my €8 collected my number, timing strip and T shirt and got changed ready for the start of my race at 6pm, everybody congregated in the square including quite a few wasps and it wasn't long before the 12k runners set off cheered on by us all then off we went 30 minutes later.
The start of the race was downhill, initially on the road but soon went off into the Olive trees and so you had to be very careful with your footing as the irrigation system meant there was piping along the ground as well as all the rocks etc   Cover from the trees helped with the heat so at this point I felt good.  I paced myself,as it was quite hot, and kept up with most of the group.  The course was marked with tape on branches and spray painted arrows giving direction so we all kept on course.  After mile 1 we started to gradually climb, and there wasn't a defined path as such so this is where it began to feel harder.  There were some flatter sections so you could still run although we now had no cover so even though it was after 6pm it was still quite hot.  The higher we went the harder it was, and at one point I had to use my hands to scramble up the mountain.  Walking was the only option for quite a few of us.  The views were amazing – you could see the square down below yet we still climbed higher, quite a few choice words were said at this point.  Going up although very hard is so much easier than coming down in my opinion.  Now if you're a fell runner you would love this race.   I, on the other hand am the one with my arms out for balance thinking how the hell am I going to get down this bloody mountain now.  It was scary, parts of it felt vertical and there were no obvious places to plant your feet.  It wasn't a case of grab a bush to stop your momentum as most of them were spiky so I just got on with it thinking I can do it, others have. Finally after a very slow descent I was back on the road, another uphill section that I was able to run then thankfully the finishing arch was in view, and managed what felt like a sprint finish in my Striders Vest.
I had completed my first race outside of the UK in a very respectable 50:28. I collected my lovely wooden medal and made my way over to the barbecue so we all got a kebab and chips lots of water a banana and a massage if you felt you needed one, the best €8 I've spent.
I was placed 28/69 runners, solo Strider.
Pos
Cat
Time
Cat Pos
7
Christine Booth
W40-59
50:28
3
The winner of the 5.5km race was Tomasz Pyznar (m) 29:34
1st female was Helen Venus (f) 40:10
The winner of the 12km race was Constantine Manioudakis (m) 01:10:49
1st female was Peaceful Bakery? (f) 01:26:53
Link to results www.smfsports.gr