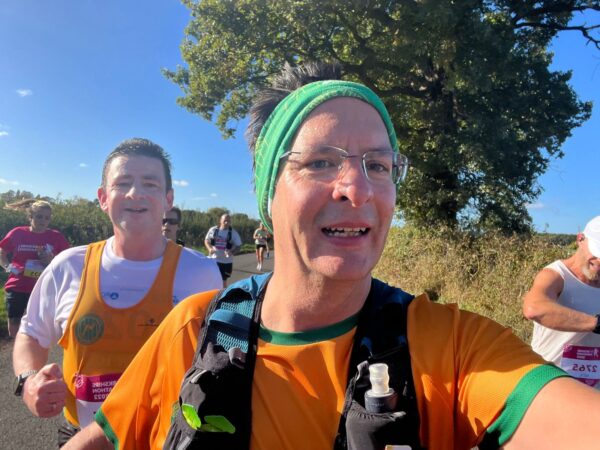 Race date: 16 October 2022
Race report by Brian Jenkins
My preparation for this marathon did not start well, I started the year with a broken arm, and my plans for trying new marathons had to be reappraised in light of the reality (a spring marathon was certainly not going to happen).
As the year progressed, I was getting better times (at shorter distances) and things were looking up.
I was thinking of concentrating on 10ks and Half Marathons and returning to marathons in 2023, but that was until I managed to drag-out my nominal one hour slot at "Small Park Big Run" (in Meersbrook Park) into a rather leisurely (six and a half hour) overnight marathon.
Over a post-club run pint, Steve Blake said he was looking at running "the Yorkshire" as his first marathon, and he suggested that I should give it another go. I have always been a plodder when it comes to marathons, and never tried particularly hard to get a good time (my P.B. was 4:36), but Steve was adamant that he was aiming for a sub-4 hour marathon for his first attempt, and the idea was planted in my head.
As for training, I ramped-up to the obligatory long runs, and I managed to complete the "Sheffield 20 Miler" just slightly off the 9 minute mile pace required to complete a marathon in less than 4 hours, things were definitely going in the right direction.
Things got even better when Robert Hoffmann (a marathon runner well used to sub 4 hour marathons) offered to pace me on the run.
This was my third go at this particular marathon and I parked-up at the Elvington "Park and Run" car park around dawn on race day with the aforementioned Mr Hofmann and Cara Hanson (running in the 10 Mile race).
We arrived early at the event village (York University campus), and retired to a coffee shop to talk through tactics for the race ahead (and get out of the cold biting wind).
We emerged caffeinated and joined a group of Striders (more than I can remember in previous runnings of the race) to exchange greetings and have a team photo of those in the right place at the right time (and obviously not in the numerous queues for the toilets).
Warm clothing was consigned to the bag drop and we shivered in the direction of the start line. The previous start in waves had been replaced by racers choosing their starting point in the queue based on their expected finish time. Robert and myself took up position amongst the sub-4 hours set (gulp).
After we crossed the start line we were sent off north towards the city centre (and the Minster) with its narrow(ish) medieval streets and occasional cobbles, with Rob all the while reining me back and saving me from the consequences of thoughtless enthusiasm, and setting off too fast.
The route continued into suburbia and past the right turn that the 10 Milers would be making use of, and into the North Yorkshire countryside. Despite me having a chosen pace in miles and Robert using kilometres, at the half way point we were both agreed that we were on a steady pace and had a handy amount of time "in the bank" for the last miles of the race.
We completed the first out-and-back section (in Stamford Bridge) and were still going strong, on the second I was finding it harder to keep up with Robert but still somehow hung in there.
Then the unexpected happened, Robert noticed something was amiss behind us (and I must admit to having a blinkered view at this stage of the race), he told me to continue at the same pace and he would catch me up. I continued forwards, and Rob, the other way. He caught up with me again and said a guide runner (a Clowne Road Runner) with a visually impaired runner was injured (but was still proceeding with difficulty) and he was taking over his role.
He said I was on target, and told me to carry on to the finish without him, and he returned to take up his new responsibilities.
Robert and his new co-runner (Nick) soon overtook me, I was tiring, and Nick was a seasoned Ultra Marathon runner. Team Hoffmann then made their way into the distance.
I followed as best I could, safe in the knowledge that I could slow down a bit and use up some of the extra time we had collectively banked earlier on in the race.
The rest of the race involved a series of mental calculations as to when I could slow-down and when I needed to speed up (and still achieve that coveted sub-4 hour finish). I think I just about got it right, I crossed the finish line in 03:58.
I found Rob and Nick in the finishers' area and we waited for Nick's original guide to cross the line, and then reunite the two.
I have some shout outs to those worthy of appreciation. Firstly (and predictably): Robert Hoffmann, he gave up the chance of a far faster time to drag me around the course (and generally save me from my early enthusiasm) and set me up for a sub-4 hour finish. But not only that, to then ensure that another runner got the most out of his marathon experience, is truly worthy of praise.
Secondly, to Steve Blake who finished his first marathon in such a fast time (decidedly more sub-4 hours than my best effort).
Thirdly to all who took part (Striders and non-Striders, especially the first time Marathon runners), and made it the event it was.
20 Striders ran the marathon (results at https://chiptiming.co.uk/events/run-for-all-yorkshire-marathon-2022/) which was won by Benard Bosuben in 2:22:56. First woman was Samantha Antell in 2:54:18 (both unaffiliated according to the results).
7 Striders ran the Yorkshire 10 Mile race (results here: https://chiptiming.co.uk/events/run-for-all-yorkshire-10-mile-2022/) which was won by Kieran Walker of the North East Project in 50:57. First woman was Faye Birkby of Pudsey Pacers RC in 1:00:10.
Striders results: Marathon
| | | | | | |
| --- | --- | --- | --- | --- | --- |
| Pos. | Name | Cat. | Chip Time | Gender Pos. | Cat. Pos. |
| 97 | Ben Jones | MS | 02:57:18 | 95 | 58 |
| 177 | Chris Johnson | MS | 03:06:30 | 170 | 95 |
| 183 | Will Hitchmough | MS | 03:07:06 | 174 | 98 |
| 273 | Seth Kirby | MS | 03:14:41 | 262 | 141 |
| 283 | William Fu | MS | 03:15:14 | 272 | 148 |
| 414 | Daniel Cubitt | MS | 03:24:18 | 396 | 219 |
| 426 | Alex Shepherd | MV50 | 03:24:03 | 407 | 32 |
| 526 | Stephanie Millar | FS | 03:28:40 | 29 | 15 |
| 671 | Lee Kenton | MS | 03:33:21 | 624 | 337 |
| 707 | Jeni Harvey | FV40 | 03:38:12 | 55 | 8 |
| 772 | Steve Blake | MV45 | 03:41:28 | 705 | 106 |
| 1151 | Robert Hoffmann | MV45 | 03:53:47 | 1010 | 154 |
| 1305 | Brian Jenkins | MV45 | 03:58:19 | 1123 | 165 |
| 1615 | Helen Royles-jones | FS | 04:08:39 | 272 | 121 |
| 1862 | Karen Clark | FV55 | 04:18:41 | 345 | 15 |
| 2092 | Katelyn Mckeown | FV40 | 04:27:12 | 420 | 84 |
| 2456 | Caroline Brash | FV45 | 04:41:17 | 562 | 86 |
| 2545 | Phil Kelly | MV55 | 04:45:26 | 1953 | 118 |
| 2678 | John Liddle | MV50 | 04:55:45 | 2024 | 233 |
| 3171 | John Marsh | MV60 | 05:24:08 | 2284 | 78 |
Striders results: 10-miler
| | | | | | |
| --- | --- | --- | --- | --- | --- |
| P | Name | Cat | Chip Time | Gender P | Cat. P |
| 20 | Richard Pearson | MS | 00:59:17 | 20 | 17 |
| 152 | Alasdair Menmuir | MV40 | 01:11:28 | 127 | 39 |
| 164 | Adam Brooks | MS | 01:11:27 | 137 | 75 |
| 249 | Andy Hinchliffe | MV50 | 01:15:53 | 197 | 32 |
| 335 | Cara Hanson | FS | 01:18:34 | 71 | 47 |
| 838 | Sophie Mckie | FS | 01:32:11 | 287 | 155 |
| 844 | Nada Ross | FV50 | 01:32:11 | 293 | 40 |