Sunday 10th April 2022
Two reports – first report on the Half Marathon by Lisi Briggs
I was lucky in the run up to the race: I got covid the day after the Sheffield half (which had been my first half-marathon to date), and managed to recover just in time for this race, two weeks later. Two meaningful races for me personally, Sheffield my new hometown, Zurich my former hometown. It was special for me to share and experience my love of running in my childhood home. Because it's thanks to Sheffield that I fell in love with running in the first place: the strength you acquire from its hills, and discovering and falling in love with my new hometown due to exploring it by foot, guided and accompanied by the variety of wonderful souls that make up the Steel City Striders.
It was Zurich´s first ever half marathon (it used to only offer the Marathon and the 10k Cityrun) and it sold out quickly. There were some little new event issues, like not enough toilets (or perhaps that is just standard), and there were no distance markers for the half, rather, as the half route was shared with the marathon route, there were the marathon distance markers which got quite confusing towards the end. The half and the marathon started at the same time but at the opposite ends of the route. The marathon runners started in the city and ran along the lake and then back, whereas we half runners started along the lake and finished in the city. The half runners benefited from the plentiful marathon nutrition and isotonic drink stations, and I really enjoyed being able to watch the marathon runners pass by. I think watching them and running with them, really spurned me on and inspired me. But did they enjoy seeing the half runners already on their way back so to speak, much closer to the finish line? I wonder if that would have bothered some, psychologically. A cool feature of this format for me personally was, that I happened to reach the finish line a few minutes before Tadesse Abraham, the marathon winner, so my finish was accompanied by lots of cheer! I don't know how it was for him though, to share his moment of glory with lots of amateurs runners!
So a bit about my race experience. All runners benefited from free public transport tickets, and with Zurich´s plentiful and truly always on time city train connections, getting to the start was confortable and easy. We were given clothes bags which were transported via boat to the finish line. I managed to have a pre-race wee, but I should have timed that better, as half an hour later I had to go again but by that time the queues were too long and it was too late. The toilet shortage made good pre-start conversation with fellow runners to settle the nerves. I managed to find an empty loo at around 5k and to sprint back to the 2:15 pacers whom I had settled with. Checking with my watch, I soon felt that they were faster than needed to be, so let them go at around 8k, as I didn't want to run out of energy, and felt comfortable with my 6.15/6.20 pace as intended, and which still kept me on track for 2.15, which was my aim. Now I wonder if I was too comfortable? Had I held on to the pacers perhaps I would have finished a few minutes faster? Or did I make the right choice as I felt comfortable right until the end and that's a good thing? Racing questions!
I enjoyed running past the villages I know so well from growing up, and the weather was perfect, cold but sunny, no wind. It really was lovely running, good music, good flow. The very BEST thing happened around 13k though – one of the marathoners passing by in the opposite direction waved and shouted to me, and out of the corner of my eye I noticed her green and gold shirt… I turned around and shouted back, recognising Charlotte Civico! So I hadn't been the only Strider present after all! This little moment gave me a huge boost… another person from my new hometown, here in Zurich, and recognizing each other – I flew on for the next km. However, km 15 and 16 followed and they were my slowest, I think I must have just gotten a bit tired. Or is the "only a parkrun to go" psychology counterproductive, as you might not fancy a parkrun right now? I also hadn't taken have any of my gels because of the isotonic sports drinks they offered at the water stations, perhaps that was a mistake, but who knows. When I started to see the city on the horizon however, and then turn and cross the bridge over the Limmat river to enter the iconic Bahnhofstraße, I knew there was only one more little loop to go, and I started to feel a sense of accomplishment that sped me up a bit. The urban scenery and good crowd support towards the end helped too, and I managed to catch the 2:15 pacers (well they actually substantially slowed down and ushered people in, which confirmed that they really did pace too fast earlier on). I crossed the finish line at 2:14:26 which beat my first half marathon time at Sheffield two weeks ago by 2 minutes. In a happy daze, eating an ice cream and wearing the nice quality finisher T-Shirt and medal bling, I walked back along the race route towards the train station. I cheered on the runners, and marvelled at strength the marathon runners displayed. They were just coming in at sub 4 hours and I gathered that Charlotte might not be far away – and there she was! I ran alongside her a bit and (hopefully) made her believe that she hadn't had much further to go. Mega effort Charlotte, a huge well done!! –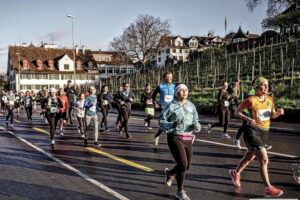 The Second report on the Marathon by Charlotte Civico
This was marathon number 2 for me.  I ran the London Marathon in 2019 through a charity place, swearing it was a once-in-a-lifetime kind of thing that I'd never do again.  Perhaps it was the strangeness of the pandemic, perhaps it was because 2 years was enough time to forget what running a marathon entails, but somehow, I found myself signing up for another one.  Zürich may seem like an unusual choice, but it was the first that came to mind for me.  One of my best friends from university had moved to Zürich in 2020.  I hadn't yet had chance to visit her, and her boyfriend had been closely involved in the event for a number of years (announcing at the finish line this year).  I was so excited to visit and to have something to aim for after an uneventful 2 years in terms of running.
Training started off really well.  I was enjoying my long runs and was getting some good quality speed and tempo sessions in during the week. I was doing a couple of club runs each week and realised just how much I'd missed the social side of running during the pandemic.  I felt good and was reasonably optimistic that I would reach my goal of a sub-4 hour marathon.
It's amazing how quickly things can and did change.  About 6 weeks before race day, I started to get a sharp pain in my foot which side-lined me for a week.  I managed to do my first 20 miler at the end of that week and my foot seemed to magically get better.  The next day, I woke up and had a sharp pain in my right knee whenever I put weight through my right leg.  I hoped that, too, would magically get better, but sadly my luck had run out.  This injury ended up rumbling on for the rest of my training block and into the race itself.  With a couple of trips to physio, exercises, and a much reduced training load, I just about managed to keep up with my long runs at the weekend.  However, the remainder of each of the weeks was spent recovering from the long run: generally hobbling around, walking a bit, and maybe managing a few miles of very slow running. I became completely neurotic during these weeks, not knowing whether I would make it to the marathon and if I did, whether I would manage to complete it.
In the end, I decided I would go to Zürich and make my mind up on the Saturday whether to run the marathon on the Sunday.  I think I did a total of about 4 miles of extremely slow running that week and by the time I arrived in Zürich on the Friday, my knee was feeling a little bit better, at least whilst walking around.  Off I trotted on the Saturday to collect my race number.  Apparently, I had decided I would give this marathon a go.
I have never been so nervous about a race before – literally not knowing if I would be able to make it beyond mile 3.  I think I probably had about 2 hours' sleep the night before the marathon; really not ideal.  I managed to get ready in some kind of haze and make my way over for the 8:15am start at Quaibrücke; a bridge at the edge of Lake Zürich.
It was a beautiful morning as we set off; chilly at 3 degrees, but with sunshine, blue skies, and gorgeous views over the lake.  The first 6 miles or so was a loop around the city.  I decided to hang around the 4 hour pacer.  I didn't at all think I'd be able to cling on, but at least if I ran with him, all I had to do was put one foot in front of the other and not worry about my pace. At this early stage, I was so cold that I couldn't really feel my legs or the pain in my knee.  I think it was just as I had done the loop of the city and was heading out along the lake that I spotted fellow Strider, Lisi Briggs, on her way back towards the city as part of the half marathon.  Understandably, I think she was a little confused by my "go Strider" shout out, but soon clocked, waved, and shouted "hi!".  It was certainly a lovely distraction from the 20 miles that lay ahead of me.
At around mile 11, I realised that I really needed a wee.  I've never needed to use a toilet in a race before but I knew that if I needed the toilet that badly at mile 11 I couldn't ignore it for another 15 miles.  Thankfully, there was a toilet at the next drink station, but to my horror, the toilets were occupied.  I was just about to set off running again when one became free and I did the fastest wee of my life.  By the time I'd come away again, the 4 hour pacer was way ahead.  I sped off to catch him up, which was a struggle, but I made it. This part of the race was a long out-and-back stretch along the lake.  There were small crowds of supporters scattered along the route which gave me a much needed boost.  I loved hearing the cheers of "hopp hopp hopp", "allez allez", and "venga venga"!
The turning point to run back along the lake was at around mile 15 or 16, with the only hill in the whole course (a very short up and down).  And then it was back to city.   I stuck with the 4 hour pacer until around mile 19.  I knew by this point that a sub-4 was definitely possible if I could keep my pace up.  The 4 hour pacer seemed to drop back a bit with the pace so I decided to press on and left him behind.  At about mile 22 I had a lovely surprise when Lisi, having finished her half marathon, ran along a few paces with me and gave me some words of encouragement.  I was really struggling by this point and Lisi really spurred me on.
By the time I was back in the city, it was "just" a parkrun or so to go.  My legs were so tired they were almost numb, which I suppose was good for the knee pain.  I felt like I was running through treacle.  I managed to maintain my pace and with around 1.5 miles to go sub-4 was looking achievable, but we all know that a marathon is not 26.2 miles; it's 26.2 plus a bit more.  If it was going to end up being 26.4 then I probably wouldn't make it.  I put in all I could to run a bit faster and eventually made it to the finish line in 3:57:56.  It was some kind of miracle.  I had done it.
The first male was Tadesse Abraham of Switzerland who came in at 2:06:38.  The first female was Hawas Lenjiso Demitu of Ethiopia who came in at 2:33:08.
Two Striders ran
Women Pos
Cat
Time
Cat Pos
Marathon
283
Charlotte Civico
W35
3:57:56
41
Half Marathon
1237
Lisi Briggs
W35
2:14:26
179
For full results see https://my.raceresult.com/166124/