Race Date: 21st October 2023
This was Steve Lewis' 3rd annual ADCB Zayed Sports City Pink Run 10k.  The race starts at 6.30am to avoid the heat of the day in Abu Dhabi, but it means a very early start on a Saturday morning for the participants. Steve described the route as running round a car park twice, so perhaps not scenic but probably flat. Proceeds from the run are donated to the Al Jalila Foundation for Breast Cancer Initiatives, so a good race to support.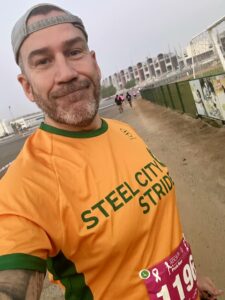 First man was Fabien Rencuret in 37:43 and first lady was Jessica Troch in 40:56.  Steve finished in 52:35 and was 23rd in the Masters Male age group. Well done!
Link to full results here.