Race Date: Sunday 16th April 2023
Report by: Rob Byers
Often touted as the flattest major marathon in the UK, the Manchester Marathon consistently attracts an enormous crowd of athletes looking to test themselves over the 26.2 mile distance. This year was no exception, with over 18,500 brave souls crossing the start line; almost half of which were first timers to the marathon distance. While the marathon is often a rather terrifying prospect, it is perhaps comforting to realise that 98% of these people went on to finish the race.
With the addition of a marathon into this year's road championships, it was perhaps unsurprising to see a healthy contingent of over 30 Striders making the trek across the Peak District. Despite a stormy week in England, the weather on the day looked good, the wind had mostly dropped and the stage was set for some impressive PB's.
Last year's marathon was the busiest day in Metrolink (Manchester's tram network) history. A record which was likely far exceeded this year as thousands of bleary eyed runners and supporters descended upon the Old Trafford cricket grounds. Once at the tram stop, it's a short walk to the enormous array of portaloos lining the entirety of Warwick Road, then another short walk to the bag drop, outside which I was greeted with the familiar faces of Seth, Laura and John. After exchanging some nervous banter, I made my way over to the start process.
Much like other big marathons, Manchester has a waved start system with the elite/white wave starting at 9:00 and then progressive waves starting every 10 minutes until 11:00. This leads to the bizarre scenario where those in the purple wave can often spot the elite men running their final mile while still in the opening miles of their own race. At the starting process, runners are faced with a rather chilly wait of around an hour before the race begins. It is during this process that nerves inevitably begin to rise and even the most prepared of runners can often find themselves doubting their training and preparation.
Seth and Luke working together for that magical sub 3-hour clocking.
After a short delay, the race was finally underway, followed by the instant dissipation of any doubts or worries. Perhaps the most touted rule of marathon running (Aside from "Don't try anything new on race day") is "Don't get carried away at the start". This inevitably leads to a divide between very keen runners tripping over each other to absolutely fly down the first downhill section, and those who spend the first few kilometres almost glued to their watch screens. For better or worse, I tend to be one of the latter, and was relieved to see the first few kilometres tick past on schedule.
Very quickly the field began to thin out, and by the 4km mark I found myself running alongside Josh Benford (Bideford AAC) with a sizeable gap to a small group in front which included the eventual female winner Naomi Mitchell (Reading AC) together with fellow Sheffield runner John Birch (Hallamshire) who himself went on to run one of the most superbly paced marathons on record, finishing 5th in an incredible 2:24:33. The route was slightly changed this year, looping down through Old Trafford before heading into the city centre along Deansgate. This section is a veritable tunnel of noise as hundreds of spectators line the streets on either side; special shoutout to Hannah, John, Kate and Malcolm who were out along this stretch representing the Striders cheer squad. After having a short internal grumble about having to do a sharp hairpin turn (Something that's never pleasant in these new fancy supershoes), we were on our way back towards Old Trafford.
The marathon is all about energy conservation, and having someone that can block the wind and help keep the pace honest can be incredibly beneficial. Miles 8 to 13 follow an almost perfectly straight section of Chester Road, which takes runners all the way to the half way point at Timperley. It was around this point when I became incredibly grateful for Josh's presence, as we took turns pace-setting and blocking the headwind every 500 meters or so.
Despite Pete Pfitzinger advocating a slight positive split for non-elite runners (running the first half slightly faster than the second), my game plan was to try and keep the pace relatively even the whole way. Consequently, when we came through halfway in 1:13; a full minute ahead of schedule, a small seed of doubt started to creep in. Had I cooked the goose already?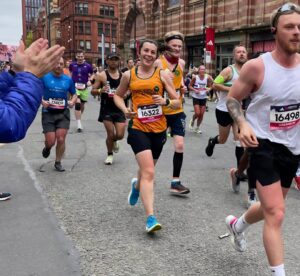 Laura and Harry enjoying the atmosphere on Deansgate
There are few lists as exhaustive as a marathon runners' book of excuses. My breathing was still relaxed, but I could feel a small stone in my left shoe. Furthermore, I was starting to develop a side stitch after the last water station. Taking on fuel and water during a marathon is vitally important due to our limited glycogen reserves, but can often feel akin to waterboarding oneself, especially at speed. Stitches are a common result, but I'd practiced dealing with them in training. I slowed slightly, deepened my breathing and waited for it to pass.
Around this point we were approaching the leader in the women's race: Naomi Mitchell, who's pacer had unfortunately had to drop from the race. Thinking back to the year prior, where both Naomi and I were surrounded by large groups of runners chasing the 2:30 mark, this year was almost lonely by comparison, with nobody else visible both up and down the road. I considered offering some words of encouragement, though counter-intuitively, encouragement is sometimes the last thing you want to hear if you're struggling. Alas, now free of the stitch, I pushed on to catch up to Josh. We blew through 30km in 1:44:11 (2:26 marathon pace) – he was looking smooth and in control, I was slowly falling apart.
I can't say I've spoken to many people who have enjoyed the final 10km of a marathon. In previous marathons I have experienced the classical "bonk", where muscles start to become starved of energy and a feeling of delirium sets in. This year was different; I still felt energetic, but the small stone in my shoe had led to a blister, which by the 30km mark had popped and started to flood my shoe with blood. An unmistakable feeling of cramp soon followed, and I soon found myself unable to hold the now painfully aggressive pace. My goal of 2:28 was rapidly slipping away but I knew a PB was still very much on the cards. Unfortunately, that wasn't to be, as any attempt to increase the pace at this point was causing my left foot and leg to severely cramp up, risking me keeling over to one side. Nonetheless I was able to just about hold it together, finishing alongside Josh in 2:30:04.
This time for me it was never about the result, it was about putting myself out there to risk shooting for something crazy. While I fell short of my target, I've learned a lot. After all, if we never take a risk and aim high what's the point of going through so much pain?
After the race I retreated to Costa, the tracker on my phone was rapidly filling up with incoming results, each of which no-doubt has an entire backstory of their own. Paul Middlemas nailed his marathon after disappointing results in Manchester and London in years prior. Luke Mair got that well deserved sub-3 after narrowly missing it in Porto last year (He was churning out 20-mile training runs for breakfast this time around). Seth Kirby somehow accelerated over the last 12km of the marathon, someone needs to check he's not a robot. Not to mention the others who I've seen consistently out on the streets, logging the miles, day after day in preparation – it's great to see so many PB's.
It'd be remiss of me not to thank all of the Striders run leaders and committee for keeping us all going. Training runs and speed sessions are always easier in a group, especially through the soggy winter months. Peter Brown in particular was instrumental in keeping me on track through this training block, during which I followed a Pfitzinger styled 12-week plan which peaked out at an exhausting 97 miles.
Nothing beats the joy of finishing a marathon… Laura is so happy she has gone to sleep.
The men's race was won by Ignas Brasevicius in 2:16:27, who kicked away from Kieran Walker in the final 2 miles to secure the win. The women's race was won by Naomi Mitchell in 2:31:27.
Striders results with link to Manchester Marathon Results 2023
| | | | | |
| --- | --- | --- | --- | --- |
| Overall Position | Name | Chip Time | Category | Category Position |
| 16 | Robert Byers | 02:30:04 | SM | 10 |
| 485 | Paul Middlemas | 02:52:14 | MV40 | 81 |
| 767 | Adrian Fisher | 02:56:20 | MV50 | 31 |
| 920 | Luke Mair | 02:57:53 | MV35 | 214 |
| 926 | Seth Kirby | 02:57:56 | SM | 393 |
| 953 | David Smith | 02:58:13 | MV55 | 14 |
| 1018 | Michael Cockings | 02:58:37 | MV40 | 172 |
| 1096 | Chris Johnson | 02:59:06 | MV35 | 244 |
| 1137 | Will Hitchmough | 02:59:20 | SM | 486 |
| 1189 | John Kilcoyne | 02:59:45 | MV40 | 206 |
| 1257 | William Fu | 03:00:32 | MV35 | 280 |
| 1765 | Paul Johnson | 03:08:57 | MV40 | 307 |
| 1910 | Simone Young-Alls | 03:10:56 | SF | 85 |
| 2187 | Daniel Cubitt | 03:13:47 | MV35 | 449 |
| 2295 | Chris Boland | 03:14:47 | MV35 | 471 |
| 3518 | Alex Shepherd | 03:26:35 | MV50 | 232 |
| 4080 | Laura Mella | 03:30:20 | FV35 | 43 |
| 4661 | Harry Browne | 03:34:45 | SM | 1719 |
| 4866 | Jacqui Herring | 03:36:26 | FV50 | 18 |
| 5040 | Kathryn Liddiard | 03:37:51 | FV35 | 75 |
| 7801 | Tessa Bainbridge | 03:55:20 | FV40 | 198 |
| 8062 | James Lawrence | 03:56:38 | MV40 | 1089 |
| 8266 | Giulia Neri | 03:57:31 | FV40 | 220 |
| 8908 | David Wilson | 04:00:26 | MV45 | 829 |
| 9001 | Lindsey Banks | 04:01:07 | FV45 | 182 |
| 9281 | Karen Clark | 04:03:18 | FV55 | 38 |
| 11024 | Katelyn McKeown | 04:17:21 | FV40 | 364 |
| 11565 | Kate Waddicor | 04:21:51 | FV65 | 5 |
| 14140 | Faye Baugh | 04:45:45 | SF | 1355 |
| 17946 | Kevin Haighton | 06:17:30 | MV60 | 260 |