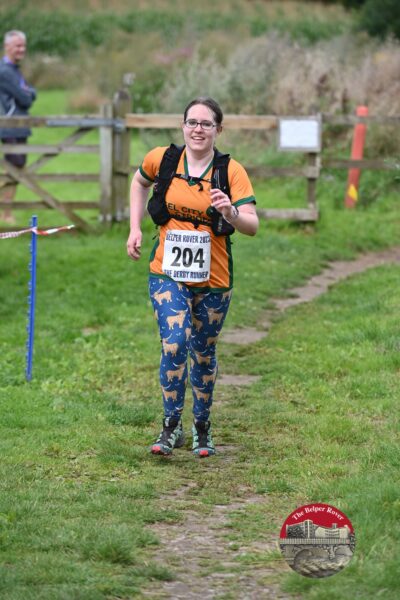 Race date: 13 August 2023
Distance: "Approximately 30km" – I registered 28km
Race report by Laura Rangeley
Looking for a new and different challenge after completing a tough 12-week training plan for a sub-2 hour half marathon earlier this year (read about how that ended here should you so wish!), I found myself aiming for unusual experiences and putting distance over speed for the rest of the summer. So I signed up to the multi-terrain 30km Belper Rover on the advice of fellow Strider Matt Broadhead, who is really good at identifying races I'll consider "fun".
Aside from the challenge of the distance, my main concern as the race loomed on the horizon was the possibility of having to train in high temperatures and how I would cope should conditions be similar to the heatwave of 2022. Thankfully, and to put a positive spin on what's almost a Bananarama quote, it's been a cool, cool summer for the most part and race day itself dawned brightish, dryish and warmish.
Registration for the race was an absolute breeze – plentiful parking right by race HQ leaving plenty of time for me to agonise over snacks and blister plasters before being herded round the streets of Belper in what Matt referred to a "Pied Piper moment" to the start line by the banks of the River Derwent. With little in the way of fanfare, we were off, following a flattish riverside gravel path past the very pretty Wyver Lane Nature Reserve before turning left to ascend our first hill of the day. I say first hill – being more used to Sheffield and the Peak District, there wasn't a great deal in the way of notable hill for the majority of the course really. We did just under 600m of climb but I'd struggle to tell you where this came from – just a nice undulation throughout. My tactic, this being the furthest I'd have raced, was to walk the hills and use the time to take on a bit of fuel, but those opportunities didn't really present themselves, so I just had to snack willy nilly.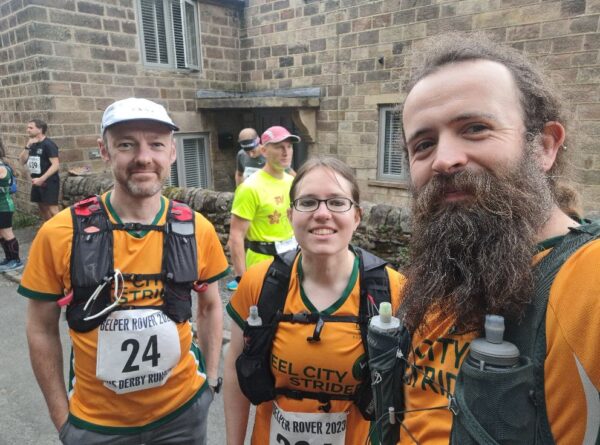 The race was a mix of road, track, woodland and grassy fields as we wound our way north and slightly west of Belper, through a trilogy of woods – Shining Cliff, Peat Pits and Kennel Wood. A drag up a steep field followed (ok, maybe there were a few notable hills) toward Alport Height and the first water station, where I wasted a lot of time faffing and filling my flasks up. I thought the race was going to take me somewhere between 4–4.5 hours, and was pleased to hit 10k in about 75 minutes. I was feeling pretty good and having a nice time in the countryside. At about this point, some not-forecast rain began, which went on for just long enough to go from a "this is lovely and refreshing" light drizzle to a "I should have put my hat on 20 minutes ago" soaking, but it could have been worse. This next section was a bit of a blur of lots of fields, it was all very scenic but aside from some amusing road names (the good thing about taking a race steady and aiming for enjoyment as your primary goal means you can stop to take pictures when you pass Knob Lane), there wasn't really that much of note.
I found myself spending the majority of the race around a very pleasant trio who were running together, two Belper Harriers and one of their dads, who I decided were worth sticking with when we passed through a herd of cattle and all simultaneously chirped "thank you, cows!". I was really surprised actually that for a long race with a relatively small number of participants I never once found myself running completely alone.
At the halfway point I had a very nice white chocolate and raspberry flapjack (which I'd taken with me – there were 3 water stations en route, but snack wise it was fend for yourself, although blackberries were plentiful for the foraging-minded) plus a slight stile based tantrum – there were lots of them, of increasing complexity, and my legs were starting to tire. Incredibly narrow gaps in walls were also a feature, many of which clearly aren't made with women of small stature with chunky thighs in mind. Half marathon distance soon passed though as we traversed a golf course, through some more woodland, and along the Chevin (a sort of ridge, with lovely views into the valley) onto the last section of the race. My legs by this point felt a bit like that episode of the Simpsons where Homer gets rickets, but I was still moving, I could SEE BELPER, and was becoming ever more confident that I could do it in under my 4 hour "A" goal.
The final couple of miles were flat, through some sweetcorn fields then past a particularly stinky sewage works before some unwelcome steps and a short stretch of road took us to Belper Rugby Club, which I wrongly thought was the finish and sped up a bit, only to find myself in a Morrisons car park. A last little walk through a bit of Belper Meadows while I wondered where the hell the finish line was, then I heard Jim and Matt cheering me on so was able to pick it back up (although Jim thought I'd injured myself, so I'm not sure I was moving particularly gracefully by this point!).
The last few hundred metres was a lap of a field (just what you need after 17 miles) and then upon crossing the finish line we were presented with a chunky medal and a paper bag containing a very welcome full packed lunch – cheese and tomato sarnie, bag of Cheese Puffs, Blue Riband (which I saved and ate whilst writing this report) and a bottle of water – lovely stuff. Did it! A really enjoyable morning out and I'd say a great introduction to anyone looking for something that little bit longer.
The race was won by Tim Perry (Matlock AC) in 2.03.29 and Sarah Horner from West End Runners in 2.27.00. There were 213 finishers.
Striders results