Report by Hannah Wright
Race Date: Tuesday 8th August 2023
 The Tour of Bradwell website accurately sums up the race with this description:
Short and sharp, with good views and a killer climb at the end…

After finishing work and lots of talking myself into and out of going Bradwell, I finally got my running kit on and headed out.
Once I got to Bradwell I realised I had no reason to be nervous. Fell racing is new to me… I have only taken in part in one other fell race. The nerves soon melted away as the atmosphere was friendly, supportive and welcoming to beginners.
I collected my number from the Sports Pavilion which was easily located. There was options to enter before race day online or on the day.
The race started at Beggers Plot, heading down through the village. There's a left hand turn and then the only way is up. A mix of plodding or power walking and I finally made it to the ridge.
Thinking the worst was over and enjoying the views, the route takes you along the ridge to a technical downhill section. I soon realised that the next hill was in-front of me. The top section of this hill was steep… I nearly resorted to scrambling up it.
Once you make it to the top there is a steep descent and then a flat section to the finish line at the Pavilion.
This is a new route for Bradwell fell. I have never run the old route to compare. As newby to the world of fell I did enjoy this route. It was short (approx 5km), hilly but with some stunning views. It was well marshalled and the tail runners were really supportive.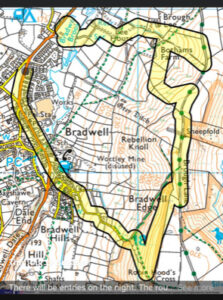 Results:
First man was Michael Kenyon (Dronfield RC) in 22:07 and first lady was Harriet Wingfield (Dark Peak Fell Runners) in 25:21.
Link to full results here.
Striders:
| | | | |
| --- | --- | --- | --- |
| Pos | Name | | Time |
| 35 | Sian | Evans | 00:29:13 |
| 52 | Michael | Raynor | 00:31:18 |
| 84 | Emily | Jones | 00:36:59 |
| 94 | Mark | Loader | 00:40:50 |
| 95 | Clive | Downing | 00:44:19 |
| 100 | Hannah | Wright | 00:60:00 |