Run Date: Sunday 29th January 2023
For those of you who are not aware, the Tea Round is a 30 mile, 12000 feet, 10 peak challenge in the Lakes. It starts from the George Fisher outdoor shop in Keswick. The aim is to visit all 10 peaks visible from the Tea Shop on the to floor then return to the shop in as quick a time as possible. This video explains it well: (18) The Tea Round | Full Fell Running Documentary | George Fisher – YouTube
I first did it last April as part of my Bob Graham Round training and went anti clockwise in a time of 10 hours 45 minutes. It was really hard. I then did a clockwise round in September in 8 hours 45 minutes. It was really hard. Lessons not really learnt, we, (Simon Bayliss and I) decided to do a Winter version to complete the full set. Guess what – it was really hard! That bad that I drove to work for 3 consecutive days last week. The staff at school thought I had gone soft.
On the back of 22 miles of walking in the previous 24 hours, we drove to my Dad's house in Penrith and were treated to the usual pizza and beer hospitality.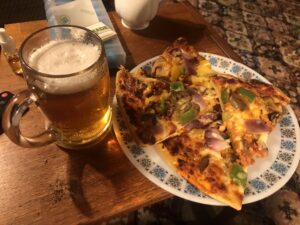 Bed about midnight followed by a 5am wake up alarm. It was so hard getting off the floor of the living room to venture out. Cat Bells in the dark and cold at 6.30am is not to be recommended. My calves were complaining massively and I wondered why I had decided to torture myself again on this round. However, Robinson came and went as did High Stile. A visit to the cafe at Buttermere was a nice respite.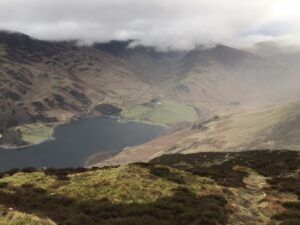 Next came the long pull up to Hobcarton Crag and Grisedale Pike. This is where the apprehension of the weather forecast came to fruition with extremely gusty winds on the top. We crouched down and edged forward to the top of Grisepike Pike then fled. However, Eel Crag was next, that the highest point of the round and it was blowing a proper gale. Only one thing for it though and that's to meet it head on. We won but it was a close game. The wind certainly didn't give up without a fight. Thankfully, onto and off the top of Eel Crag as quickly as possible then Sail, Causey Pike and Rowlings End followed in quick succession. Some heather bashing down to the bottom of Barrow then a 'quick' up and over. Lovely descent followed by the usual trudge back into Keswick.
The winter round was completed in 9 hours 37 minutes and completes the full set for me. Always a tough challenge but an amazing route and highly recommended to anyone who fancies a challenge – I'll happily come along again too if you want. I can't say no to another round it seems.
Full Results and Tea Round info can be found here: Montane Tea Round | George Fisher