Report by Sarah Percival
Race Date:  Monday 3 January 2023
This run is in tribute to Gerald Story. He was the president of Cancer Research UK in Worksop, and founder member of Worksop Harriers. This is set up as a fitting tribute to a man that gave so much to Running and Cancer Research.
It took place at 10am. At just over 5 miles long, it's a great start to the year. It could be ran  or walked and open to everyone.
The course was fully marshalled and followed a circular route from Worksop College to the surroundings of Clumber. All monies raised went to Cancer Research Worksop UK.
I woke up at 8am – by the loud sound from my alarm. I was still in my pyjamas and still in bed! I had been snoozing for the last remnants of sleep, all the while wondering why I signed up for this on my last day of holiday –  I returned to work on the Tuesday. I gathered my striders top and leggings from the radiator and piled into the car with my hubby and the dog.
The race is relatively short of middling steepness making it a good race for those new to trail. It's a good one, for a cold January morning, getting you out before returning home for a roast/ cake and a curl up by the fire.
I got out of the car and was pleased to see another strider Cara Hanson. We were the sole striders. I joined the steady jog along the driveway to the college – feeling fresher and dispersing the amount of food and alcohol I  had consumed that weekend.
I listened to the race intro and the coffee I had had on the journey started to kick in.
The start is pretty flat going over fields. I managed to trip over but saved myself in the first 10mins! I had the usual thoughts – I can't keep up this pace _ there's no way I'm not going to die! But the race calmed as it always does and I settled into my running. We ran along well marked and runnable tracks, dodging mud and puddles. Here, the races within the race began and I sized up who I felt I could stay with and I would not allow to beat me. But they did! But that's okay. We headed into clumber, descending into the park,dibbed, then contoured along the edge of the park. I've got into a bad habit of dawdling in the middle of the race and the pace softens. My thoughts wandered to tomorrow – first day back of work. This I'm working on and did not happen in Round Sheffield the following Sunday.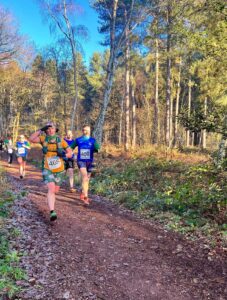 This final thought was enough to get me back. Two runners past me but I carried on. I was feeling hot and a little over dressed. The thought of the cake stall at the end was enough to give me the drive to go. I loved this race. I tumbled my way down the finish line and was 62th with a time of 48:55 Cara came in at 27th with a magnificent time 44:24. My hubby and the dog was waiting at the finish line fully clothed in layers and looking like he'd been there a while.
A tea warmed us up. There were smiles all round – hard not to when you get a medal for such a low key race. There are no prizes but a great little cake stall and coffee stall. I was smiling as running is the best cure to lift you.
1st Male – Ben Harris in 00:33:56
1st Lady – Jane Potter 00:37:01
Full results on the event facebook site (under photos)
Striders' results:
| | | |
| --- | --- | --- |
| Pos | Name | Time |
| 27 | Cara Hanson | 44:24 |
| 62 | Sarah Percival | 48:55 |