Race Date:Saturday 14th October, 2023
50k Ultra Race Report by Cara Hanson
The 50k ultra which is in fact 53.5k starts at Bamford recreation ground and is a hilly loop on a mix of surfaces including trail, gravel and road. You start by climbing Win Hill, then after traversing the ridge you descend to a double track gravel road along the waterfront, cross the dam and pass through the Heatherdene Aid Station. From here you make a full circumnavigation of Labybower reservoir, passing two further Aid Stations along the way.
Then it is time to climb again! Heading up towards White Tor before descending back down to cross the A57. The final section of the route runs along top of Stanage Edge, before dropping back down to Bamford. Throughout this race you will climb about 1500 metres.
With the race starting at 7am I decided to camp at Heatherhill farm campsite which is next to Bamford recreation ground. It was cold but I managed a good night sleep. I woke at 5am and had breakfast which consisted of a porridge bar, a breakfast shake and a beetroot shot. Now to get ready which wasn't particularly nice in a cold tent.
I wandered over to the race village, grabbed a coffee and met up with fellow striders Anne and Darrell. The only race plan was based on effort rather than pace, keep the first half easy, then maybe push a bit more in the second half, I had no idea how long it would take me or what pace I'd do.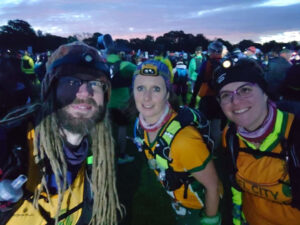 It was soon time to start, the sun was due to rise at 7.30 so we had to wear head torches to start with. We set off out the field and up Water lane and I promptly tripped over the same ramp that Kevin Haighton tripped over the year before during Bamford fell race, at least I didn't fall though. Climbing Win Hill felt easier than ever before, probably down to a really good taper. At the top we were greeted by the most beautiful sunrise.
The descent down to Labybower was really lovely but very windy, going through the woods felt magical, even if it was hard to see with the sun flickering through the trees. After doing the 2nd half of the striders 10k (walking the hills), we got to the first aid station. No coke yet sadly but there were brownies, tortilla chips, corn snacks and maple gels, I grabbed a bit of everything . Next was the long section around the reservoirs, the flattest bit. I was conscious to keep the effort at an easy level at this stage as we still had a long way to go, so I walked every incline no matter how small, quite a few people passed me . We passed another aid station, finally there was coke. I filled my cup and took some salty snacks.  I chatted to quite a few people on this section as they passed me, it's always nice to talk rubbish with random people. Once we passed Slippery Stones, I was getting fed up of running round the reservoirs so I upped the pace to get it over with quicker. As most of my training had been off road and hilly,  I started suffering with all this flat and my hip flexors were ceasing up which resulted in a shuffle.
We passed another aid station, then it was finally time to climb again up to White Tor, this was really steep but mentally it was such a relief and my legs woke up having something different to do. I decided to eat a marmite sandwich on the way up, it was nearly lunch time after all! It was so hard to stomach though and made me feel queasy, I decided to have some sweets instead and instantly felt better.
The views up here were amazing, we had got lucky with the weather. Once it flattened out a bit, I could run again even though there were lots of bogs and rocks to dodge. We soon started the descent to the A57, this was quite fast until we got to near the bottom where it was super rock and there was a high risk of ankle injury.  We crossed the A57 and were greeted by cheers from aid station 4, the steady supply of coke (Coca-Cola) was working wonders. I grabbed some snacks and walked or should I say crawled up the next hill, which led us back on the A57. It was a short but grim climb along the A57, which I ran so I could get it over with quicker.  A right turn led us on the path towards Stanage Edge. It was pretty brutal all the way up here and along the edge.  The bogs had got bigger, as did the rocks and the wind had picked up. The bog hopping was definitely giving me a full body workout, even though it was slow I loved this section and felt strong. We descended off Stanage down the Causeway, down to the last aid station. Now only 4k to go, mainly downhill, with just one steep hill to break it up. I passed a lot of people on this bit and felt really good until the last little loop to the finish where it flattened out and my legs ceased to function properly again, back to shuffling and a sprint finish in slow motion.  The atmosphere was great at the finish, I grabbed some goodies, met up with Darrell and collected my t-shirt just as the heavens opened.
I'd definitely recommend this to anyone looking for a no pressure adventure and I'm always happy to gives tips on training etc.
Now to book my next ultra, if anyone has any recommendations for next spring let me know.
Also if someone could teach me how to write shorter reports that would be great.
50 KM Ultra Results
The male race was won by Michael O'Neill (of no identified club) in 04:23:26, the first female home was Katy Cherry (Thame Runners) in 04:57:54 .
Striders' results:
| | | | |
| --- | --- | --- | --- |
| P | Name | Cat | Time |
| 59 | Christopher Johnson | M40 | 05:36:50 |
| 100 | Darrel Porter | M40 | 05:50:29 |
| 144 | Cara Hanson | F40 | 06:10:19 |
| 275 | Lindsey Banks | F45 | 06:57:11 |
| 490 | Anne Petit-Jean | F40 | 10:39:54 |
Half Marathon Results
The male race was won by Andy Harding (Heanor) in 01:36:07, the first female home was Amy Sarkies (Rugby & Northampton AC) in 02:07:27, the first open gender runner was D-Rock Barton (Punk Rock Fell Runners) in 02:37:13, and the first non-binary runner was Tim Venison (of no identified club) in 02:39:56 .
Striders' results:
| | | | |
| --- | --- | --- | --- |
| P | Name | Cat | Time |
| 122 | Bryan John | M40 | 02:25:40 |
| 177 | Darren Joseph Bristow | M55 | 02:31:40 |