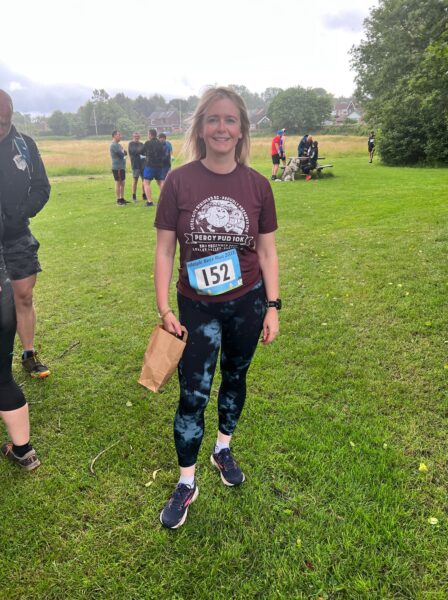 Race date: Saturday 1 July 2023
Race length: 4 km
Race report by Elin Reeves
Do you like beer AND running combined? Well… look no further – this is the race for you!
This year's Marple Beer Run (https://www.marplebeerrun.com/) was on Saturday 1 July. I woke up feeling slightly apprehensive. 4 kilometres of trail running doesn't seem too far, but what happens when you intersperse it with 3 stops to drink a pint of locally brewed ale (or G&T) and then a pint at the end? I decided that my aims would be to just enjoy it, not run too fast, not fall over and hurt myself, and hopefully not be sick.
Matt Broadhead and I got the train over from Sheffield to Marple, keeping fingers crossed that there would be no cancellations or delays. A gentle lunch of egg mayo butty and flapjack was consumed (there was some debate about how much to eat in advance, given the challenge).
On getting off the train, I felt a wave of nostalgia as I'd grown up in the village next to Marple. The registration tents and start point were at the Marple Recreation ground (no toilet facilities, FYI). We got our badges and then walked into Marple to find a pre-race toilet. We passed a pub where several hardy Marple Runners were preloading in the beer garden! I then remembered there was an amazing pie shop called Archer's that my Grandma used to take me to every week, so we bought a couple of beef pies and headed back to the bag-drop van with them. The guy manning the van didn't even flinch and seemed to appreciate the importance of these precious pastry goods, promising to take good care of them.
The race started at 14:00. The first kilometre headed downhill out of Marple to the Roman Lakes, then along some flat. The first beer stop hoved into sight. So far, so good.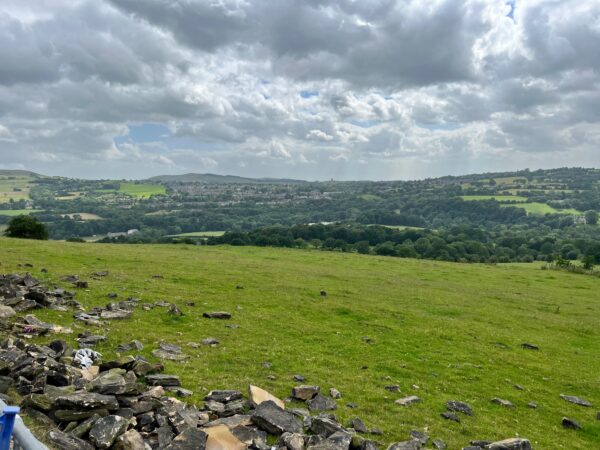 The second kilometre was all uphill, up a muddy and pebble-strewn path. Heart rate raised, I dug into my second pint, glad of the break.
On starting the third kilometre (again uphill, going past the Mellor and Townscliffe Golf Course), I definitely started to feel like the two pints of liquid I was carrying were weighing me down and my pace slowed considerably. We saw a guy ahead who suddenly vomited his two pints into a bush. Undeterred (despite us teasing him), he carried on with the advantage of a loss of ballast. The third beer stop looked out over glorious rolling countryside and blue sky.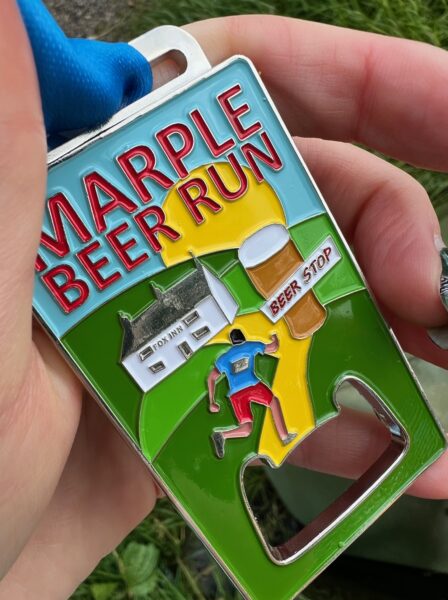 The fourth kilometre was thankfully mainly downhill. The finish line was just next to the picturesque Fox Inn, and we were presented with a finisher's medal (which handily doubles as a bottle opener) and, you guessed it, another pint!
The bag-drop van arrived and my pies had been carefully stowed on the front seat and were intact!
We eventually made our way to New Mills Station, after another beer for the road, and caught the train back to Sheffield, feeling a little tipsy and sleepy with the combination of exercise, pints and a bit of sunshine.
It was a fantastic friendly race in beautiful surroundings, and the organisers raised a nice amount of money for local charities. The beers were courtesy of Chadkirk Brew, Thornsett Brewery and Bollington Brewing, and the gin was from Didsbury Gin. Participants had a variety of running and drinking abilities so there was no pressure, and everyone seemed to have a right laugh. I definitely fancy giving it a go again next year to see if I can do it a bit faster. Who's in?!
There were 189 finishers for the beer run, and 93 finishers for the G&T run – presumably all unscathed and possibly some with slightly less dignity than when they began.
The record (for the beer run) was broken by Steve Vernon who completed the course in 15:07.
The record (for the G&T run) was broken by Joe Sweetnam-Powell who completed the course in 16:38.
Striders results