Race date – Sunday 8th October 2023
You only come across the word 'adverse' when it's used to describe the weather or a camber on the road edge. Weather often gets the antonym, for example in 'pleasant weather' or 'excellent weather'. Cambers are always 'adverse'.
This event was one of those 'choose your distance using laps of the same course' things – out and back for 10k, out and back then out the other way and back for the Half, and double that for the full 26.2 miles.
The start / finish was on the lengthy Promenade and early enough in the day that we pretty much had it to ourselves at first. On a lovely sunny Sunday, it got busier later on, as I expected. A fair bit of dodging and weaving was needed to get smoothly through the skaters and strollers and the families with strollers. What I didn't expect was a camber all along this stretch! Presumably it allows water from a wave at high tide to run straight back into the bay. I found it awkward to be honest.
Then there was a short stretch of pavement, with the slope going the other way, over the kerb and into the road. Less unpleasant, but still noticeable.
We turned at 3.1 miles to have the cambers work the other leg.
Going out beyond the start / finish (at 10k) was more Promenade, and then a couple of miles uphill and just out of town. The pavements had camber, the road junctions had camber, the petrol station access had camber and the country lane had a camber. The views all this way were great – stretching out over Morecambe Bay to the Lake District fells beyond.
I had shouted a loud 'Go Strider!' on the first section when I spotted Jacqui Herring coming back towards me (i.e. she was ahead of me), and I repeated the salutation as I neared the second turnaround point – she was well-ahead of me and looking comfortable.
I, on the other hand, was looking my usual uncomfortable by the end.
There were water stations but no gels, so if you do one of the series yourself you might want to pack some Soreen in the back pocket.
I got to the finish line in one piece, but after a couple of short lengths of 'Jeffing'. I am not a staunch advocate of the practice, but due to unavoidable aging / short training runs as my new norm / lost fitness / not running with Striders two and three times each week it felt necessary.
Would I go again? Yes, but it would be the discount of £10 given, I believe, to every finisher for their next race in the Lancaster Race Series that would clinch it. The Wagon Wheel in the goodie bag was 'not as big as they used to be'.
In summary; more camber than I'd prefer, but maybe it's geographically inevitable?
First Strider: Jacqui Herring (Half Mara) in 1:40:50 and securing 16th place overall and first W50.
Second and final Strider: Stuart Jones (Half Mara) in 1:53:50, securing 49th place.
| | | | |
| --- | --- | --- | --- |
| Position | Name | Category | Time |
| 16 | Jacqui Herring | F50-59 | 01:40:50 |
| 49 | Stuart Jones | M60-69 | 01:53:50 |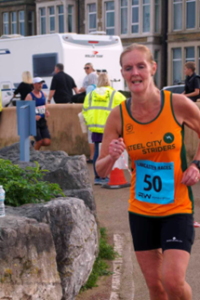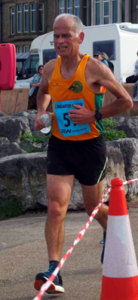 First male (Half Mara): Luke Foley (Horwich RMI Harriers) in 1:14:56.
First female (Half Mara): Marion Wright- Rose (Millom Striders RC) in 1:33:55, securing 7th place overall.
121 finished the Half Marathon.
For the full results click
here