Race Date: Sunday 5th November 2023
Race Report by: Katie Gill
Believe it or not I actually started to write this report on the 14th July 2022!
I had my first taster of all things NYC marathon when I signed up, for the pure joy of running, to their virtual marathon in 2020. I'm sure everyone is familiar with the concept of the virtual race now, but with the NYC event you get a two-week window to run the race in, around the actual marathon date – that first Sunday in November. So, for this virtual attempt I was up at 03:00 and out the door by 04:30 to make sure I beat the heat as I was living in the UAE at the time. It didn't go too well. Okay, so it was going well up to about mile 21 and then I got too hot and the cramp set in. It took me 5 hours to complete.
My second taste came in 2021. I managed to bag myself a guaranteed entry to the 2022 NYC in person marathon, but in order to get there I had to complete another virtual marathon. This time I was back in the UK, in Sheffield. After a failed first attempt only making it 5 miles, I set back out to try again the following week (thankful for that 2 week window) in the cold, wind and rain this time. This wasn't plain sailing either as I had some awful GPS issues on the day. My planned route was just over 27 miles (they say to add a little bit extra to make sure you hit the distance for it to count, and I wanted to be certain I was getting my place) but I got to my end point with only 23 miles recorded on the watch. I literally had nothing left in me. I was battered by torrential rain, tired, injured and that frigging cramp in my side had returned, which I later discovered could have been the linked to hydration, or my lack thereof. After another 5 hours slog I gave up thinking it was all over but decided the next day to be in touch with Suunto, Strava and NYRR to see if anything could be done. My luck was in as Strava confirmed there was a problem with the GPS dropping out on the uploaded activity which explained the shorter distance! Cutting this part of the story short, I contacted NYRR and they let me in! Woo hoo! NYC 2022 here I come!
Well, given the title of this report is the NYC 2023 marathon, you've probably guessed that didn't happen. I had made an early start on my training for 2022 incorporating speed work which was out of the ordinary for me at the time. As a result an ongoing issue with my heel/Achilles flared up quite significantly and so I made the decision in August 2022 that I would defer my entry for a year. It was an easy decision for me at the time as there were occasions where I couldn't even walk in the morning, so how would I have made it through training and then the marathon?
Weeks and months of rehab, strength work and reduced mileage finally got me to the start of my training plan feeling good; good enough to be feeling positive about taking on a marathon. I'd started to get myself some PBs across 5k and 10k distances and was having lots of fun racing and I was managing some pretty decent weekly mileage, for me at least. I decided to use the Hal Hidden 3 training plan. So only 3 days of running each week but complimented with cross training. This was to keep my injury at bay and it did for the first couple of months but then my heel pain reared its very ugly head again.
So it's August 2023 and here we go again. Back to my specialist for some additional scans; this time an MRi for it to reveal that my pain is being worsened by a condition I have called Haglund's Deformity which is basically calcification on my heel creating lots of micro-tears on the inside of my tendon. I had also been having some issues with my left ankle following a sprain in April this year but that didn't show anything on the scans so we just put it down to a little bit of something niggling me (common when we train for longer distances). If there is one thing I've learnt through this whole process is how much stress and worry can impact your perception of the injury/pain you're faced with. When I don't have a major bucket list marathon fast approaching everything is hunky dory and barely noticeable. NYC 75 days out and I have the worst pain ever know to man kind and it's going to ruin everything I've worked towards. When I attended my follow-up appointment to review the scans I got the news I wanted, and quite frankly needed at this time: that I was okay to continue to train and run the marathon without the risk of any serious, long-term damage! Hurrah. With that news came instant relief. Somehow my pain drastically reduced almost to the point of disappearing! If you're one of the lucky ones I haven't bored with the detail previously, I've had an on/off relationship with this problem since 2016 so it has played a significant part in my journey to the start line. I'll take some time off (at the time of finalising this report, I managed a week before going for a run) after the marathon (which I have decided may just be my last, but I also may have started filling in my application to Berlin :D) and see how things go. Anyway I'm waffling on a bit now… let's get back to the actual marathon.
The 16th August came around and I received an email to select my transport to the start, expo time and date and option to drop a bag for the finish line off. Excitement was building again! On with the training. 
The 10th October was another exciting day as I finally got to find out what time I was starting the race, my corral and wave details. 09:45 start = decent! A worry I had due to the number of runners was that my start time wouldn't be until 11:00 after arriving at the start village at 06:30! Perhaps luck was on my side from this point? Not long after this I completed my last long run of 20 miles and the taper began. It was a long time coming – I'm definitely in the group of people who love the taper! 
Anyway let us fast forward again, this time to 2nd November 2023. Bags packed, on the flight and ready to go. All my race day essentials in my hand luggage and extra gels etc shared between mine and my husband's checked luggage (I am not going to risk losing my tested race day kit and fuel!). We landed at around 18:30 after a longer than usual flight due to the stormy weather that week. I'd picked a hotel that was just by Grand Central Station so easy to get to from JFK. A short ride on the AirTrain and then a subway/train to the station – less than an hour and very easy. 
The next couple of days allowed me to settle in, collect my race number and eat plenty of NYC pizza and pasta before the big day. I had a very short shakeout run staying local to the hotel, and then we went for a walk to check out the finish line. I had set my watch going (I'd had GPS connection issues that morning and had switched the satellite setting in my watch to see if it was any better) and before we knew it we'd clocked up over four miles just getting down there and then another two to get back to the hotel later. We took it easy afterwards and headed back to the hotel so I didn't clock up anymore miles in the legs the day before. Apparently Paula Radcliffe made the same mistake which compromised her NYC marathon once – although she had a lot more at stake than I did! As we were walking back to the hotel after dinner I spotted Shalene Flanagan walking towards us down Lexington. NYC 2017 winner… Excited much?!
The 5th November finally arrived. I woke up at 02:30 but managed to stay in bed for an hour before my alarm went off at 03:30. I'd had enough sleep as it happens as it was daylight savings in the US that weekend. As a result the early start wasn't at all problematic for me considering the time difference. I had my usual pre-run cup of tea and 2 bites of the free flapjack we got on the plane on the flight over and started to get ready, bouncing around the hotel room in excitement (much to the annoyance of my husband). I thought I would be nervous like previous marathons but I wasn't. I had planned to have my breakfast when I arrived at the start (thanks to Malcolm Baggely for this idea which came to light when we were talking about his NYC marathon experience, collecting flags after one of the Steel City 10 Trail events earlier in the year). 
I was booked onto the 5am Midtown bus so once I'd stopped faffing about with my hair and race day outfit, we set off down the road/blocks at 04:40 to get to NYC Public Library. Once we got there, my husband ditched me and I joined the queues. It was a military operation and I was really impressed with how the NYPD and volunteers had everything under control. Bus after bus rolled up, we got on, then off we went to the start. I sat myself down next to a lady, we exchanged a courtesy good morning and nothing more. The trip was mostly silent as everyone mentally prepared themselves for what was to come. The journey took just under an hour in total. Once we arrived to Fort Wadsworth at Staten Island it was through security – scanners and bag checks (I even spotted snipers on the rooftops which was a bit unusual but understandable) then on to navigate the starting villages to reach the allocated starting zones. I followed the signs for my pink start, got myself some hot water for my porridge from Dunkin Donuts, a Dunkin Beanie hat (apparently these are coveted with everyone wanting one to keep warm as they wait), found a place to perch down and then slowly consumed my breakfast. At this point it was probably around 06:30 so i had just over 3 hours to go until my wave so took my time with everything. I decided to have a wander around to find the therapy dogs but when I got to their pen, they'd gone on a walk themselves! I did later find them though you'll be pleased to know, whilst I was queuing for a toilet! Speaking of, there were in excess of 51,000 runners taking part and I don't think I waited for more than 10 mins for the loo… Sheffield Half Marathon could learn a thing or two here!
Like other majors there are a number of waves for the elites before the masses start. For my wave at 09:45 we were called to our corrals at around 09:10. I was in corral A so at the front of the pink wave getting on to the Bridge. There were more toilets in the corrals too so one last chance to pee before we were called on to the starting bridge – the Verrazano-Narrows Bridge. For those reading who aren't familiar with the route, the NYC marathon is a point to point course which goes through the five boroughs of New York City. It is mostly flat, by our standards, with a maximum elevation gain of 79m and a total gain across the 26.2 miles of 246m but I can assure you, this still hurt on the day. There are over 2 million spectators along the route and your ears definitely know about it!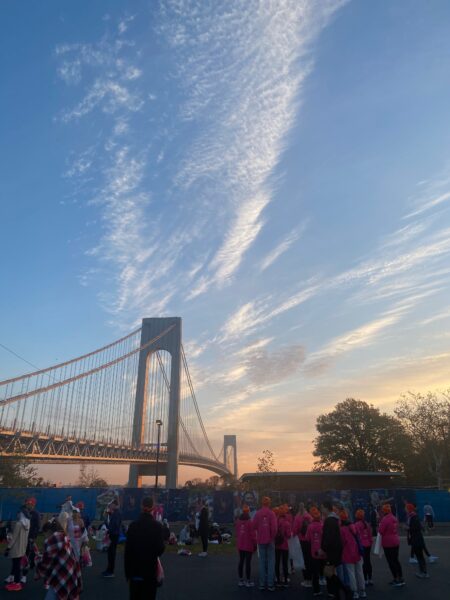 Each wave was started with the firing of cannons and then Frank Sinatra's New York New York starts to play, before both the American National Anthem was belted out by a lady, who later was taking on the marathon herself. What a way to start a race! I was over the start line within seconds and on my way. I was on the lower level of the bridge and pleased to report it remained dry down there (I had read many reports and heard on podcasts that those who are on the upper level, who maybe didn't get to one of the 1000+ toilets I already mentioned above, would relieve themselves over the bridge!). The bridge takes you through the first couple of miles in peace and quiet. The views of downtown NYC in the distance.
Off the bridge and we arrive in Brooklyn. We were here for the next 11 or so miles. This would be our first experience of the crowds and they got things off to a great start with spectators being 3 or 4 deep and giving it their all. The first 5 miles or so were straight up 4th Avenue which allowed runners to settle down, get in the zone and just take it all in. Eventually we ended up in tree-lined streets with a cheeky incline thrown in for good measure. It felt like the crowds were upon us at this point – it was like those clips of the Tour De France where the spectators are literally in the road jumping out the way as the bikes approach!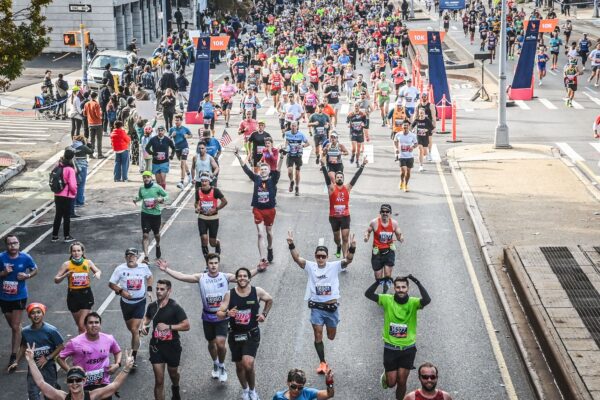 Eventually we made it to the Pulaski Bridge which would take us out of Brooklyn and in to Queens. This was also around the hall way point. There was the odd spectator on this bridge from memory but it was mostly just runners. Once we were off the bridge, you guessed it, the cheers started up again. At this point in the race, I was actually feeling great and was on target for either of my plan A or B times (a rather optimistic 3:30, or just under my previous PB obtained in London, eight years earlier, of 3:48). I had pre-programmed my splits in to my watch and was hitting them pretty consistently, but at times I did have to dial it in a little (remembering a conversation between myself and Jacqui Herring at a Wednesday Graves session a couple of weeks beforehand). We weren't in Queens for very long before we arrived at the next bridge and over in to the next borough.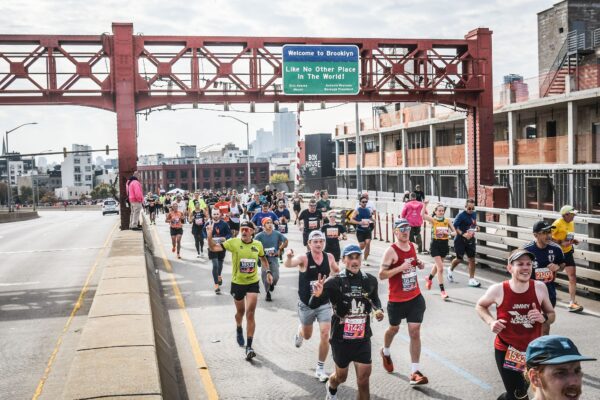 The Queensborough Bridge took us out of Queens and into Manhattan for the first time. The bridge was a quiet place with only the sounds of runners feet pounding the pavements and heavy breathing. I was zoned in at this point, still enjoying myself. I was running close to the NYRR (New York Road Runners) pacers who were explaining to the runners that they were about to be hit with the sounds of the crowds; before we could see them, we could hear them and they were right. Down on to First Avenue and this was where I had planned for my husband to be for the first time we saw each other. Only problem was he was on the right side and I was looking on the left – poor planning on my part there! We were on First Avenue from mile 16 up to about 19.5. A long straight road. By this point it was warming up and runners were starting to slow. That would be me shortly after the next borough, The Bronx.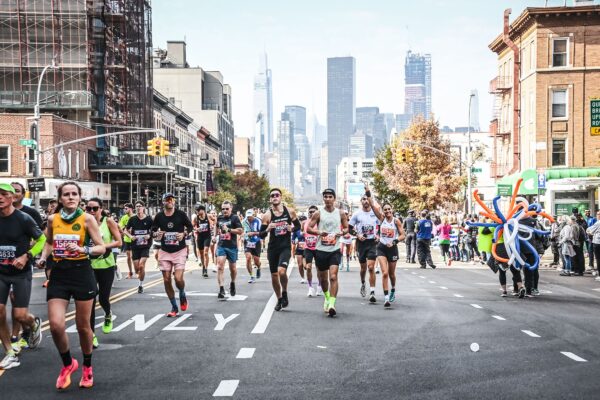 Over the Willis Avenue Bridge and in to the The Bronx. Short but sweet – a mile and a half at most. It was here someone mistakenly called me an Australian (the Green and Gold confusing those not in the know) and another shouting go on Steelers – which was more appropriate I suppose?! It was also here that the wheels started to fall off and I had to slow myself right down after getting back in to Manhattan.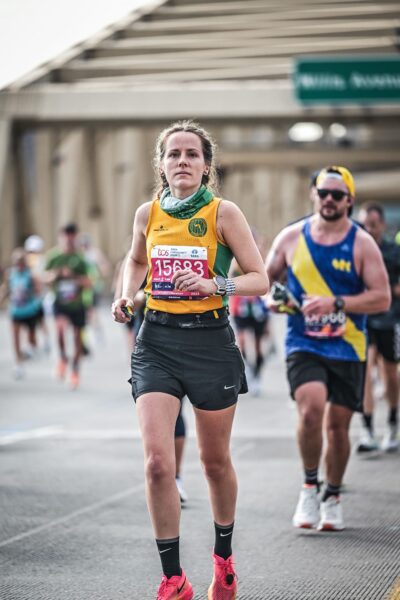 Back in Manhattan. Remember that side cramp/stitch I've mentioned several times already, well yeah, it occurred on the day. Pretty pleased it took me 21 miles to get to this point before I needed to slow down and to be honest, I was grateful for the opportunity to walk, hydrate and refuel in a more relaxed manner. So the last few miles. A little over five to go and the majority of which were on 5th Avenue. At this point I knew I would finish (and a bloody good job too as I had spent a small fortune on finisher gear at the Expo already), but I knew I wouldn't get my Plan A, and probably even Plan B time so switched my focus to coming home in under four hours. Although I was around mile 22 and had been running for just under 3 hours so came up with a plan to try and do 10 minute miles for the last 4.2 miles which would see home in somewhere around 3 hours 40ish. That was harder that I anticipated too. I was down to a fast walk. I stopped for some cuddles with a random ladies dog to take my mind off the pain – another told me now I had the energy I needed. I didn't. My next tactic was to try walking a block and then running a block which helped. Eventually I was slowly running three and walking one. It was working! Slowly but surely I was making my way to the next point where I had planned for my husband to be. Outside the Jewish Museum on 5th Avenue, 92nd Street, selected due to a big blue flag on the side of the building, so I could easily spot him. And I did. He barged his way through the spectators to get to me. We had a big hug. I cried. He told me I only had three miles to go. I said I thought I only had two! Armed with a random strawberry Twizzler I asked him to bring that I thought would help, off I went again. Taking smaller steps I managed to run those last 2 miles non-stop. It was hard. I even somehow managed a smile and a thumbs up for the camera. Central Park was beautiful in the autumn sun, but my finish up that last 400m climb, was less so. However…
I. FLIPPING. DID. IT!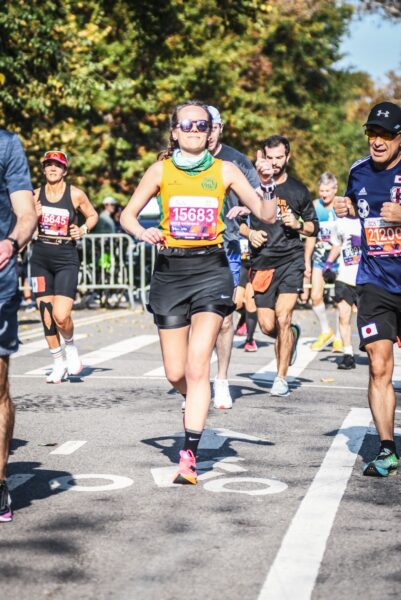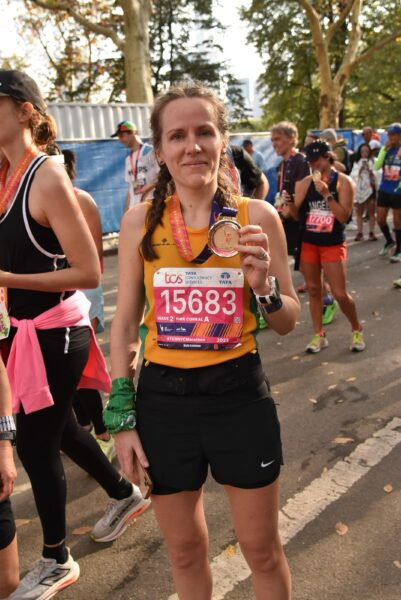 They don't tell you once you cross the finish that there will be people all over taking your (unflattering) photos, and that it takes what feels like 5 miles to get out the park. All I wanted to do was to stop and sit down but I'd arranged to meet my husband so kept going. I got to talking to a runner from HRRC of all clubs at the finish line. She had just completed her last of the 6 major marathons and was rattling along with her NYC medal and her 6-star finisher medal. I took her photo but unfortunately didn't get her name as everything was a bit of a blur. An absolutely brilliant day for her though!
2023 saw over 51,340 runners finish. 98.9% completion rate – NYC's 3rd highest completion rate and this years largest marathon. The race was won by Tamirat Tola of Ethiopia in 02:04:58. The women's race was won by Kenya's Hellen Obiri in 02:27:23.
I believe I was the only Strider on the day. Here is my result:
| | | | |
| --- | --- | --- | --- |
| Position | Name | Category | Time |
| 12,146 | Katie Gill | W37 | 03:54:02 |
The full results can be viewed here.
How do I feel about it a little over a week later. So proud to have ticked this off my bucket list. Am I bothered I didn't hit Plan A, or B? Absolutely not! That doesn't matter to me this time. I've no unfinished business whatsoever and I even have my name printed in the New York Times! I feel incredibly lucky to have had this experience and opportunity and I'm so thankful for everyone's words of encouragement and praise before and afterwards. You Striders lot are the best. If you ever get the chance to run NYC I say go for it. I promise you, you won't regret it at all.
TLDR: Went to New York. Ran a marathon in 03:54:02. Had an epic adventure. Came home.