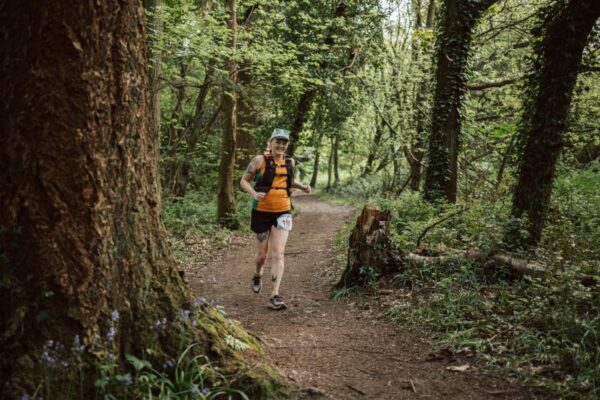 Race date: 20 May 2023
Race distance: 50 miles
The NDW50 is a 50 mile point to point run along the North Downs way national trail from Farnham in surrey to Knockholt Pound on the outskirts of greater London. The race begins in Farnham at the western end of the North Downs, traveling past Puttenham and Guildford following the North Downs Way National Trail. The course then continues on to Ranmore Common before the steepest climb of the race up to the top of Box Hill. The trail then drops down the other side and back up Colley Hill, on through Merstham to Oxted and a further 8 miles to Knockholt Pound and the 50 mile finish.
The NDW50 is organised by Centurion Running and it is their longest-running event, with 2023's being the 12th edition. It also reflects the first 50 miles of the NDW100 (although having experienced the 50 mile event I think you'd have to be some sort of masochist to sign up to that!)
Once again this was another race that John was signed up to but was not able to take part in due to injury, but I really wish that he had been able to, if only to experience the killer hills towards the end of the route! He once again provided amazing support along though, popping up every few miles to cheer me on, which I am always super grateful for.
Race HQ is Farnham Leisure Centre, and after a quick briefing we were walked down to the start at the trail head of the NDW. I was placed in wave 1 so we set off at 7am which was fine with me as it meant that I could get more running in earlier in the day before it got too warm. All of the advice I'd read in the lead up to the race was that the first 20 miles or so was fairly runnable, but to not let yourself get too carried away as you will burn yourself out for the big climbs from Box Hill onwards. And this turned out to be very true indeed, although speed is never my aim over these longer events, my aim is only ever to finish.
The day was warm and sunny with some passing cloud cover and a bit of a breeze, making for a glorious day out. The bluebells and wild garlic were in full bloom through the wooded areas, and the views across the rolling Surrey hills were absolutely spectacular, particularly when descending through the sprawling Denbie's Wine Estate.
At this point, I should note the power of wearing the green and gold; at around mile 15, as I ran through the woods in deepest, darkest Surrey, someone shouted the familiar, "GO STRIDERS!" at me as they passed by! I was so stunned that all I could manage in response was a meek "thank you", but clearly the reputation of the distinctive vest precedes it.
The dreaded steps of Box Hill greet you at the halfway point, almost a mile of constant uphill, although you are greeted with an amazing view from the trig point at the top.
There is then another climb up Colley Hill at mile 31, with a leg-busting gradient of 23%, down the other side, and then up Botley Hill to the final aid station at the top at mile 43. I must admit that I had underestimated the hills in this event and how hard they would be. I had no issue with covering the distance, having done the Manchester 2 Liverpool ultra 6 weeks before, but there were many points during those last 7 miles where I could have easily thrown in the towel. The landscape had all become quite samey which mentally I found quite difficult; it felt like it was dragging on forever, and as I got more tired I was doing less and less running so each mile seemed to take longer and longer to pass by. The ground was super hard chalk that was very unforgiving on the legs after so many miles, and the uneven ground meant my feet were pretty sore and battered. I buddied up with another couple of runners and they really helped to get me through. Sometimes I fell behind but I imagined there was an invisible piece of elastic between me and them, pulling me along – when they walked, I walked, when they ran, I ran. It was certainly a case of just putting one foot in front of the other by the end.
We could soon see the finishing arch in the distance, and the three of us managed to muster up a run to get us over the finish line. I have never been so elated to finish a race, or proud of myself, or to eat a bowl of plain pasta with a basic tomato sauce on it!
I think I am slightly addicted to that sensation of feeling completely spent at the end of a race, but that I've really achieved something, especially when it became really tough towards the end. My thoughts have now begun to turn towards my next challenge, although I am very much still basking in the glow of my achievement of completing a 50-mile race with 5,600ft of elevation.
A record field of 350 runners toed the line in this year's event, with Jose Rodriguez won the men's race, setting a new course record of 6:33:35. The women's race was won by Katie Grinyer in a time of 08:35:16
I was the only Strider and finished in a time of 11:42:25.
The race was won by Jose Rodriguez in 6:33:35, and Katie Grinyer in 8:35:16. 318 finished.
Striders result