Report by Stuart Jones
Race Date: Sunday 5th February 2023
Venue: Richmond Old Racecourse
One of my reasons for taking on a 'Second Claim' Club membership is so I can run in the local Cross Country league up here in 'North Yorkshire and South Durham'; like in South Yorkshire, it is closed to registered and affiliated Club members only.
The Old Racecourse (described as 'high up on Low Moor) hasn't actually seen any horse racing in over 130 years but you can see its history in the remnants of the oldest stone-built grandstand at the top of the five-furlong uphill straight. In contrast to conditions at the last race – where the ground was definitely 'heavy' – here the going was 'good' on the turf and 'fast' on the short section of dirt track.
Fillies, Babies, Colts and Horses all have separate races, of course. And I am not getting into the politics of geldings.
Runners (no riders) for the senior men's race assembled under the control of the stewards at the starting gate for the 5.9 mile, four-lap, race. In horse terms this would be called a marathon – as is any race over 1.25 miles. As always, I placed myself in a sensible and realistic staring position towards the rear. I still prefer to chase and pick off runners, rather than get overtaken and chased down.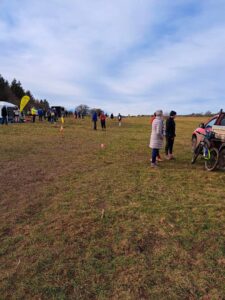 From the start it was uphill up to and round the old grandstand and then a long descent down the back stretch. Two furlongs from the start / finish line the route headed back up the race course, and we repeated this three more times.
Some sections of the track were clearly left over from racing days of long ago – wide grassy tracks with no problem securing a good trip. Others were narrow and more like a sheep-trod. Here it was harder to avoid being boxed (on lap one) or having to race wide (lap two).
The pace set by the leader (Gregory Jayasuriya of M'bro and Cleveland Harriers) was impressive, and he was lapping tail runners as soon as he started his third lap. I was somewhat off his pace, as was everyone else. I think the lad needs a decent handicap next time out.
On the final descent I ran with another runner just behind – his footsteps and heavy breathing were a constant presence. As we took the final bend and entered the home straight he managed to shake himself up more effectively than I did, taking a nine second lead by the finish line.
It was a good bit of fun, and cheap per mile; a full season of XC up here costs just £7.00. We had a picnic after and tried to work out how many racecourses I've run on, and how many constituencies of former Prime Ministers (in my life time) I've raced in. This was in the constituency of the next former Prime Minister, so it didn't count.
I raced in red, because that's the colour of my second claim Club, Teesdale Athletic Club.
(If I race at Northern Counties of Nationals I have to wear the green and gold as Steel City Striders is my First Claim.)
There were 91 finishers (no fallers) in my race. I was 66th to finish, beaten by one place by my teammate, Dave Raymond.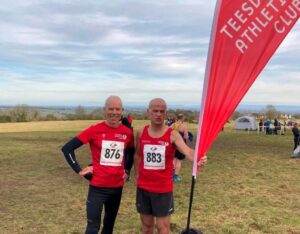 First place: Gregory Jayasuriya of M'bro and Cleveland Harriers in 32:22
Sixty Sixth place: Stuart Jones of TAC and SCS in 47:43
Link to full results here.