Race Date: Saturday 17th June 2023
Podium 5K – A race within a race
No medals, no t-shirts and a paltry 7 quid entry fee. This is just pure, distilled racing fun.
Podium 5K's "The Classic" is a reimagining of the classic Podium format, whereby race organiser Chris Barnes would offer runners a wad of cash at the start line to incentivise them to hit certain quick times. This race was no exception – with a tasty £1000 on the line for both the men and women's winners, with the caveat they run faster than 13:45 or 15:35 respectively.
Nestled at the edge of Lancashire, the Barrowford course is ideal for running fast. It's a tarmac cycle track; just over 1km in length, which was the venue of Emile Cairess' recent European 10-mile record. It is also the site of British 5km records set by Marc Scott and Beth Potter in recent years. Every runner's basic needs are accounted for, with coffee, ice-cream and flapjack right at the trackside.
Ryan Sheppeck and I were the only Striders' in attendance and naturally had decided to make a race of it, both of us gunning for Ryan's current standing 5K club record of 15:46. The race is seeded into five heats, with the E race being open to all and the A race being reserved for those elite few which are capable of sub-15 minutes (No that's not a typo!). Thankfully a last-minute mix-up which saw Ryan get relegated to a slower heat (I swear I wasn't involved!) was sorted, and the race was back on.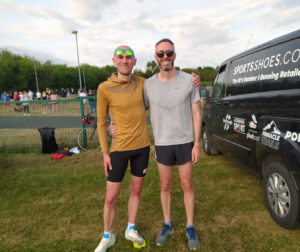 Ryan and Rob post-race – making sure to get all of the relevant sponsors in shot of course.
For those who don't know Ryan and I, we have a bit of a Tortoise vs Hare dynamic. My best results tend to lean towards longer distances, I'm good at running slow for a long time, but my top speed is lacking. Comparatively, Ryan really shines over shorter distances and can crank up his pace to a devastating kick when needed. Essentially, I knew that if Ryan was still with me with 400 to go, I was in serious trouble.
We both lined up at the start feeling slightly dehydrated. Thankfully the worst of the hot weather had cleared, but the high humidity and lingering 21ᵒC made it challenging to judge exactly how much water we needed, if in doubt drink more! The gun went off and we both settled into the back of the main pack, knowing full well that these races tend to go out at a blistering pace before settling down shortly afterwards. To further complicate things – GPS watches are notoriously inaccurate on these cycle tracks, so there's little point relying on technology to do the pacing for you.
As per usual, the first couple of laps felt frustratingly pedestrian, with lots of jostling for position. In hindsight, the early pace was pretty much spot on, and the time would have been much better spent trying to relax and settle into a consistent rhythm.
At the third lap and quickly approaching half-way, a battle was unfolding for 2nd and 3rd in the elite women's race. With both Lauren Heyes (Hallamshire) and Philippa Bowden (Aldershot) pushing the pace. It's not every day we get the opportunity to run alongside some of Britain's finest runners, and the experience is always inspiring to say the least. We came through 3K in about 9:30, the pace was good but would it last?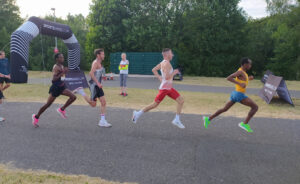 R-L Omar Ahmed, Marc Scott, Jonny Mellor & Kadar Omar showing what 2:45/km pace looks like.
By the fourth (and penultimate) lap things were starting to get tough. Experienced 5K runners tell me that this is where the race is won or lost, as this fourth kilometre is where most runners generally fade the most. This was evidenced by the fact that we were overtaking quite a few runners during this lap, victims of an overly ambitious early pace no doubt. At this point I recall thinking to myself that if Emile Cairess was able to run 16 laps here at a pace much faster than this, any internal grumblings I was having should be simply dismissed as whining. Despite this, I did subconsciously slow slightly over this stretch.
As we hit the bell, with 1km to go, I sensed that the pace had slipped slightly and surged. Anyone who has raced a 5K, regardless of pace, will tell you that you learn a lot about yourself over the last stretch in a 5km race. It's a mental battle where you're desperately trying to convince your brain and tired muscles to let you dig just a little deeper into a very dark place. Every fibre of your being is telling you to stop, but that's not an option. I rounded the last turn and began a long sprint for home, one question in my mind: "Had I done enough damage to hold Ryan off?". I didn't have to wait long to find out, as Ryan came gliding past to cross the line in a stellar 15:55.
As regular training partners, we know what each other is capable of, and the work it took to get there. Consequently, it's extremely satisfying seeing things start to come together. The best part, I'm sure we're both capable of much more.
I'd highly encourage anyone looking to run a 5K personal best to give this event a go, regardless of your level or pace. Runners of all levels are taking part in the various heats and doubling back to cheer each other on. It's also no secret that a certain amount of speedwork in your training can be hugely beneficial to your 5K progress. Don't be shy to come and say hello at one of the many Strider's speedwork sessions!
Strider's results:
| | | | |
| --- | --- | --- | --- |
| Position | Name | Gun time | Cat |
| 63 | Ryan Sheppeck | 15:55 | SM |
| 65 | Robert Byers | 15:58 | SM |
The men's elite race was won by the previous British 5km record holder Marc Scott (Nike/Richmond & Zetland) in 13:47, just 2 seconds shy of the full prize cutoff (I do wonder if they let that slide!). The women's elite race was won by Boston Marathon second place finisher Mary Ngugi (Nike) in 15:25. Full results can be found at https://www.ukresults.net/2023/podjun.html