RunGreno 11K Trail Run 2023 
Race date: Sunday 7th May 2023
Report by: Seth Kirby
The RunGreno 11k (or in my small world, 7.3 miles) trail run took place a few weeks ago in Grenoside. Organised by Matt Hale and the team at Grenoside Scout group, this inaugural event brought runners together to experience the trails around Grenoside. Barring the annual Grenochase there are not too many races that are held in this part of the city and I personally think it is an excellent place to run, walk or ride! So this new event was welcomed, especially one in which that has been established independently of a running club.
The race was hosted at Grenoside Community Centre with only a short walk to the start line. In the morning I collected my number from inside the centre whilst they were setting up the barbecue outside for food afterwards. Woodhead Mountain Rescue was also preparing its fundraising stall within the venue. Just after 9 o'clock more familiar faces from other clubs locally started to arrive. I chatted with Anne, Rosie and a few other Striders before I disappeared to change my shoes and go to do my pre-race routine on the field where the finish area was positioned.
I then incorporated the walk to the start as part of my warm-up. The start was just inside Greno Woods. Runners started to gather at the gate and I had a brief conversation with Mike and Ewan about how they were feeling after their respective marathon exploits. Following the short briefing, we were set on our way. I remember the temperature starting to rise but for the time being, we were under the cover of the trees. From very early on I ended up on my own. I recognised the first couple of miles where you climb out of the woods with a few drags along muddy trails, and I expected these paths to be muddy – which they were!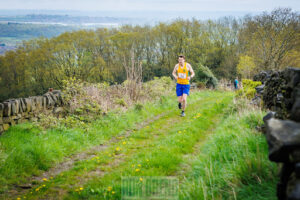 Once we made our way out of the woods there was a short road section with a stile leading to the first proper off road climb. I was following the leading group and could see the guy at the front in his purple Chatsworth 10k vest! This climb onto Wharncliffe Chase turned out to be my favourite section of the race. I would describe myself as a sloppy fell runner at best – I don't really see myself as being a good hill climber or good at descending, but my preference is normally up. I enjoyed dodging sheep across this field and onto the next footpath. I managed to compose my breathing a little knowing that we had done a fair amount of 'up' during the first part of the race. We passed a few more marshals and one kid even opened a gate for me (how kind! He looked completely non-plussed by it all…). This is where you then drop down for a little while and then climb back up past Chase Lodge and around onto another plantation.
At this point, the sun was starting to beat down and I was losing a little bit of gas at mile 4, but I knew there wasn't much running left to do. I could still just about see the lead runner in the distance but he was starting to become a blur in the distance! You then go on to pass the nicely named Dragon's Den next to Wharncliffe Crags and back down over Broom Royd into Wheata Woods (yes I did have to look at the route map to remind myself of where I had been!). The next part of the route became even more familiar, as you pretty much have to climb back out of Wheata Woods where past events have finished, such as the Wharncliffe Woods 10k. I was offered a drink at the station located near the car park (this is the start of leg 2 of the Sheffield Way Relay), but I turned down some water as I thought there isn't much left of the race.
I was wrong! But I did check my watch to confirm there wasn't much further to go – I never really look at my watch during a race. We still had over a mile left to run so I wondered where they were going to send us. A little more downhill passes by and before you exit the woods the cruel marshal (he actually seemed quite pleasant!) directed us right back into Prior Royd. The mud returned for a short climb and then we headed out through a field separated by rapeseed on either side. I've got a terrible sense of smell but this field smelt of cabbages (or maybe the field was growing cabbages, I should return and check…). I think this is where one of the photographers was taking his photos, but I could only remember seeing a marshal!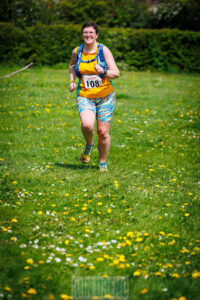 That section seemed to go on for longer than anticipated then you drop down a country lane past some actual civilisation and onto the main road. Next, trying to not get ploughed down by a car (a much easier task to achieve on a matchday, which the day of the race just so happened to be!) over the road and along to Grenoside Park, with a lap of a small section of the park to finish. This finish was a bit more taxing on the legs – but better than a downhill finish! I then waited for other runners to come through as I wanted to see other Striders including Anne and Rosie finish. The prize giving followed shortly after and I was very happy to contribute to winning the team prize with Mike and Malcolm. A few of us gathered outside to enjoy our burgers in the sun, reflect on the race and look-out at the views in the distance.
All in all a rather pleasant morning, perhaps a bit too warm for some, but the local community and low-key environment seemed to make the event a success for those runners, spectators and the scout group. Thanks to Matt and the other volunteers for a great route and for putting on a well co-ordinated event.
The men's and women's race was won by the almighty partnership of Jess and James Ross. James (unattached) was 1st overall in a time of 44:49 and obviously set a new course record. First lady Jess finished in 54:27. Steel City Striders won the team trophy – thanks to Mike, Malcolm (and I suppose me!). 130 runners completed the race and there were 7 Striders who ran the course.
Strider results:
| | | | |
| --- | --- | --- | --- |
| Position | Name | Category | Time |
| 2 | Seth Kirby | MSEN | 46:42:00 |
| 4 | Michael Cockings | MV40 | 52:05:00 |
| 23 | Malcolm Baggaley | MV40 | 57:14:00 |
| 31 | Will Day | MV50 | 01:02:08 |
| 93 | Katelyn Mckeown | FV40 | 01:19:00 |
| 125 | Rosie Smith | FSEN | 01:31:50 |
| 127 | Anne Petit-Jean | FV40 | 01:32:30 |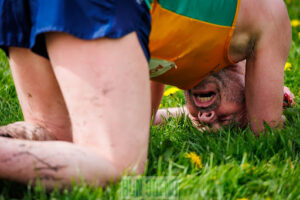 You ok, Will?!
The full results can be found here.