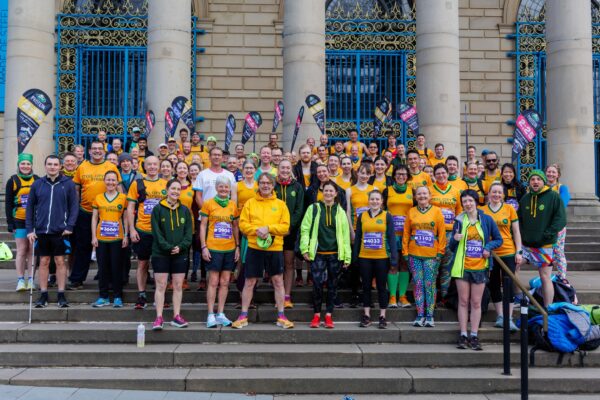 Race date: Sunday 26 March 2023
Race distance: half marathon
The 2023 Sheffield Half took place in perfect running conditions: cool, dry and not too windy. It was nice to see the city centre full of people, even if most of them were queueing for the bag drop. That aside, the half has always (since the one we don't talk about) been a great event for Sheffield, with loads of support from the public and the super-enthusiastic marshals and a course that's doable but can still catch you out.
Hallamshire Harriers took the men's and women's top places, with Tommy Power posting 1:08:00 and Phillipa Williams smashing her own course record in 1:14:50.
Striders took three category wins, with Chris Ireland narrowly taking M60 in 1:26:33(!), Sheena Woodhead winning F70 in 2:26:40 and Graham Goff cruising to victory in M70 by seven minutes (1:45:28) over fellow Strider Chris Reece in second. Nicky Rafferty stormed in at 1:48:41 to claim third in F60.
Man with the Pram John Burkhill was second M80 in 3:26:30. 4749 runners finished.
Striders results
| Pos | Name | Cat | Time |
| --- | --- | --- | --- |
| 47 | James Wilkins | MS | 1:20:17 |
| 69 | Michael Cockings | M40 | 1:22:12 |
| 83 | Andrew Sharpe | MS | 1:23:40 |
| 124 | Chris Ireland | M60 | 1:26:33 |
| 125 | Robert Dawson | M50 | 1:26:34 |
| 154 | Dennis Johns | M40 | 1:27:22 |
| 174 | Will Hitchmough | MS | 1:27:52 |
| 191 | Wei Chen | M50 | 1:28:28 |
| 210 | Rob Funnell | MS | 1:29:05 |
| 252 | Darren Barnett | M40 | 1:30:25 |
| 268 | Sarah Thorne | FS | 1:31:05 |
| 293 | Chris Boland | MS | 1:31:49 |
| 318 | Oliver Carlisle | M40 | 1:32:18 |
| 349 | William Fu | MS | 1:32:56 |
| 358 | Yasmine Chaffer | FS | 1:33:09 |
| 401 | David Naisbitt | M50 | 1:34:01 |
| 402 | Richard Carter | M40 | 1:34:03 |
| 409 | Ian Hunter | M40 | 1:34:12 |
| 423 | Paddy Treehowes | M50 | 1:34:27 |
| 427 | Annie Chambers | 381 | 1:34:32 |
| 434 | Rob Byers | MS | 1:34:40 |
| 435 | Naeem Stevens | MS | 1:34:40 |
| 493 | Doug Banks | M40 | 1:35:40 |
| 505 | Emily Green | FS | 1:35:51 |
| 516 | Ben Elliott | M40 | 1:35:58 |
| 542 | Nick Burns | M50 | 1:36:28 |
| 649 | Stephanie Millar | FS | 1:38:19 |
| 661 | Ben Heller | M50 | 1:38:29 |
| 673 | Ellen Broad | FS | 1:38:38 |
| 687 | Robin Nelson | M40 | 1:38:48 |
| 730 | Jim Danson | M40 | 1:39:25 |
| 729 | Joe Dunne | MS | 1:39:25 |
| 736 | Steve Blake | M40 | 1:39:28 |
| 759 | Neil Schofield | M50 | 1:39:54 |
| 790 | Claire Wren | FS | 1:40:14 |
| 852 | Craig Lucas | MS | 1:41:19 |
| 982 | Mark Baines | M50 | 1:42:36 |
| 1011 | Steve Haake | M50 | 1:42:57 |
| 1059 | Ian Black | M40 | 1:43:43 |
| 1086 | Nick Coleman | M40 | 1:43:57 |
| 1139 | Peter McCoy | M40 | 1:44:40 |
| 1163 | Sergei Shkul | M40 | 1:44:56 |
| 1165 | Paul Bentley | M60 | 1:44:57 |
| 1166 | Paul Johnson | M40 | 1:44:57 |
| 1210 | Graham Goff | M70 | 1:45:28 |
| 1257 | David Price | M40 | 1:45:48 |
| 1265 | Steve Yeoman | M40 | 1:46:05 |
| 1279 | Chris Brown | MS | 1:46:20 |
| 1360 | Jennifer Simpson | FS | 1:47:12 |
| 1388 | Andy Hinchliffe | M60 | 1:47:30 |
| 1412 | Katrina Gillett | FS | 1:47:44 |
| 1444 | Matt Broadhead | M40 | 1:48:09 |
| 1464 | Michael Cambell | MS | 1:48:22 |
| 1488 | Nicola Rafferty | F60 | 1:48:41 |
| 1497 | David Wilson | M40 | 1:48:44 |
| 1522 | Anthony Bell | M60 | 1:48:56 |
| 1524 | Lizzy Parrish | F40 | 1:48:58 |
| 1532 | Andrew Rowland | M50 | 1:49:03 |
| 1553 | Eric Latham | M40 | 1:49:16 |
| 1556 | Warren Brown | M50 | 1:49:18 |
| 1583 | Matt Rimmer | M40 | 1:49:36 |
| 1586 | Ben Stittle | MS | 1:49:38 |
| 1640 | Trevor Cleveland | M60 | 1:50:08 |
| 1643 | Brian Jenkins | M50 | 1:50:10 |
| 1650 | Mark Warriner | M40 | 1:50:13 |
| 1665 | Charlotte Civico | FS | 1:50:23 |
| 1677 | Giulia Neri | F40 | 1:50:31 |
| 1679 | Roger Brookes | M60 | 1:50:33 |
| 1727 | Richard Hart | M40 | 1:51:08 |
| 1731 | Steve Gourlay | M40 | 1:51:09 |
| 1795 | Kate Waddicor | F60 | 1:51:56 |
| 1810 | Ash Mellors | M40 | 1:52:04 |
| 1827 | Martin Downham | M60 | 1:52:11 |
| 1853 | Chris Reece | M70 | 1:52:24 |
| 1874 | Jamie Smith | MS | 1:52:39 |
| 1875 | Jamie Booth | MS | 1:52:41 |
| 1877 | Victoria Johnson | FS | 1:52:41 |
| 1932 | Samya Armoush | FS | 1:53:16 |
| 1976 | Karen Clark | F50 | 1:53:34 |
| 1989 | Jude Stone | MS | 1:53:43 |
| 2249 | Cathy Harris | FS | 1:54:03 |
| 2064 | Angharad Guy | FS | 1:54:19 |
| 2082 | Ryan Talley | M50 | 1:54:32 |
| 2115 | James Torbet | MS | 1:54:49 |
| 2116 | Mollie Stradling | FS | 1:54:50 |
| 2117 | Sam Ainscough | MS | 1:54:50 |
| 2119 | Richard Pegg | M60 | 1:54:52 |
| 2173 | Sophie Green | FS | 1:55:36 |
| 2249 | Jane Evans | F60 | 1:56:24 |
| 2297 | Richard Adams | MS | 1:56:47 |
| 2385 | Mark Norman | M40 | 1:57:48 |
| 2419 | Helen Green | F50 | 1:58:17 |
| 2473 | Stephanie Street | F60 | 1:58:49 |
| 2576 | Sam Keen | MS | 1:59:54 |
| 2579 | Helen Royles-Jones | FS | 1:59:56 |
| 2580 | Rebecca Roberts | F40 | 1:59:57 |
| 2585 | Joanne Battersby | F60 | 2:00:00 |
| 2621 | John Marsh | M60 | 2:00:27 |
| 2623 | Humphrey Fu | M40 | 2:00:28 |
| 2702 | Joanne Cole | F40 | 2:01:23 |
| 2706 | David Hewitt | M60 | 2:01:27 |
| 2815 | Matt Robinson | | 2:02:46 |
| 2825 | Emily Mackness | FS | 2:02:53 |
| 2923 | John Liddle | M50 | 2:04:09 |
| 2924 | Caroline Brash | F40 | 2:04:09 |
| 2960 | Robert Hoffmann | M40 | 2:04:48 |
| 2961 | Jonathan Legon | M60 | 2:04:49 |
| 3021 | Craig Slack | MS | 2:05:32 |
| 3045 | Elle Wilson | FS | 2:05:51 |
| 3154 | Lisi Briggs | FS | 2:07:10 |
| 3156 | Ian Blackburn | M60 | 2:07:11 |
| 3267 | Melanie English | F40 | 2:08:46 |
| 3275 | Neal Pates | M50 | 2:08:52 |
| 3286 | Ashley Card | MS | 2:09:03 |
| 3308 | Simon Gleadhall | M50 | 2:09:27 |
| 3335 | Joel Driver | M40 | 2:09:50 |
| 3348 | Fran Marshall | F50 | 2:10:04 |
| 3352 | Clive Downing | M60 | 2:10:05 |
| 3436 | Jo Rose | F50 | 2:11:17 |
| 3470 | Andy Telford | M40 | 2:11:50 |
| 3560 | Jo Gleig | F60 | 2:13:21 |
| 3614 | Jim Johnson | M50 | 2:14:22 |
| 3624 | Gary Roche | M50 | 2:14:28 |
| 3637 | Katie Hewitt | F40 | 2:14:38 |
| 3638 | Richard Allen | M50 | 2:14:38 |
| 3663 | Catherine McKeown | F50 | 2:15:01 |
| 3664 | Kevin Wong | MS | 2:15:01 |
| 3711 | Hayley Moore | FS | 2:15:54 |
| 3737 | Matthew Paice | M40 | 2:16:33 |
| 3788 | Charlotte Allen | FS | 2:17:41 |
| 3895 | Rosie Smith | FS | 2:20:07 |
| 3926 | Andrew Buckley | M40 | 2:21:01 |
| 3938 | Nancy Stuart | F40 | 2:21:18 |
| 3962 | Kevin Haighton | M60 | 2:22:01 |
| 3967 | Matthew Bradbury | MS | 2:22:09 |
| 3975 | Anne Petit-Jean | F40 | 2:22:23 |
| 4003 | Anne Petit-Jean | F40 | 2:22:23 |
| 4065 | Mario Shekar | M40 | 2:24:36 |
| 4095 | Marie Cheng | F40 | 2:25:16 |
| 4142 | Sheena Woodhead | F70 | 2:26:40 |
| 4208 | Zoe Dickinson | F40 | 2:28:30 |
| 4210 | Christopher Smith | M50 | 2:28:33 |
| 4245 | Jason Kelwick | M40 | 2:29:25 |
| 4286 | Chelsea Allen | FS | 2:31:15 |
| 4290 | Jane Clawson | F50 | 2:31:34 |
| 4306 | Rebecca Pollitt | F50 | 2:32:46 |
| 4417 | Richard Bailey-Jones | MS | 2:38:37 |
| 4490 | Gillian Pearson | F60 | 2:42:12 |
| 4671 | Chris Harvey | M50 | 3:06:54 |
Full results: https://chiptiming.co.uk/events/rfa-sheffield-half-marathon-2023/