Report by: Jean Docherty
Race Date: Sunday 7th May 2023
I jeffed my first half marathon. I wasn't as nervous as I thought I would be at the start line.
I decided to start at the back with me jeffing. Ratio 2 min run 30 sec walk. As I started there was another couple who were jeffing, I asked if I could tag along they both said yes. The man really helped us carry on 4 min run 2 min walk.
After a couple of km we cut it down to 3.30: 1.00 to finally to 2.00 : 1.00. The course was mainly flat but surprisingly there were some hills 😄.
Lots of water stations and toilets along the route.
About 8km into the race a lady on a cycle rode beside me, giving me encouragement along the way.  There weren't many people on the streets during the race but those that were there were really supportive.
At one point when walking I felt as though my legs weren't my own. But I felt better running.
I felt I had gained some progress. The last couple of km was the hardest, but a man on a cycle was beside me with encouragement, up a bit of a hill and round the corner to the straight I could see the finish line. I felt amazing that I had finished a half marathon in 3 hours 22 mins 13 sec.
I had hoped for between 3.30 and 4 hours but smashed it. Felt really proud running across the finish line.
I also need to add I didn't do any half marathon training prior to the event. I just played it by ear on the day. (Ed's note: Just think what you could achieve with some training!)
It was a great route, I didn't get my medal or t-shirt at the end of the race because, after a late surge to enter the race, they had run out of medals and t shirts. But they will be sending them.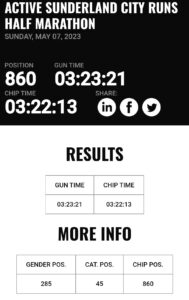 First man was Lewis Macalpine (Stornoway Running & AC) in 1:10:33 and first lady was Aly Dixon (Sunderland Strollers) in 1:19:03.  There were 863 finishers.
Link to full results here.
| | | | |
| --- | --- | --- | --- |
| Name | Time | Cat | Cat pos |
| Jean Docherty | 3:22:13 | FV50 | 45 |