Race Date Sunday 16th April 2023
Report by Jane Huws
This 15.7 mile trail race (1800ft ascent) is organised by MaD races in the North Yorkshire Moors from the village of Swainby.    I was looking for a longer (but not too long) trail race and thought I'd combine doing this with visiting a friend who lives nearby.
The weather was amazing for mid April – bright and sunny so I had to borrow sun screen as I hadn't packed any.  Parking was well organised, on hardstanding at a nearby farm about 10 mins walk to registration.   The village was very picturesque with stream running alongside the main street.  There were 2 races – the 16 mile one set off first (140 entrants) and then it was followed by a 7 mile race (92 entrants) so it had a nice relaxed small race feel.
I was the only Strider which is obviously an achievement even before racing.  The route was pretty varied.  Initially we crossed fields and farm track but then it got extremely muddy and slippery and was very slow going.  This was followed by steep forest tracks up the escarpment of the North Yorkshire Moors.  It took forever to get to CP1 and drink/food stop.  Great views from this point – down from the edge towards the lowlands and across to the higher ground.  My friend met me here to cheer me on.  There were some road sections which made the mile pass a bit quicker.  After another sharp (walking) climb at about 9 miles, the runners thinned out and I was mainly running by myself. My main concern was sunburn.   The paths were dry up on the top – gently undulating, but it a bit tiring picking the best line to avoid the uneven mud ruts.    At about 13 miles when I couldn't see anyone ahead or behind, (and I was tired – did I mention that ?)  I started to worry I'd gone wrong.  The last marshall had said we'd go through the wood but there was no path doing that and we were still on the moors.   After a bit of faffing, a runner appeared over the hill behind me so I carried on.  There was only one path, it was easy navigation, it was just that point in the race.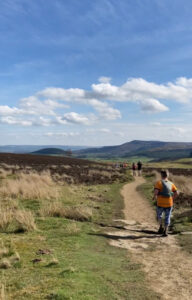 The worst bit of the course was the very very long flight of shallow steps from he moors back down into the village.  My knees really hurt by then – they hadn't been 100% when I started.   I could visualise all the fast runners bounding down these at speed but all I could do was a slow wincey jog, making quite a bit of pain noises.  Then there was a lovely gently downhill fast run into the village.
I had really low expectations for how I'd do in this race and told my friend to expect me back anytime between 3.5 to 4.5 hours.  I managed 3hours18  and came 10th FV50 out of 21.  I was really pleased.  It was a great event – very well organised, friendly and with snacks available afterwards.   Apparently some years they get snow, which would have made it a completely different experience.  It was really good to experience trail running in a different type of landscape with a different type of mud.   No medals were awarded, teeshirts were an optional extra purchase, but I have got the mud cemented to my trainers for a souvenir.
| | | | | |
| --- | --- | --- | --- | --- |
| Pos | | Cat | Cat Pos | Time |
| 98 | Jane Huws | FV50 | 10 | 03:18:46 |
One Strider ran.  The winners were Jamie Collin (MV40, Unattached) in 1:52:18 and Kathleen Aubrey (FV50, Helm Hill Runners) in 2:18:12.
Full results Swainby Sweep 2023 | Race results | Webscorer