Race Date Saturday 25th March 2023
Report by Jane Huws
This is a great little race, and for those that like a short challenging trail race with added mud, I would thoroughly recommend.   It's organised by Wingerworth Wobblers, based just south of Chesterfield, in aid of the local school funds.  With a civilised start-time of 10.30, it was no worse than getting up for a park run.  There were only 120 entries (107 runners on the day) which meant that there were no toilet queues.  The school gym was warm and had lots of space to leave piles of coats etc.  Although this race was on the club trail champs list, because Sheffield HM was on the following day, the Strider turnout wasn't massive.
There was an enthusiastic warm-up organised outside and then we walked on mass to the start, 5 mins away.  I think the Race Briefing mainly featured the word 'mud' but I couldn't hear much.  Then we were off up a gravel track.  The 4.6 mile course had 675ft of ascent.   It was a lovely course – a bit of road, some muddy tracks, some lovely woodland.  It was perfect weather too.
Some Striders, including Jo Gleig and Kevin Haighton were taking easy as they were racing the following day.  Although I started towards the back, by going steady on the hills and taking straightline routes through the mini mudbaths, I gradually passed a few people.   There was a bit of walking, followed by a  knee-punishing steep road descent, more lovely fields and the finish arch was in sight.  Unfortunately it was in-sight about 400m away up a very energy-sapping clarty and steep mud field.  I have never walked during a finishing sprint before. There was a very competitive battle between Jo, Nicole and Roger coming up the field.  We were all very happy to finish.   Medals were given out – one side had a picture of one of the older founding members of Wingerworth Wobblers which was a nice touch.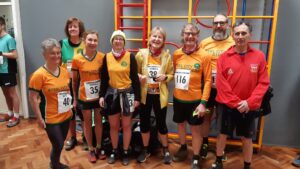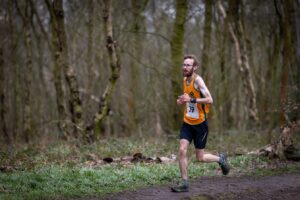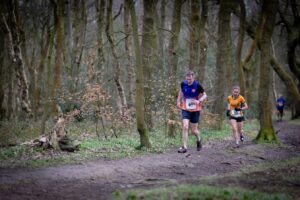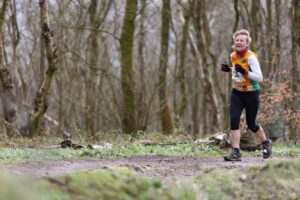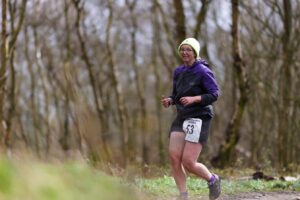 Once back at the school, we bought soup, tea and cake, and there was prize giving and raffle.   It was a lovely morning out.  The only things that could have been improved were – it would have been nice to see age category info and possibly chocolate for the runners up/category wins.
12 Striders ran. the race was won by Kieran Allanson (no club) in 29:49 and by Shelley Fairey (Matlock AC) in 34:49. Striders Seth Kirby came second and Fiona Jeffries came third lady.   For full results see https://www.tempoevents.co.uk/
| | | | |
| --- | --- | --- | --- |
| Pos | Name | Time | Gen Pos |
| 2 | Seth Kirby | 00:30:49 | 2 |
| 16 | Paul Stuart | 00:38:08 | 14 |
| 22 | Fiona Jeffries | 00:40:02 | 3 |
| 58 | Kevin Haighton | 00:50:54 | 39 |
| 64 | Jane Huws | 00:52:46 | 22 |
| 70 | Joanne Gleig | 00:53:36 | 25 |
| 71 | Roger Watson | 00:53:44 | 46 |
| 72 | Nicole Nield | 00:53:56 | 26 |
| 92 | Tracey Gledhill | 01:01:33 | 41 |
| 100 | Hannah Wright | 01:05:01 | 49 |
| 101 | Sarah Soden | 01:05:06 | 50 |
| 103 | Jessica Pemberton | 01:06:07 | 52 |