Report by: Adrian Good
Race Date: 15th October 2023
After losing my sister in law Rebecca in 2022 to cancer, I decided I would love to thank and give something back to St Luke's Hospice who were really great in her last few days and also supported my brother, long after her passing.
What better way to raise funds and challenge myself than signing up to a marathon. I had done the London virtual marathon in 2021 but always fancied doing one with crowds and other runners around me. I opted for the Yorkshire Marathon as I had a few recommendations that it was a great starting marathon and that the crowds were amazing.
I found myself a 17 week training plan and set myself a goal of a sub 5hr marathon.
Training went really well, better than I expected, even the long runs went ok, my longest run being 19 miles from Home to the Doncaster Rovers Football Club Ground which I found tough and thought to myself where would the other 7 plus miles come from.
Before I knew it the day was upon us. Unfortunately we didn't manage to find a suitable hotel in York the night before, so a 4.45am alarm clock, for breakfast was porridge and a bagel with peanut butter, at 6am, we then set off in the dark after scraping ice off the windscreen. We had booked a parking space in the Babican Q so a steady mile walk from there up to the race village.
There was a brilliant atmosphere in the race village which really helped settle the pre race nerves and a little chat with John Liddle, Caroline and Peter Brash in the village was great.
The start was nearing so we headed for the start line with a last minute toilet stop, where the queue didn't seem to be moving.
Final goodbye to my wife and daughter then a fight through the crowds to reach the 5hr pacers.
The gun started and the cheers of anticipation went up. It took about 5-10mins to reach the start line then we were off. I Started just ahead of the 5hr paces and set what I thought was a steady pace, the first mile being slightly downhill so I didn't want to go off too fast (which unfortunately I did) I was looking at keeping my miles to around 11mins and went through mile 1 in 10:39. There was a shout from a man behind me of 25 miles to go which made us laugh. We then entered York city centre where the crowds were amazing. As I passed the Minster I heard a shout of Go on Mr Good which I instantly knew was from Stuart Jones a quick thumbs up and on I went. Through mile 2 (10:29) with the same man shouting 24 miles to go. The next few miles we wound our way round the city centre. Still hitting my target of under 11mins miles. It was around the 4 miles mark where the mile markers on the course seemed a little further than garmin was measuring.
Just before 10k I was surprised to see the 4hr 45min paces, I caught them and went passed at ease. I was feeling great at this point so just carried on, I went through 10k in 1hr 5min which was probably 5mins too quick for my 5hr goal. The 7th mile was my quickest of the whole race 9:56 but I still felt great. The miles ticked over then the garmin flashed up half way, my 2nd fastest ever half marathon 2hrs 16min 34sec, I then passed the official course half way point in 2hrs 18min 19sec. Either way I had a feeling it was too quick and the next 13 miles would be hard work.
I kept hitting my miles target until the 15th mile and I was then tiring, by mile 17 the 4hr 45min paces had caught me, I tried my best to stay with them but was now run/walking. Heading to the 18 miles mark it was an out and back and managed to spot John Liddle so gave him a shout then on my way back up spotted Hannah Wright so a quick high 5. I was really starting to struggle at this stage and felt constantly thirsty every water station I was guzzling water, A few houses had set up tables with water and food which was really helpful. By mile 23 I had company of the 5hr paces who I managed to get ahead of, again but I was soon overtaken by them and they were disappearing in to the distance. I felt a little downhearted by this but simply had nothing left and just concentrated on that finish line. A cruel twist was to follow just before 26 miles we turned a corner to be greeted by a hill which after 25 and a half miles is not what you want to see. I walked to the top then as soon as I hit the top managed to find some energy and proceeded my traditional sprint finish home. The atmosphere running back towards the finish line was unbelievable, so many people cheering everyone and I crossed the line and the emotions were high…..that feeling was unreal……I had just ran a Marathon.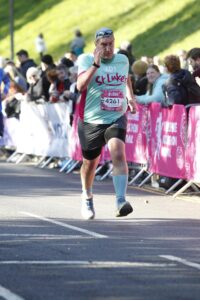 I finished in 5:10:01 although strava had me down as 5:09:00 and running 26.31 miles. It wasn't the sub 5hr I wanted but it was 1hr and 5min quicker than my virtual London marathon time.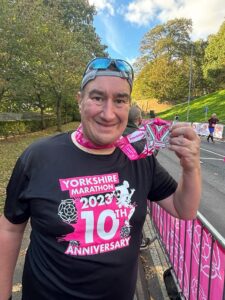 For a few days after I said I would never ever run another marathon again, but after 2/3 days rest I'm thinking about it as I'm desperate to break that 5hr barrier so watch this space.
According to the results 11 striders completed the marathon:
| | | | | |
| --- | --- | --- | --- | --- |
| Pos | Name | Cat | Chip Time | Cat Pos |
| 450 | Will Hitchmough | MS | 03:12:57 | 257 |
| 867 | James Wilson | MS | 03:30:09 | 455 |
| 978 | Sam Needham | MV40 | 03:34:17 | 149 |
| 1003 | Joshua Chapman | MS | 03:35:36 | 518 |
| 1298 | Katrina Gillett | FV35 | 03:43:34 | 26 |
| 1635 | Charlotte Allen | FS | 03:52:21 | 104 |
| 2924 | John Liddle | MV55 | 04:30:54 | 106 |
| 3281 | Lizzy Parrish | FV45 | 04:43:27 | 109 |
| 3828 | Adrian Good | MV40 | 05:10:01 | 418 |
| 3985 | Sarah Storey | FV50 | 05:20:12 | 96 |
| 4245 | Hannah Wright | FV35 | 05:46:43 | 153 |
1st male home Joe Sagar of Spenborough and District AC 2:24:10
1st lady Melissah Gibson unattached 2:40:40
Link to full results here.
10 Miler
The Yorkshire 10 mile race takes place alongside the marathon.  In this event 3 Striders are listed in the results. A special mention to Hannah Shillitoe who came third in her FV35 age category.
| | | | | |
| --- | --- | --- | --- | --- |
| Pos | Name | Cat | Chip Time | Cat Pos |
| 110 | Hannah Shillitoe | FV35 | 1:07:54 | 3 |
| 1013 | Rebecca Roberts | FV40 | 1:30:37 | 46 |
| 1356 | Caroline Brash | FV45 | 1:36:16 | 69 |
1st man Cal Mills of Leeds City AC in 50:18.
1st lady Katy Wood of City of York AC in 56:53
Link to full results here.