Club Captains
Ladies Club Captain: Caroline Brock
Our ladies Club Captain is Steel City Strider's very own Queen of the Fells Caroline Brock and here we get the chance to learn what makes her tick.
Whilst it's unwise to ask a woman her age, Caroline is currently an F35 so not really a veteran. Early experience of running was not encouraging having been coerced into cross country at school even though, although decent, she hated it. Now it is one of her favourite things to do! Later, running on a treadmill was a means to an end simply to keep fit but things began to get serious when she entered the Sheffield Half Marathon in 2013. Having got the running and racing bug her friend Doug convinced her that being in a club would be good for her running and that Striders was a great club.
Obviously training during Covid has been anything but normal but Caroline would usually expect to run about forty miles per week, longer if marathon training, including at least one speed session. This would be long reps for the marathon (this might be 5x1000m up to 3x2miles) or a track session plus the weekly long run (12-15 miles or more). Training is a mix of road and trail including a weekly easy off-road run to enjoy the views. Summer sees a weekly visit to a local fell race too. (Here Caroline is being modest for a visit to her wine cellar would see that it is well stocked with prizes earned on the fells. ed).
Caroline simply loves racing but favourites have to be the relays; road, fell, cross country, the Sheffield Way…. They're a great day out and being part of a team can be a lot of fun, putting in a hard effort for the club, being able to cheer on your teammates and getting the encouragement back too. The Sheffield Way buffet is reward in itself. The Grindleford Gallop has to be on the list too because it's such a brilliant local race and the weather is always a treat.
Even though fell races are not included, Caroline's Power of Ten shows superb improvement since 2013. London Marathon 2019 is her personal favourite as training had been consistent and the best ever in the run up to a marathon, feeling focussed and in control and on the day. After some awful marathon experiences, finally running the time that she knew that she was capable of felt amazing.
The worst of those awful experiences was perhaps Rotterdam 2018. After training through a hard winter, it turned out to be warm on race day. Collapsing just when the race should be starting at mile twenty Caroline got a lift to the finish on the back of a quad bike although pace had been fairly consistent up to that point. The issue wasn't the training but problems coping with warmer weather and an inability to take that into consideration and slow down a little. Parents had always said that their daughter was stubborn; worthy traits in an endurance athlete but not knowing when to stop and simply running to exhaustion can have unpleasant consequences. However, lessons learned and all that winter's training was put to good use with a great summer of racing and lots of fun before taking stock to have another go at the marathon the following spring.
Ambitions include an aim to keep running as well as possible for as long as possible and also nailing a sub three marathon one day. If you have ever seen Caroline race you will know that this should not be an issue.
Club Captain is a new role which Caroline sees evolving, being adapted to take note of what her clubmates think the role should be. An important task will involve working with the other club members who work hard behind the scenes to get teams together for events then shouting at everyone to do as they are told on the day! As racing starts up again and we can all train together once more an objective is to make Steel City Striders the best club in South Yorkshire!
And in answer to the real question its beer, especially after a race.
Men's Club Captain: Neil Schofield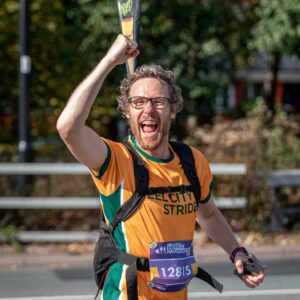 Neil pacing runners around the Sheffield HM
With Ben Jones having to step down, Neil took up the Men's Club Captain role for 2022. He's already made his mark, helping the V50 men's team to a medal at the 2022 Yorkshire Vets XC in Norfolk Park and leading on improvements to publicising opportunities to represent the club at team events and promoting upcoming championship races.
You'll mainly see Neil on the roads and XC and at most of the team events. We'll publish Neil's bio once we've found time in his hectic schedule to get his thoughts.