Striders History 2000–2014 by Roger Stevenson (founder member and club archivist)
My thanks for the valued assistance of John Rothwell, Ian Shepherd and Norma Parkes in compiling this article.
There are links to albums on Flickr (https://www.flickr.com/photos/steelcitystriders/albums) for some post-2012 events, and you can find the previous instalments of this history of our club at:
Many race reports and results (and photos) from 2002 to early 2014 are still available on the Striders archive website at http://archive.steelcitystriders.co.uk/index.html
January and February 2000
Report of club member Robert Cotterill running in the New York Marathon, finishing in a time of 3:26:34 in 3902 position in a field of 38000 runners.
Club Chairman Iain Colquhoun attended a meeting to discuss a North of England membership scheme. This idea didn't meet with approval by local clubs who objected to more money being taken from grass-roots athletics. The motion was passed and it was agreed to levy each club £60 per annum and £3 per member. The scheme due to be introduced in May of 2000 will cost the club an extra £700 per annum for which Striders gain nothing extra from the North of England.
Report of successful day last October when there was a visit by a group from the club to Beverley in East Yorkshire. The hosts for the day were Beverley AC. 2 groups ran courses of 10 and 13 miles.
Another George Littlewood 6-hour Challenge race to take place at Don Valley in April.
March and April 2000
An extensive series of club events planned for the Millennium year, no fewer than 18 to choose from, many of which will be combined with a social occasion.
The 2nd Loxley Lollop will take place in July. This a 5-mile paired "Yacht Race" from Pinegrove Country Club where all runners make an estimate of their finishing time and then complete the race without a watch. The winning team will be the pair of runners whose total estimate is nearest to their actual finish time.
In July a Midsummer training and weekend camping is planned in Bakewell.
Roger Stevenson is still asking for runners to come forward to take part in the Trans Pennine Trail Run in May.
Our Percy Pud event figured in the Runners World best 10K races in 1999. It was rated 10th and described as fast, scenic, good atmosphere and great value for money.
47 races advertised in the 2000 Local Fell Running Calendar.
A regular feature in Striders News was an advertisement for "Keep on Running" on Atterclffe Road, an often well-frequented shop by club members, especially those requiring a new pair of running shoes.
May and June 2000
Several Striders who are still well known 20 years later ran the Lord Mayor's 10K race 2000. Results showed finishing times of Pete Brown 36:10; Simon Wiles 37:10; Dave Beech 38:43; John Crossland 39:35; Roger Stevenson 42:14; and Luigi Cazzato 46:46.
Runners in the Striders' forthcoming Millenium Trans Pennine Trail Run will be Roy Kitson, Stewart Robinson, George Appleby, Mick Hobson, Kevin Rowland, Helen Lindley, John Lindley, Claire Von Anrep, John Manthorpe, Doug Thomson, Katrin Thomson, Iain Colquhoun, Dave Norris and Roger Stevenson. The Trail from Southport to Hornsea was considered too far for just 14 runners so the run will start from Timperley, west of Stockport to the East Coast at Hornsea.
A reflection on the various locations that Striders have staged the club 10K: an out and back course to Wharncliffe Side from the Middlewood Tram Terminus; a 2-lap course around Lodge Moor and Redmires; Rother Valley Country Park; and incorporated within the 10K High Storrs Hobble where the event started outside the Hammer & Pincers pub, then to Ringinglow, along Sheep Hill Road and back down Hathersage Road and Ecclesall Road South to the finish at High Storrs School.
Strider Mary Howarth is training to compete in the 150-mile French-organised Marathon Des Sables, which goes through part of the Sahara Desert. Mary is hoping to raise £1000 for the Weston Park Hospital's Cancer Appeal.
New club member Mick Hughes was looking for a partner to compete with him in the Karrimor International Mountain Marathon (KIMM) This is a 2 day running orienteering race in a mountainous area of the UK.
July and August 2000
A well written article by a new club member, David Campbell, in which he reflects upon his journey from cyclist to couch potato to a runner. Some amusing words and expressions of realism when he realises that he isn't as fit as he thought he was. Not deterred, he runs some decent miles and develops an "I'll show 'em" attitude. (David went on to become a more than prolific Strider!)
Some good results from club members in The Tigers "10": John Kerr, 1st male over-40; John Gregory 2nd male over-50; Harry Todd 3rd male over-50; Margaret Hobson 2nd lady vet.
Another outstanding performance by John Kerr who ran the London Marathon in 2:33:56.
4 Striders competed in the George Littlewood 6-hr Challenge in April: Roy Sharp 41.26 miles; Andy Rowland 32.49; Stewart Robinson 31.96; and Christine Hall 30.97. 38 entered, 29 athletes finished. Winning mileage was Bernard Jarvis from Nottingham with 45.31.
The new introduced North of England AA Membership Scheme is now in place. The club's 232 members have been registered and all now have a membership number.
Technology progresses and Striders now have their own website. Initially dormant for several months, development is under way and being undertaken by Caroline Whitehouse and Iain Colquhoun.
A disappointing time for Mary Howarth in the 150-mile Marathon Des Sables. She wasn't allowed to finish by the event doctors after sickness and being unable to keep any food or water inside her.
The 14.5 mile Dronfield 2000 Rotary Walk is now open, a route which became well used by club members for both training and competition.
The club 10K road race would this year take place at Rother Valley Country Park in August.
The Bochum Exchange Party to be held at the Novotel, Arundel Gate in August.
September and October 2000
Alan Brook was this year's winner of the SYAA 5 Mile Road League over-60s, with Gordon Wilding winning the over-50s. Margaret Hobson was second Lady in the over-45s.
The Steel City Mile is to take place in September at the Woodbourn Track along with 5 other races.
Richard Dunk and Dave Beech competed in the 7-mile Bakewell Pudding race. Bad news for some of the finishers, the puddings given to runners had all gone! Richard, who has served the club more than well with his work in organising our Percy Pud race, had joined Striders recently. He had once weighed 17 stone and had lost over 7 stone in weight after taking up running.
The Striders Derwent Dash Handicap race was won by Sally Todd in a time of 83:21. She was off scratch, whereas Dave Campbell with the evening's fastest time of 59:07 had a 33-minute handicap.
An interesting article by Roy Kitson on the danger of bulls who become very protective of their calves when runners get too close.
Striders progressing in to the 21st century with the establishment of their own website which went live earlier in the year.
An article describing the club's Trans Pennine Trail Run in May. A mixture of enjoyment, despair, terrible weather, varying scenery, varying accomodation, achievement and team work. A never-to-be-forgotton experience!
The beginning of articles describing the life of the fictitious "Gilbert Portenbrew", being the pseudonym of new member Pete Brown. Gilbert was a member of 5 different running clubs, all partial to sampling various alcoholic beverages and all of course offering Gilbert the chance to train and booze 5 nights a week. You either liked or loathed the words put to paper by Pete!
November and December 2000
Richard Dunk reported on competing in the 20th Tour of Tameside. This is a set of 6 races run over 7 days of varying distances and terrains. Total mileage was 53. Richard's overall time was 5 hrs 30 mins. 600 runners started, only 400 completed all 6 races.
2 new venues announced for the forthcoming cross-country season: Silverwood in Barnsley and Concord Park in Sheffield.
Data Protection comes the way of the club now that the North of England AA Membership Scheme is in operation.
Team Captain Julian Paul gave news of the Men's Veteran Team of Vic Riley, Steve Watts, Pete Wakefield, Gordon Wilding, Andy Buck, Dave Parry, Dave Campbell, Steve Hird, Dennis Crossland, John Gregory, Harry Todd and John Kerr being the winners of the 6 leg 60 mile Leeds Country Way Relay.
During the Bochum Exchange Weekend 3 races were held. 5K, 10K & 10 mile. 97 runners competed across the 3 events, 47 Striders, 20 Opelaners, 18 from the Saxilby Running Club and 12 Guest runners.
Pauline Spurr was 1st Lady Vet over-35 in the Great Scottish Run Marathon in 3 hrs 17 mins.
Feedback from Cyprus and New Zealand regarding the club's website.
---
Time for another pause in this amazing story
The history of the club has continued from the beginning of 1994 to the end of 2000. Never a dull moment in those years as you will have read. Changes in many aspects. Change in the format of Striders News. Change of administration with Dave Beech as the new Editor of Striders News. A change of Social Secretary with Chris Hall taking over and a change of Membership Secretary with Stewart Robinson taking over.
Striders Jenny Blizzard, Rod Clarke, John Kerr and Mary Picksley writing themselves in to the Striders Hall of Fame with their running exploits. Striders 10K Percy Pud event gathers even more momentum. The Bochum Exchange initiative continues.
Striders compete successfully in events such as the Manchester to Blackpool Relay and the Leeds Country Way Relay and the club hosts an event with an historical background, the George Littlewood 6-hour challenge.
Out of breath when you are running and out of breath when you are reading this history.
There is even more to come. That little acorn is growing fast into becoming a giant oak.
Watch this space !!
---
January and February 2001
In the final race of the 3 race Milton Millennium, John Kerr was 1st over-50 male,and Alan Brook was 1st male over-60.
Mary Picksley had set a new club record in the veteran 40 to 49 category with a run of 3:16:12 in the Robin Hood Marathon staged last September.
In the Worksop Half Marathon in October, Mary was 1st over-40 Lady Vet in 1:31:22 with Jane Foulke 1st over-60 Lady Vet in 1:41:15.
Listed in this edition were some notable birthdays for members in 2001. Among them was Gerald de Vane who would be 75, Roy Kitson 70 and John Hunt 65.
The sale and distribution of Striders kit is now in the capable hands of Jean Gregory and Eileen Ludlow who have taken over from Karl Priest.
Dave Norris reported on his run in the New York marathon where he finished in 1745th position in a time of 3:17:16. There were 29,272 finishers.
Striders membership now almost 250.
March and April 2001
Reg Arundel produces a moving article of farewell to the club as he embarks on a 2-year Voluntary Service Oversea in Cameroon.
A well written and amusing poem about Roy Kitson upon reaching his 70th birthday.

He's been air lifted from a Scottish moor
And found himself locked behind a storeroom door
He's the man that many Striders love
Who can injure his back when picking up his glove
In spite of organising the Sheffield Way Relay
He has on training runs occasionally lost the way
He's parked his car in the Don Valley car park
And found it impossible to retrieve after dark
And now that at 70 he;s no longer a boy
Happy Birthday to our mate ROY!

A suggestion that never came to fruition, that the club organise a relay along the 40-mile Chesterfield Canal.
2 very popular members who deserve a mention were Rose and Jim Nelson who competed in last November's Bolsover 10K. Rose ran 58:58 and Jim finished in 49:48.
A new route for this year's Sheffield Full and Half Marathon event starting from the Don Valley Stadium and out to Orgreave and back.
May and June 2001
An important announcement from the Fell Running Association: please don't run near open or farm land until the serious outbreak of foot-and-mouth disease has been contained and the all-clear given. The FRA has cancelled all races until further notice.
News of theStriders competing in the North of England Cross-Country Championships at Blackburn and in the National Championships at Durham.
Matt Surgeon while at work in the US took part in a number of races in Houston, Texas.
Interesting to note that after some race reports in Striders News, members are given the relevant weblink to look at for a full report.
Included in this edition was a comprehensive list of Thursday evening track sessions led by Pete Brown at Woodbourn Road for 2001 from the end of March to the end of September. Sessions still in progress 18 years later!
July and August 2001
A midsummer event to take place organised by Alan Brook, starting and finishing at the bottom end of Wyming Brook. The turn round is at Stanage Pole.
An advertised run on the Chesterfield Canal organised by Roger Stevenson.
Striders had taken part in the Northern 12 Stage Relay at South Leeds Stadium in April.
Some excellent times by club members at the 1st South Yorkshire 5-mile event at Dinnington: Stuart Maycock 28:43; Chris Ward 27:48; Richard Dunk 28:50; John Kerr 27:04.
The final race in the 5-mile series was staged at Norfolk Park, the only time ever that location was used.
The Tigers 10 mile was reduced to 10K because of the foot-and-mouth outbreak.
A warning that some of the route of our Sheffield Way Relay could be affected by the oot-and-mouth outbreak.
The Swallownest 10K, a popular event in the past for club members, cancelled because of the high cost demanded by the Highways Department for road closure.
2000 runners participated in the 2001 Sheffield Full and Half Marathon, including 49 Striders. Richard Dunk ran 2:52:36; Mary Howarth was 2nd Lady over-45 in 3:53:40; Rose Nelson ran 4:56:53 to finish 9th Lady over-45. Chris Ward was 19th in 1-17-39 in the Half Marathon.
39 runners out of 44 entries had started the George Littlewood 6-hour Challenge in April. 3 Striders took part. Stewart Robinson 32.95 miles; Luigi Cazzato 33.75; and Lynda Bradshaw 36.29. This was Lynda's 1st attempt in a 6-hour race. She finished 3rd Lady. The race winner was Brian Roberts of Mandale Harriers with a distance of 49.97 miles.
September and October 2001
Club Chairman Iain Colquhoun laments the fact that the club has no Road Race Secretary and what with Mary Howarth leaving Sheffield to live in Portugal, the club has no Secretary. (Worth noting here that the Membership Secretary in 2001 was Stewart Robinson and he still held that post 18 years later!)
Dave Norris competes in the Kenya Safari Half Marathon with a plane continually circulating over the runners to scare off some unwelcome animals. Dave ran 1 hr 40 mins, finishing in 36th position and 2nd overseas runner.
John Kerr was first runner in July's 10K High Storrs Hobble with a time of 35:13. 52 Striders took part, 9 ladies and 43 men.
The final race in this years 5-mile South Yorkshire Road League was held on what was described in this edition of Striders News as "A pig of a course". Norfolk Park was the venue and runners ran 5 laps which included the ascent from the bottom gate.The Vet Men over-40 winner on the night was Strider Chris Ward in 30:07.Chris was overall winner of the Championship over-40s category. The club's Vets' team were South Yorkshire Championships, with the Senior Men's team finishing in 2nd place.
Bob Pringle went under the hour in the Leyland 10 mile, finishing in 59:17, a new club over-50 record.
November and December 2001
A change of policy for the forthcoming 10k Percy Pud: each Strider who enters the race will be required to nominate some one else who is willing to act as a marshal on the day.
A new race on this year's running calendar had been the Barnsley 10 mile in June. Club member Harry Todd was 1st male vet over-50 in 1:04:57.
A thank you letter printed in this edition from the Secretary of Saxilby Road Runners to Roy Kitson, the race organiser of the Sheffield Way Relay, expressing their enjoyment of the day and apologies for some of their members who whilst not admitting they were lost, were perhaps not where they though they were!
Club members taking part in the Sunday Special Run in November from Julian Paul's farm at Ughill, enjoyed Julian's hospitality afterwards with food to eat. A popular pub for club members was the Sheaf View at Heeley, part-owned by Julian.
Club members were invited to celebrate Christmas with a session of Christmas carols.
January and February 2002
Ex-international race walker and current Strider Les Morton was 24th in a time of 36:53 in the 3rd Barnsley Hospice 10K.
Long time distributor of Striders News Doug Thomson has stepped down and the club is now looking for a volunteer to take over distribution duties.
Strider Reg Arundel, on VSO duties in Cameroon, has written to Striders News giving thanks on behalf of the community there for the gift of running kit from Striders.
The 2001 10K Percy Pud was won by Great Britain International Track Star John Mayock, a finalist in the 1500m at the 2000 Sydney Olympics, in a time of 28:59, a new course record, alongside 1300 runners. Also in the 2001 race, Les Morton and Simon Wiles donned a camel outfit to race into the Guinness Book of Records, setting a new record for the fastest 10K run in a 2-man panto outfit in a time of 44:02.
News in this edition that the George Littlewood 6-hour challenge will again take place at the Don Valley Stadium on the 27th of April.
2 Striders, Bob Pringle 2hrs 52 mins and Julian Paul 3 hrs 32 mins, took part in the 2001 Chicago Marathon.
March and April 2002
High praise from Runners World magazine for the Percy Pud 10K: the race was rated as the Number One Race in South Yorkshire in 2001 and the 9th best 10K race in the country.
74 years young Bill Locking was to lead a 15-mile walk from the Heatherdene car park at the side of Ladybower on the Bank Holiday weekend.
New Social Secretary Jean Gregory had organised a night at the dogs – greyhound racing that is – at Owlerton Stadium.
51 races advertised in the 2002 Fell Running Calendar.
John Kerr had a number of impressive results in 2001: 16th in the Percy Pud, 11th in the Bolsover 10K and 4th in the Clowne Half Marathon.
Many runners, including Striders, frequented the "Keep on Running" shop on Attercliffe Road. This location had been a favourite for many years and would continue for a long time to come.
May and June 2002
Plans in hand to celebrate the 20th anniversary of the club.
In 2002, Pete Brown was busy as usual as he is now with his training sessions at Woodbourn Road. Training dates were given from April to the end of October.
Mary Picksley was 1st lady in the Spen 20 Road Race in 2:24:28, a new club age record.
A thought provoking piece from Dave Birch. "We toe the line. We think we are the bee's knees. But we are not. We are our own illusion. It does not matter. We harm no one. With our fantasies of speed".
Gary Hague along with a running pal planned to complete the following on consecutive days in order to raise money for Cardio Sympathy heart research: The 3 Peaks, Snowdon, Scafell and Ben Nevis; walking the Great Glen, 85 miles from Fort William to Inverness in 3 days; and finally cycling the 270 miles from Inverness to Cape Wrath.
An interesting full page article covering the history of the Sheffield Marathon. 1929 was the first event, with only races in 1930 and 1931 to follow. The Doncaster to Sheffield Marathon started in 1946 finishing in 1961. The early 80s running boom gave birth to the Sheffield Marathon as we know it.
July and August 2002
The programme of events to celebrate the club's 20th anniversay is now in place comprising the Sheffield Way Relay, a mystery race from the Birley Sqush Club, a race from Graves Tennis Centre, a track event at the Woodbourn Stadium and finally an anniversary social evening.
News of Mary Picksley's 1st place in the over-45s in this years Sheffield Full Marathon in 3:24:39. Alan Martin was 1st male Strider in 51st place in 3:15:45.
Results of the 2002 Striders-organised George Littlewood Challenge over 6 hours showed the winner as Andy Eccles of Wigan Phoenix with a distance of 48.37 miles. None of our runners entered this years event.
John Kerr was 1st Vet over-50 in the Rotterdam Marathon in 2:40:21
Technology in society progresses and has infiltrated the world of running with the advent of GPS giving instant reading of distance covered, speed during a session, your position and calculation of ascent and descent.
News of an Urban Orienteering event from the Sheaf View pub at Heeley organised by Pete Brown. Teams of 2 or mixed pairs. Competitors will be given a map of Sheffield on which locations are marked which runners must visit and answer a question within a one-hour time limit. Points for locations visited and questions answered.
September and October 2002
This edition contained a great deal of information in connection with the celebration of the club's 20th anniversary. Club members worthy of mention for their involvement in the organisation of events were Roy Kitson, Jean Gregory, Eileen Ludlow and Richard Dunk who did all of course have other members helping them.
Dave Norris reported on his recent trip to China where he competed in the Great Wall Half Marathon. The race was held in temperatures of 90 degrees. Dave finished in 7th place in a time of 2:09:58.
News that in June in the Hallam Chase, the winner was club member Stuart Maycock.
Andy Rowland reported on competing in the 2002 Quelle Challenge, an Iron Man Triathlon centered on Roth in Germany. His total race time was 12:49:22, broken down into 1:28:37 for the 2.4-mile swim, 6:24:59 for the 112-mile bike ride and 4:37:08 for the Marathon with the addition of 18:38 transition time.
November and December 2002
Strong comments on the resounding success of the club's recent anniversary celebrations. 5 events spread across 7 days that brought the club together for some notable and memorable occasions.
Keep on Running, the well used shop for runners and athletes at Attercliffe, would be sponsors of the 2002/2003 South Yorkshire Cross-Country League.
Race Director of the 2002 Percy Pud, Richard Dunk, would be assisted by John Kerr, Race Entries; Alan Barnett, Race Forms, Prizes and Sponsorship; Dave Beech, Press Officer; Pete Wakefield, Race Day Marshalls; Jean Gregory, Percy Pud Cafe; and Julian Paul, Bradfield Liaison and Elite Athletes.
An appreciation of the work done by Vic Riley who for many years has been responsible for organising teams of runners to represent the club at both area and national level.
January and February 2003
Venues for the forthcoming SY Cross-Country League fixtures in the 2002/2003 season were Penistone Showground, Graves Park, Hayfield Ponds at Armthorpe and Valley Park at Rotherham.
Stephanie Beech, daughter of Dave Beech ran in the U11s Cross-Country race at Penistone, finishing 27th in the field of 35 in 8 mins 7 secs.
Mick Hobson ran a new club over-60 record in the Roundhay Park 5 mile at Leeds in November in a time of 32:36.
In this issue were route details and an entry form for the Sheffield Full and Half Marathon in June. Start and finish would be Don Valley Stadium. The route would take runners out to both Orgreave and Hunters Bar.
Construction of Sheffield's English Institute of Sport was well under way with completion due in May 2003.
A report that fierce winds and horizontal rain had led to the cancellation of the Worksop Half Marathon in October. The event was rescheduled for the 17th of November.
A note of thanks from Christine Hall for the fleeces presented to members who attended 3 of the events in the 20th anniversary week.
A once-popular evening and location on Thursdays at the Sheffield Works Department may cease due lack of members attending.
March and April 2003
A note of thanks to Iain Colquhoun who stood down as Chairman at the AGM in January. Iain had served the club in various roles for the past 15 years as Coach, Committee Member and Track Secretary. He fronted such as Bochum Exchange events, club anniversary events and AGM meetings in a professional manner. Thanks were given for his sterling service to the club.
This issue contained the club accounts for 2002 compiled by club treasurer Norma Parkes. The detail and extent of the report were testament to the hard work carried out by Norma throughout the year.
Striders News Editor Dave Beech continued to produce quality editions of the magazine.
Membership Secretary Stewart Robinson continued his work in a thorough manner with news of membership numbers and reminders of subs being due.
May and June 2003
A 14 mile walk planned by Bill Locking around the Dronfield Way.
A post-Marathon Social is to be revived at the Red Deer on Pitt Street.
Mary Picksley was 1st over-50 lady in the Stamford 30K in a time of 2:17:23.
A club storage facility in the Graves Park Pavilion had now proved to be inadequate in size. Thanks were given to Eileen and Steve Ludlow, who have kindly allowed use of storage space.
Two of the club's male runners, John Kerr and Stuart Maycock, continued with notable performances in local races.
News of a club member Dave Campbell becoming a British Champion. He won the 800m in the over-45 category at Barnet Copthall Stadium in a time of 2 mins 3.73 secs. Dave has now qualified for free life membership to the club. He was hoping to qualify for the World Vets Championships held later in 2003 at Carolina in Puerto Rico.
July and August 2003
Strider Gary Hague together with 2 friends recently cycled from Lands End to John O'Groats.
John Kerr was first in the over-50s category in the Rotterdam Marathon.
An obituary in this issue to Herbert Hahn, a member of Langlaufgemeinschaft Opelaner eV. Herbert was a driving force in connection with Striders twinning arrangement with our German running friends.
A thought-provoking letter from Christine Hall in which she comments on the excess of funds held by the club and perhaps an idea to stage at intervals a series of events for club members much in way of what the week of the 20th anniversary gave us.
A frustrating run in the 2003 London Marathon by Colin West who just failed to break 3 hours by 12 seconds.
September and October 2003
A report of Chris Ward, Pete Brown, Kevin Rains, Roy Sharp, and James and Rose Nelson, runnng in the Kimmy Kanter in June, a summer cross-country course organised by Kimberworth Striders, the 19th staging of the event.
Club kit responsibilities taken over by Helen Lindley and Sue Rushworth.
Mary Picksley was 1st over-50 Lady overall in the 2003 South Yorkshire 5 Mile Road League.
Striders will go ten-pin bowling at the Hollywood Bowl at Don Valley Centertainment.
Mary Picksley was crowned Yorkshire Champion in this year's Sheffield Marathon in both the Vets and Open categories. In the race she was 2nd lady overall and 1st Vet over-45.
An article by Club Treasurer Norma Parkes in response to Christine Hall's comments about the excess of cash in the club accounts, some of which should be spent. Norma replied that in the past the club was on the verge of being bankrupt and therefore began to set up a contingency fund. Requests to the membership for ideas on spending received no response. The income gained from a succession of successful Percy Pud events has increased the funds even further. Diminishing membership and increased costs has meant that operating costs now exceed the amount received in subscriptions and therefore the club is at this time reliant on those funds.
News that use of the former Hepworths factory site, which serves as the start and finish of the Percy Pud race, could be under threat. Ownership of the land has changed frequently but fortunately the club have been given the go ahead for this year's race.
November and December 2003
A letter of thanks from Reg Arundel, currently away from these shores in Cameroon on VSO duties. The club donated an amount of running kit to members of the "Jakari" Striders and the Cameroon Technical College.
News that the club's 10K Percy Pud event had generated £14000 profit over the last 10 years and raised a similar amount for local charities. As a direct result of entering the race, over 100 runners have joined the club.
For those runners who will manage to abstain from alcohol on the forthcoming New Year's Eve and for those runners wanting to clear their system of drink and food there will be an Urban Orienteering event orgainised by Pete Brown from the Cocked Hat pub in Attercliffe on New Year's Day 2004.
Striders 2003 Steel City Mile at the Woodbourn Stadium was won by Dave Campbell in a time of 5:04.07. No Ladies were present.
Technology and social media march forward. The club now has an informative and extremely useful form of communication. Now there is potential for gaining new members and details of the club are available to view for the local, national and international running community. Thanks to Caroline Whitehead and others for setting up and for maintaining the site.
News of the resignation of Vic Riley, who has worked hard in recent years by organising teams of Striders to compete in various area and national competitions.
---
Reflection!
Whilst compiling this history I have reflected on those many club members who were once well known and regular attenders at our various training evenings and club-organised events, and for whatever reason resigned their membership. Naturally names are remembered but some faces have been forgotten. Their attitudes and abilities towards running crossed a large scale. Where are they now, do they still run, what memories of their time with Striders do they hold?
Sad but inevitable of course that folks move on in life, their presence around us was well received, we wish them well wherever they may be.
Age progression and injuries have never done favours for anyone, 2 reasons for sure that club membership comes to an end.
Memories of those having now passed to that running location in heaven will never fade!
---
January and February 2004
Happy to report the marriage of Julian Paul to Libby Rush. Julian has been an inspiration with his part in the organisation of the club Percy Pud 10K.
Iain Colquhoun, who has served the club with a large amount of enthusiam and hard work over the past years and has raised his lads alone over the last 20 years, recently married Jane!
An urban orienteering event organised by Pete Brown took was to take place from the Cocked Hat pub down Attercliffe on New Year's Day.
In the 2003 Percy Pud 10K, Simon Wiles and Les Morton ran the course in a 2-man camel outfit in 46 minutes, raising £300 for the Children's Hospital appeal.
In the 2003 Club Road Race Championship, the winners were:

Senior Men: Stuart Mayock
Vet Men over-40: Michael Savage
Vet Men over-50: Roger Stevenson

News that a full Sheffield Marathon would not take place this year due increased traffic at Catcliffe. There will also be some changes to the Half Marathon route.
March and April 2004
Members come and members go, sad that the work and effort they gave to Striders is forgotten. Worth mentioning Sue Rushworth, a quiet unassuming lady who gave some of her time in serving the club.
Looking through this edition there are names worthy of mention, members whose company we enjoyed, friends made for life. Chris Driskell, Nigel Kent, Michael Scowcroft, Dave Denton, Dave Nicholls, Dave Wadkin and Julie Birch plus too many more to mention.
Colin West and Andy Rowland were 1st team in the January Urban Orienteering event.
Use of the internet by the club gathers pace with Matt Surgeon starting to send information out to club members via what would be called the Striders Electronic Newsletter.
Information provided to members via e-mail was to become an important asset and an essential feature of this progressive club! The Electronic Newsletter content was mostly in respect of forthcoming club and other events, both running and social.
May and June 2004
Termed "July Madness", a Week of Club events. 4 events to take place in the same week in July. Friday 2nd: Yorkshire Bridge 5; Sunday 4th: Dronfield Way Relay; Wednesday 7th: Striders 10K, Friday 9th: Track event at Woodbourn Road.
On the 12th of May, the club is to organise a South Yorkshire 5 mile Road League event at Redmires.
Mick Hobson organised a trail run from the Sheffield Works Department and afterwards a curry in the New India Garden Restaurant on London Road.
In this year, the club still held a file of paper race entry forms, forms supplied by members and free for the use of any members wishing to participate in a particular event.
Minister for Sport and Sheffield Central MP Richard Caborn has accepted Honorary Life Membership of Striders.
Always a disappointment when a club member organises an event, either running or social which usually through lack of support doesn't take place. The social event planned at the Owlerton dog track was cancelled due lack of interest.
July and August 2004
The South Yorkshire 5 mile Road League event organised by Striders at Redmires in May had been a success! Thanks were given to members helping out and to those SYCAA officials who were there on the night timekeeping and recording.
Roy Kitson, a more than valued member, gave an outline of both the race organisation and a guide to the Dronfield Way Relay.
At this time in the club's history, Mary Picksley held Female over-50 club records for 5 miles, 10km, 10 miles, half marathon, 15 miles and 20 miles.
Strider John Lindley, a South Yorkshire fireman, was asking for volunteers to attend at the Fire Fighters World Games to be held at various locations around Sheffield.
Strider Mick Hobson ran in the Paphos half marathon in Cyprus in a time of 1:29:06 and was 14th out of around 180 finishers. He was 1st-placed male vet over-60.
Details given that Striders were YHA members, it was hoped that members would take advantage of a break in some of the superb locations on offer.
Overall club records for the mile at this time were

Senior Men: Phil Murray 4:34.06
Veteran Men: Pete Wakefield 4:32.02
Senior Ladies: Ruth Shield 5:22.01
Veteran Ladies: 5:28.02

Matt Surgeon made an appeal for any members interested in completing the whole of the Sheffield Way Relay course, starting at 5:30/6:00 am and either walking/running the full distance of around 50 miles.
Being runners and expending energy and with a need to refuel was a good excuse to look out for, in a later edition, Norma Parkes' recipe for tripe and onion curry!!
1st use of the course at Ladybower for the Striders 10K.
September and October 2004
Honorary life member Peter Price was awarded the MBE for his services to Sheffield Council and the community in which he lives.
Praise for the club in the way it organised the week of events.

1st in the Yorkshire Bridge 5 mile was Dave Campbell in 28:47.
1st in the 10k was John Kerr in 36:41.
1st team in the Dronfield Way Relay comprised: Leg 1, Barrie Williams and Dave Parry; Leg 2, Graeme Siddall and Pete Wakefield; Leg 3, Chris Ward and Nigel Kent. Their combined time was 1:52:20.
In the track event:

the Steel City mile was raced in 3 groups. Race 1 winner was Barry Wiles in 6:21.00. Race 2, Simon Wiles 5:21.05. Race 3, Dave Campbell 5:05.08.
80 m race Beth Ansell (Junior) 13.8.
100m Race 1, Kate Russell (Junior) 14.4. Race 2, Dave Campbell 13.0.
3000 m Mel Beever 10:45.05.

The 4 locations announced for the forthcoming South Yorks Cross-Country events are Campsall Country Park, Grange Lane at Barnsley, Old Hall School at Kimberworth and Graves Park in Sheffield.
There was to be a traditional Burns Night held at the Red Deer pub on 5 January. Haggis, Neeps and Tatties will be served and the men are encouraged to wear kilts for the evening.
Following the demise of one of the club's most popular training venues, Pinegrove, a new venue nearby has been found at Malin Bridge Sports and Social Club.
November and December 2004
A further example of the variation offered to club members in the social scene was the Burns night to be held in January 2005 in the Red Deer pub off West Street in Sheffield. The traditional meal of Haggis, Neeps and Tatties will be on offer.
The demise of the Pinegrove Country Club which has been a regular training venue for the club for many years, has led the club to pastures new. The Malin Bridge Sports and Social Club is the replacement.
Varying race weather conditions reported on:

Askern 10: hottest day of the year.
Penistone 10K: windy conditions.
Tideswell Fell Run: wet summer night.
Thurstone Chase: wet and windy.
Netherthong 10K: hot and breathless day.
Sheffield Way Relay: blue sky and sunshine breaking through.

A serious accident whilst out cycling to club member Roger Stevenson. No bones broken, but a very badly bruised leg.
January and February 2005
2 International athletes took part in the 2004 Percy Pud event.

Australian marathon runner Phil Sly won the men's race in 30 mins 33 secs.
GB Commonwealth Games marathon finalist Debbie Robinson won the Ladies race in 33 mins 53 secs.

An article by Roger Stevenson about a sad ending to a much loved Striders running location, Pinegrove Country Club on Wood Lane at Stannington.
News of the cost of activities subsidised by the club i.e. Team events, Coaching qualifications, Participation in overseas races. These 3 activities require prior approval!
South Yorkshire 5 mile road races, South Yorkshire cross-country league races, Club races and social events.
Striders won the Male Vets trophy in last September's Leeds Country Way Relay.
Honorary member Peter Price was to climb Mount Kilimanjaro in order to raise money for the Cavendish Centre and Macmillan Cancer Relief.
Regular comments in recent editions about the post-race food on offer at Dinnington after the 5 mile Road League event: pie, peas and chips !!
March and April 2005
For those old enough to remember, an interesting article about Alf Tupper – Tough of the Track, a character whose stories appeared in 2 weekly comics, the Rover and the Victor between 1949 and the 1990s.
An amusing comment by Dave Birch with reference to the some of the male runners in the Yorks Cross-Country Championships at Skipton being young enough to be the sons of at least 4 of the Striders team.
The combined City of Sheffield and Striders Cross-Country Championships event at Graves Park last January was contested by 2 ladies, Helen Elleker of City of Sheffield and Strider Julie Birch. There were male runners, 17 Striders and 5 from City of Sheffield.
Striders and the City of Sheffield club were enjoying Sunday training runs from 3 pubs in the area:the Royal Hotel at Dungworth, the Black Bull at Ecclesfield and the Plough Inn at Sandygate.
May and June 2005
News of a "Curry Run" from the Sheffield Works Department, followed by a visit to a local Indian restaurant after having a drink at the Sheaf View pub on Gleadless Road.
Former Strider Len Reilly, who at this time was living in London, was offering the use of 2 spare rooms for any Striders taking part in the 2005 London Marathon.
A Striders indoor track event incorporating the Steel City mile planned at the English Institute of Sport in July.
Because of last-minute illness and injury problems, Striders were unable to send a full team to the 2005 North of England Cross-Country Championships at Consett, County Durham.
On what was a sunny day with blue skies, 2 Striders, Michael Wornes and Dave Hurst, decided to make the journey North.
In the National Cross-Country Championships at Cofton Park, Birmingham in February, 6 Striders ran: Chris Driskell, Dennis Crossland, Dave Birch, Dave Hurst, Mike Wornes and Stephen Wornes.
The 3rd annual Curry Run took place from the Sheffield Works Dept. After the race, members had drinks at the Sheaf View pub and then a meal at the New India Garden restaurant.
July and August 2005
A somewhat controversal opening article by retiring Striders News Editor Dave Beech explaining the reasons for his resignation!
12 Striders ran the 2005 London Marathon with Colin West (2:47:50), David Smith (2:49:56) and Barry Gyte (2:52:30) beating the 3-hour mark !
A good telling off by the little-known Percival Puddington directed towards Gilbert Portenbrew whose articles both loved and reviled by members have been a feature of Striders News for many a year. Gilbert stated he couldn't enter Percy Pud because he had no friends to help with volunteering. Percival was annoyed that Gilbert wouldn't be making an appearance on the Saturday prior to the race to help with pre-race organisation or volunteering as a marshal on race day!!
Pete Brown has for many years organised track training sessions and is still doing so at the time of writing. His description of some of the discilplines endured are interesting: Airport, Wrong Way Round, Five Weirs Fartlek, Mystery Fartlek, Turnarounds, Long Short and the Tall, Little and Large, Bermuda Triangle, Crucible, Boring Pyramid, Down the Clock, Cruise and Blast and Chris's Christmas Pie.
September and October 2005
Club Chair Norma Parkes opened this edition of Striders News with a response to Dave Beech's article in the last newsletter. Misunderstandings and lack of communication had arisen. There was a need to move forward and work together to maintain the reputation of the club. Thanks was given for the work Dave had undertaken over the past 11 years.
Prizes for the 6-mile trail run in Graves Park consisted of tins of food, bottles of washing up liquid, kitchen rolls and bottles of drink, all of which were appreciated!
Paper race entry forms still available in the club file.
An article by Matt Surgeon explaining the benefits of the new Electronic Newsletter: one distributor, minimal production costs, constant flow of information as and when required.
One disadvantage at this time was the fact that not all members had internet access!!
Qualifications required for the role of Committee member. Salary – Sorry, nowt! Career prospects – Extremely limited. Location – Here, there and everywhere.
November and December 2005
The new Striders News editor, James Hunter, produced his first edition.
Sad news over the death of Howard Ellis, who died on 7 September. A member for over 10 years who only married his long time partner Pauline in 2004.
A strong article by Roger Stevenson with thoughts on the future of the club. (We are still here in 2021 and looking very good!)

Accommodating the needs of beginners.
Only one qualified coach.
No expertise in offered in respect of diet and nutrition.
All areas of the club lacking in volunteers.
New members failing to become involved in club organisation.
Achievable planning objectives required.

A report by Roger Stevenson on the athletics event at the Don Valley Stadium in an almost full stadium with perfect weather where 9 world champions took part. This was the farewell appearance of Dame Kelly Holmes who arrived onboard an Army helicopter.
January and February 2006
Sunday Special Training Runs continue to be popular starting at locations such as Kiveton Park Rail Station, Grenoside Community Centre, Graves Park Pavilion and Longshaw Car Park.
Striders compete around the country in locations such as Beachy Head, Snowdon, Bridlington and Loch Ness.
Striders website completely re written and re launched with a minor design change. Now updated at least twice a week.
March and April 2006
What appears to be the first annual run around the Derwent and Howden reservoirs took place on New Year's Eve morning. Runners were James Hunter, Colin West, Matt Surgeon, Simon Wiles, Phil Howson and Steve (surname not known).
Stella Ward, Phil Howson and Matt Surgeon obtained places in the forthcoming London Marathon via the club draw for guaranteed entries.
Strider Mick Hobson, now living in Goa, was missing training runs and races in the UK. A good start time for running out there was 6:15 am to avoid the heat of the day. He was attempting to start a running and cycling club.
A welcome to new member Ian Stinson who in later years became a valued race organiser
May and June 2006
The club Percy Pud event mentioned in a national broadsheet: the Telegraph "Weekend" section!
This edition contained an obituary of Roy Kitson and an article by club Membership Secretary Stewart Robinson about Roy who died on 16 February. A much-valued member whose enthusiasm and organisation were infectious!
Club member Mike Greer, Road Race Secretary, introduces the Long Distance Strider competition.
Dave Campbell, Track Secretary, organised an event at the English Institute of Sport on 24 February. Club turn out was unfortunately poor, with the following members taking part: Trevor Watson, Nigel Kent, Roger Stevenson, Luigi Cazzato and Colin West.
Names required for a club outing on the 24-mile Edale Skyline route, walking that is, led by Roger Stevenson.
July and August 2006
Stewart Robinson gave news of a Treasure Hunt from the Sheffield Works Department, lasting no more than 1 hour whilst answering questions on the way round.
There was to be a club handicap race in Graves Park organised by James Hunter.
Luigi Cazzato hoped to organise a coach trip to Bridlington with the possibility of a club-organised race or maybe for some relaxation beside the sea.
Norma Parkes gave news that quite a few members were unhappy with what was termed the "Battenburg" design of the club vest. The design was to be changed although the club colours of green and gold must be retained. For one year only, every member would receive a new vest.
Members were asked to vote for which design they preferred.
September and October 2006
One very important member of the Percy Pud organisation team, Alan Barnett, resigned from his duties. Thankfully he came back and continued with his hard work and enthusiasm in making the event the success it is!
The Washington pub on Fitzwilliam Street was a favoured venue for a number of years for a post-Sheffield Country Way Relay drink, buffet and conversation.
News from Norma Parkes that the design of the new club vest, free to club members, had been decided. This free vest is an indication of the present excellent financial state of the club.
Results of the Sheffield Half Marathon which took place in May showed 43 Striders having finished with times ranging from Jonathan Crook's 16th position in 1:16:59 to Robert Lockett's 3300th position in 2:20:27.
Some amusing race names: the Wincle Trout Run was contested by Richard Dunk in June in a time of 50:57. Distance not given! Carole Beattie ran the Gravy 6 in 45:33.
November and December 2006
The club was pleased to see at the start of the Sheffield Way Relay, a team led by Neil Kitson, son of the late Roy Kitson who died in February of 2006. A moment's silence was held as a mark of respect for Roy's remarkable vision in founding this event. 8 teams competed on the day, winning team was Captain Dave Campbell's Striders A in a time of 6:26:08.
Rod Clark, Striders' oldest member, celebrated his 81st birthday in September. In July this year he competed in the National Outdoor Track and Field Championships at Birmingham, winning the Male over-80s' 100 m in 18.8 secs.
Dave Campbell had produced a lengthy document containing proposals for the future of the Percy Pud event. Too long to produce in full here, but worth commenting that most of those proposals eventually came to fruition!
The last edition of Striders' Electronic Newsletter was produced in December 2006. Referring to Committee minutes, I can find no official explanation of its demise! My presumption would be that the further development of the club website and the use of Facebook were contributory factors.
Both elation and disappointment for some club members at this time of the year with news that you were either accepted or rejected for a place in the London Marathon.
January and February 2007: the 200th edition of Striders News!
This year will see the club hopefully celebrate its 25th year. One member bemoaned the passage of time and the fact his hair, although still in place, had turned a different colour and the condition of his bones didn't help him achieve his past race and training times.
1st mention of the word "Garmin" as the world of running and other sports moves toward the age of technology.
The once much-used Road Race Entry Form File has breathed its last breath, a victim of technology where access to the internet makes race entry much simpler.
An uncensored word of warning re: the new club vests. Damage to male nipples could occur!!
Comment about Sunday Special Training Runs when the weather is always unpredictable. Sometimes there is parking space and there may be public toilets, but it's most unlikely there will be somewhere to change.
March and April 2007
An obituary to Les Eyre who died in 2006. A long time member who was for many years the Club Membership Secretary. His rise from a beginner to an accomplished runner was an example of hard work and dedication.
Carole Beattie was trying to set up a Women's Cross-Country Team, based on the fact that a few years ago the club used to have a strong Ladies team.
A plea for current members who may know the whereabouts of past members, to encourage them to contact Striders with a view to participating in the forthcoming 25th anniversary events.
2 local athletes, Stuart Maycock and Shaun Marsden, ran in the 2006 Percy Pud 10K event dressed in a 2-man camel outfit in 40 mins 18 secs. A new world record for a 10K race by 2 people dressed in a 2-man panto outfit.
Striders 25th anniversary events would be spread between the 2nd and 29th of July. There would be 7 events in all taking place from the Sheffield Works Dept, Concord Sports Centre, Graves Tennis Centre, the Community Centre at Low Bradfield and the Heatherdene Car Park adjacent to the Ladybower Reservoir.
May and June 2007
A bumper edition of 52 pages!
Antony Billinghurst penned an interesting article about a visit to a training camp at Falesia on the Algarve. A week's visit, perhaps not a holiday! 2 running sessions per day.
One event in the series of events marking the club's 25th anniversary was a run around the Round Sheffield Walk, an event replicated some 12 years later in 2019.
One participant in the 2007 Tokyo Marathon was Glen Parkes, son of Norma. With very little training and a determination to finish under 5 hours, he just managed it in a time of 4:53:06.
In the North of England Cross-Country Championships at Heaton Park, Manchester, on the 17th of January 2007, Striders were lacking in numbers and an absence of some of the club's speed men. An enthusiastic 60-year-old member was called upon and didn't come last!!
Gilbert Portenbrew was still submitting articles for inclusion in Striders News stating that the editor didn't have to publish them. The latest example was a somewhat more interesting and sensible article than those previously included! A mixture of quotes re: his experience at the gym, including: "I didn't say a word to the bloke in the changing room, standing stark naked in front of the mirror, drying his privates with a hair dryer."
July and August 2007
A missing issue! Do you have a copy to fill the gap?
September and October 2007
Many favourable comments about the events which took place during the 25th anniversary weeks in July.
The Striders 10K Championship race out at Ladybower in June was won by Stuart Maycock in 34:13. 1st lady was Mary Picksley in 45:17. In all, 50 runners completed the course and in 30th place was an over-60s vet finishing in 46:00.
Concern was expressed about the lack of social gatherings within the club!
Some of us will never forget the tragic death of Liam Surgeon, the son of the very popular Strider Matt Surgeon and his wife Wendy, in January 2007. In his memory, a charity event was held in August at the Embassy Night Club on Intake Road.
Pete Brown gave a report on his run in the 3 Lakes Classic in June. At only 1 mile into the race, the entire field of runners in front of him went the wrong way. Pete having recced the course correctly previously found himself in the lead. It wasn't long however before he was passed, and he finally finished in 6th position. Tea, coffee and superb homemade cakes were on offer at the end plus a nice mug and a goody bag, far better in Pete's opinion than a useless medallion!
November and December 2007
A thank you article from Matt and Wendy Surgeon after the success of the charity evening in memory of their son Liam when around £2500 was raised to be shared between 2 charities, Leukaemia Research and Sincere Support.
Carol Beattie with some strong advice about not running outside in Dubai, use the treadmill in the air-conditioned hotel instead.
In this edition an article which appeared in the Daily Mail in September, written by club member Adrian Butler, gave some startling information about the dangers of running distances such as the half marathon when a competitor may be unaware of an underlying medical condition.
In August, club member Dave Campbell had entered an Iron Man Triathlon event in Holland. Friend Colin West, also a Strider, went along and the pair became involved in a series of mishaps. Colin's toiletries were confiscated by airport staff. They bought the wrong train tickets in Holland and were thrown off the train. Dave's bike box wouldn't fit into a taxi, so they had to hire a minibus. Dave's entry fee has been lost in cyber space, Colin coughs up the required fee. They arrive at the hotel which tells them the booking hasn't been made. So into a taxi and a 70-Euro trip to a hotel with a vacancy. Dave is stopped in the bike transition area because of a discrepancy with his number, 20 mins lost. Dave has 2 punctures during the bike ride. Unable to take the pedals off the bike, it won't fit into the box. Believe it or not, Dave did finish the event in 13 hours. Colin had originally planned to go to Glasgow at the same time as the Triathlon, and by now he wished he had!!
January and February 2008
A new cover for Striders News, a bold statement of a bright future as we run around the streets of Sheffield and the Sheffield area, designed by Lucy and Trevor Burton.
An article on a subject never mentioned before in Striders News, Track Discipline! Some very helpful advice about safe use of the track, i.e. treat it like an 8-lane motorway and keep off the infield as you may get hit on the head by a javelin, discus or shot!!
An amusing comment in an article about major cross-country events: "Wen I worra lad I remember being stood alongside Steve Cram on the start line of the Northern race at Thirsk, that were last I saw of him."
A welcome letter from John Rothwell who takes over as acting Chair until the end of the year. An article written with feeling by a guy who has given great service to this club!!
March and April 2008
Chair John Rothwell looks forward to the staging of the Olympics in 2012 after this year's event in Beijing. Optimism to the fore in the world of athletics, an exciting time ahead!
Colin West, Matt Surgeon and Matt's son Kieran travel to Houston, Texas, USA. Colin completes the marathon in 3hrs 8mins after the frustration of toilet problems during the race, while Matt runs a 2hrs 8 mins half-marathon and Kieran a remarkable 1hr 38mins after only 2 long training runs!
A good photo of Striders Dave Campbell, Colin West, Phil Howson and Simon Wiles who ran around the Derwent and Howden reserviors from Fairholmes at the end of December.
Striders News Editor James Hunter had a busy working life as he travelled the USA visiting San Francisco, New York and New Jersey. Well done in fitting in some training in all those locations. A run across the Golden Gate bridge must have been some experience.
The results of the 2007 Long Distance Strider competition were announced in this issue.

Male winner was Nick Scot: 200.7 miles/321.12 km
Female winner was Carol Beattie: 293.3 miles/469.23 km
May and June 2008
Chair John Rothwell gives us the following lines of poetry:
If you think you are beaten, you are
If you think you dare not, you don't
If you like to win, but you think you can't
It is almost certain you won't
If you think you'll lose, you're lost
For out in the world we find
Food for thought there in relation to the mind of a runner!
Club membership Secretary Stewart Robinson gave us news of recent members joining. One of them, Dave Palmer, was to reach some dizzy heights with his marathon times.
A resignation of note was that of Christine Hall who ran some incredible distances and times e.g. 100km, 100 miles and 24-hour events!
Roger Stevenson invites members to join him on a 25-mile walk around the Edale Skyline in Derbyshire.
The 2008 AGM had failed to provide a fully functioning committee with only 4 nominations received. The administration of the club was transferred to a short-life Steering Group of James Hunter, Norma Parkes, Stewart Robinson and John Rothwell. These 4 members would oversee club affairs until a Special General Meeting could be convened. However, optimism remained that the club would move forward !
July, August and September 2008
A late production of Striders News due issues surrounding the Special General Meeting.
Unfortunately a poor turn out for the SGM held on 3 of June when only at the last minute did the meeting become quorate!
Charman John Rothwell was again full of optimism for the future of the club, paying tribute to the work carried out by members. A new committee was elected better reflecting the core activities of the club. Striders may possibly have been on the brink, but more than a decade later we have more than a successful running club!!
Striders were off to Bridlington on 19 of October to run the Half Marathon which was this year's Yorkshire Veterans Championships event.
August 2008 saw the first appearance of the Monthly Newsletter which would appear between the quarterly club magazine to ensure that urgent information reached club members. The majority of the content would be information relating to both club and other running events. Reports by members of races they had competed in would also be included as would training venue information.
The Electronic Newsletter was first produced in April 2004, the last edition appears to have been in December 2006. The Monthly Newsletter was a welcome addition in keeping members informed.
October, November and December 2008
The new committee was settling into various tasks all with a positive vibe! Luigi Cazzato had a new role as Events Secretary, supporting Richard Dunk with the Percy Pud event. James Hunter has been visiting all the club training venues and reporting back with some positive news. Matt Surgeon was overseeing a number of new initiatives. Antony Billinghurst was the new Club Secretary.
Norma Parkes carried on with her role of Club Treasurer with Carol Beattie the new Competition Secretary.
A major step forward was to have a development plan, an introduction to which John Rothwell had prepared.
An article on communication showed the willingness of the club to embrace technology and enhance the Striders experience through the use of e mail, the club website, an electronic newsletter and text alerts.
January, February and March 2009
The long time use of the Sheffield Works Department on Heeley Bank Road as a training venue had finally come to an end. Unable to come to a satisfactory agreement regarding the payment of individual fees, the club decided with regret to end our patronage. The club would also now have to find an alternative location to hold committee meetings.
James Hunter and other club members looked around for other alternative venues and finally agreed a trial arrangement with Heeley swimming baths to use their changing facilities. Club members would meet up for their training session in an adjacent car park. Although close to the Sheffield Works Department venue, this location will offer a new variety of locations in which to run.
Matt Surgeon was asking for those interested in running the Chicago Marathon to make contact for a 5-day visit costing £400.
John Rothwell had instigated the start of a club development plan and was asking for interested members to make contact.
Cross-Country team captain Ian Stinson was asking members interested in running the Yorkshire Championships at Winterhill School, Rotherham, the Northern Championships at Sherdley Park, St Helens and the National Championships at Parliament Hill, London to make contact.
Club Events Secretary Luigi Cazzato outlined in this edition the following requirements when organising a club event, especially those with a post event social. Approval from the Running Activities Sub Committee and production of a budget, possible invitation to other area running clubs, method of payment required and to whom and production of receipts.
Quoting club member Angela Cooper who ran the New York Marathon on the 2 November 2008 in 4:06:55: "I am happy to report that I finished the New York Marathon despite a 'stonking' cold and a 5-hour wait in the freezing cold near the start line. The Waldorf Hotel facilities and the bottle of champagne waiting for me back at the hotel more than made up for it all. The kids loved New York and so did I. We'll be back!"
The Committee had been exploring the different ways of keeping the membership better informed. A monthly newsletter would be produced along with the main club newsletter. The club website will continue to develop as will the distribution and expansion of the electronic newsletter and the use of text alerts.
There was plea for members to forward their e mail addresses.
Discussion by the Committee for creation of a role for a Striders Media/Press Officer.
An important amendment to the club constitution at the AGM:
To promote continuity, the post of Chair shall serve for a period of 3 consecutive years and appointments shall commence on the 1st of April, unless the Chair resigns mid-term in which case the appointment of a new Chair shall be as soon as is practically possible. The post of Chair shall be open to any first claim member of the club. Invitation to be considered for the post of Chair shall be sought by the Full Committee. The appointment of a new Chair shall be ratified by a majority decision at an Annual (or Special) General Meeting and in the event of more than one member wishing to be considered for Chair, the final decision be by election and a majority decision of the Annual (or Special) General Meeting.
The success of Striders is a reflection of the work carried out by the Committee. No doubt many members take the club for granted without the awareness and realisation of just what goes on behind the scenes!
April, May and June 2009
2 articles recalling memories of the Sheffield Way Relay (see photos at http://archive.steelcitystriders.co.uk/Other%20pages/Sheffield%20Way%20Relay%202008%20Photos.html):

A report by event organiser John Crossland on the 12th relay which took place on 21 September 2008 and a second article giving news of the 2009 event to take place this year on 20 September.
12 teams took part in the 2008 event, an entry level achieved on only 3 occasions in the past, with a post-race get together in the Washington pub on Fitzwilliam Street.

Matt Surgeon commented that Striders were in discussion with Sheffield FC regarding an initiative to send running shoes along with football boots to underprivileged children in Africa.
An interesting comment from Pete Brown. "One of the best benefits of Sheffield's steel past for runners has to be the plethora of woodland surrounding the city, traditionally used to make charcoal for smelting. It's like there are little corridors of greenery teasing you out onto amazing unspoilt paths."
Club member Eileen Ludlow was to start her new role in looking after club kit.
July, August and September 2009
For the 5th year running the club 10k will take place on Friday 3 July on the out-and-back course along the side of Ladybower Reservoir.
At a meeting on 19 May there was approved a draft development plan for the club, building on what is good within the club and stating 16 innovative high-level aims and objectives. Preparation work needed before the plan is formally introduced in September/October.
A comment by club member Dr Adrian Butler: "One of the big draws for running is weight control, which is a huge issue regionally and nationally. Running 20 miles a week can result in over 2000 calories being burnt and even after running we continue to burn 105% more calories than normal."
News that the club now has its own Facebook page, a sign that the club is keeping pace with the increased use of social media!
The club-organised Dronfield Way Relay was to take place on 12 July. Interested club members were askesd to contact either Simon wiles, Phil Howson or Matt Surgeon.
October, November and December 2009
Striders' Facebook page is said to be going from strength to strength.
Results given of the club 10K, showing the winner to be Stewart Maycock in 33:44. 71 runners completed, 12 of them guests. Sheffield RC and Totley AC were also represented.
Details in this issue of the club's 3-year development plan. The plan contained 7 categories.
Competition, Training and Coaching Development.
Workforce Development.
Community Links.
Event Organisation.
Communications, Publicity and Marketing.
Club Management, General Administration, Finance and Funding.
Social Activities.
A very useful and informative guide to race organisation given by John Rothwell and Luigi Cazzato.
News of a new initiative, "Team Striders". An idea to bring together members who are keen to participate in races, represent the club and enjoy the team spirit and camaraderie that being a member of a club offers. In essence the Team Striders initiative was to promote a whole-club approach to participation in competitive events, irrespective of ability!
The first Team Striders newsletter was produced in November. Richard Maxted was leading this initiative. October highlights were listed as well as a review of forthcoming races. A further issue of this newsletter came out in December with reports of races in which members had participated and again a review of forthcoming races. Further issues followed in January 2010 with a combined July and August issue being the last to be produced.
January, February and March 2010
A report on a new training initiative by Trevor Watson, "Night Running": that is running in the dark over paths, trails and roads the club have run on in daylight hours. A slower pace obviously with runners using headtorches to light the way ahead. A lot of enthusiasm shown by those taking part in the first of such training runs.
A report on the New Year's Eve run, well remembered for a very low temperature, a blue cloudless sky and the fairyland appearance with frost covering the trees and part-frozen reservoirs.
The "Team Striders" initiative mentioned in the previous issue would start under the guidance of Richard Maxted co-ordinating involvement and promoting competitive races.
A photograph in this issue of a Strider, name not mentioned, posing with his club vest on in front of the Egyptian Pyramids.
It was hoped that training runs from Concord Sports Centre, once a popular location, could be restarted!
Phil Cooper took the role of Media Officer to develop the profile of the club and our relationship with the regional and national media.
April, May and June 2010
Each issue of Striders News has a contribution by the Membership Secretary Stewart Robinson in which he gives the names of new club members and names of those resigning. In the previous months new members joining have been James Fletcher, Pauline Lowe, Tanith James, Matthew Broadhead and Paul Stuart. Thos leaving the club were David Hurst and Sandra Bott. Membership at this time was 200 including 3 honorary members.
A plea to club members to volunteer in helping with the main events staged by the club.
News that a club Fell Running Championship will be set up and started this year. This Initiative is in recognition of the fact that more and more members are developing an interest in this running discipline.
News that Concord Sports Centre is soon to become a new training venue for the club.
The South Yorkshire series of 5-mile road races will this year take place at Oxspring, Worsborough Mill, Keepmoat Stadium at Doncaster and Dinnington Rugby Club.
The "Team Striders" initiative got off to a good start with members competing in the Cleethorpes 10K, Sheffield Open Cross-Country in Graves Park, Northern Cross-Country Championships at Blackburn, Brass Monkey Half Marathon at York, Tigger Tor Fell Race, Yorkshire Vets Cross-Country Championships in Graves Park, Yorkshire and Humberside Cross-Country Championships at Wakefield, English National Cross-Country Championships at Leeds and last of all for now a 30K course near Stamford in Lincolnshire on Valentines Day.
84-year-old Strider Rod Clark has been forced to hang up his spikes due ill health.
July, August and September 2010
Simon Bennett was 1st Vet overall in the 2010 South Yorkshire 5 mile Road League. Joanne Wright was 4th Senior Lady and Carol Beattie 2nd Lady Vet 55.
An introduction by Club Chair John Rothwell to Neil Keally who will become Striders' "Community Secretary". Neil will look at ways our club can provide opportunities in the local community for people who want to exercise, who want to change their lifestyle and want to get fit and for folks who maybe need encouragement and help to realise their ambitions.
Corporate Challenges will also be explored, ways of attracting new members and also the provision of equal opportunities for all members of the community.
Dave Birch after completing 12 London Marathons states that you have to stop some time. He will miss the noise, the colour and the sheer intensity. Now it's time to to bid farewell to the glorious madhouse that is the London Marathon.
A 25-mile Striders walk in Derbyshire planned along the route of the Edale Skyline.
October, November and December 2010
An issue emphasising the popularity of Fell Running within the club with reports on the Long Tour of Bradwell by Adrian Moss, Eyam Fell Race, Ricky's Race and Bradwell Fell Race by Trevor Watson. Results for the Stoney Middleton Fell Race were also given. The 16-mile Totley Exterminator was an up-and-coming event.
Further encouragement to club members to use Striders Facebook page.
Another photo of a Strider wearing his club vest many miles from home, this time on the Great Wall of China. Hope Louis Wood enjoyed the holiday!
News that Tuesday night speed work is back, the venue Millhouses Park.
January, February and March 2011
More photos of unidentified Striders wearing their club vests whilst travelling the world. This time overlooking Hong Kong and a view of the Taj Mahal.
The 2011 AGM will take place in the Norfolk Park Heritage Centre.
Helen Calder, Female Vet over-35, was 1st Lady in the Striders Cross-Country Championship race in Graves Park last October. Alison Barrett, Carol Beattie, Liz Robinson, Trevor Burton, Paul Stuart and Roger Stevenson were champions in their respective age groups.
Last September's Striders Sheffield Way event attracted 15 teams, 4 from Striders and the rest from Sheffield Running Club, Kimberworth Striders, Femme Fitale, Totley AC, Crookes Crocks and Smiley Paces.
A feature on the use of Facebook by club members showing the variety of running related issues discussed.
April, May and June 2011
Copy of a letter from Bradfield Dungworth Primary School thanking the club for a donation from the proceeds of last year's Percy Pud event.
7 Striders ran in the 2011 Northern Cross-Country race at Sunderland in January. In 1st place in the men's race in a field of 488 senior runners was Tom Lancashire from Bolton in a time of 38:09. Striders times and places were James Fulcher 50:30 (192nd), Dave Ansell 51:27 (217th), Graeme Siddall 51:37 (223rd), Ian Stinson 57:40 (344th), Andy Buck 57:56 (349th), Richard Maxted 58:12 (353rd) and Dave Parry 1:00:22 (391st).
A detailed report by Trevor Watson on a pair of running shoes just bought, "Inov8 Bare Grip 200s". No negative comments, a good advertisement, wonder how many more Striders purchased a pair after reading Trevor's report ?
The minimal content of this edition was perhaps a reflection on the increased use of the Striders Facebook page!
Club member Dave Birch reports that after 25 years of logging his running mileage he has just reached 50,000 miles. He calls himself a sad git and says how he was motivated by keeping the diary which enabled him to overcome his naturally lazy and lardarse tendencies!!
July, August and September 2011
2 popular Striders events advertised: the Dronfield Relay and the Sheffield Way Relay.
News that the term of office of the present Chair of Striders will end in March next year. Interested members to contact John.
A percentage of the proceeds from Percy Pud were presented to the Northern Cleft Foundation, a non profit humanitarian medical organisation that assists Volunteers to travel to India.
2 photos of Roger Stevenson on his recent travels down under taken on the Sydney Harbour Bridge and close to the Sydney Opera House.
Steve Hargreaves, Dean Young and Trevor Watson are to organise the club's own fell race, "The Cutthroat Fell Race" of 5.9 miles. The race starts and finishes at the Ladybower Inn.
October, November and December 2011
On a very warm day in June when the temperature hit 26 degrees, 6 Striders completed the Mansfield Half Marathon. Out of a field of 661 the following times were recorded: David Palmer 18th in 1:24:00, Dave Birch 83rd in 1:35:54, David Goodwin 147th in 1:42:17, Michael Smith 224th in 1:48:55, Adrian Moss 263rd in 1:51:11 and Scott Booth 440th in 2:07:03.
An informative article re the choice of Off Road shoes. Consideration given to the upper part of the shoe, sole traction, terrain conditions, lightweight shoes or otherwise.
Locations for the 4 South Yorkshire Cross-Country events in 2011 were Clifton Park, Rotherham; Wentworth Castle, Barnsley; St Mary's College, Spinkhill; and the Northern Racing College, Doncaster.
Tuesday evening speed sessions continue at Millhouses Park either in the park or on the adjacent Abbeydale Road South dependent on available daylight.
Thuursday evening speed sessions have moved from the Woodburn Stadium to the Don Valley Stadium.
January, February and March 2012
Training venues were always listed in the club magazine.

Monday: Heeley Baths
Tuesday: Woodbourn Stadium
Wednesday: Graves Tennis Centre
Thursday: Woodbourn Stadium and Concord Sports Centre.

A report on 100-year-old (not a Strider) Fauja Singh from Ilford, East London, running the Toronto Marathon in 8hrs 25mins. At home he runs 10 miles a day!
This year of 2012 will be the 30th anniversary of the founding of the club. Plans coming together to celebrate.
A well-produced edition with a colour photo of the above Fauja Singh and 3 more colour photos: 2 of them suggested out-and-back training routes, Don Valley to Nether Edge and Meadowhall to the City Centre; and there was a photo of the New Year's Eve route run around the Derwent Valley Reservoirs.
An informative article on how to run on snow and ice, plus a review of 3 winter running shoes.
Results shown for last September's Sheffield Way Relay. 16 teams competed and the winners were Sheffield Running club A team in 5:55:41.
April, May and June 2012
A 3-page article by Club Chair in recognition of the Striders' 30th anniversary this year. Major points from the article were:

Competitive road running is now massively changed from years ago.
Distance road running is no longer an exclusive domain of die-hard club runners in plimsolls.
Keeping fit has become all the rage along with the introduction of clothing and footwear.
Age and ability have become irrelevant.
An historical Sheffield landmark was the Marathon of 1982.
Veterans continuing to compete has had an adverse effect on the take-up of adminisrative coaching and officiating posts in athletics.
Existing clubs didn't have the infrastructure to take on the massive influx of fun runners and what can be called the established order was not to the liking of the newcomers.
There was a need to find somewhere to indulge the new found experience of running.
An opportunity arose and sports shop owner and entrepreneur Richard Hnat seized it and along with the enthusiasm of those first committee members, Striders came into existence.

A mouthwatering article describing a number of recipes to boot your energy and performance and another article discussing the pros and cons of Energy Bars.
The 2012 locations of the 4 South Yorkshire 5-mile road races would be Oxspring, Silkstone Common, Bradfield and Brodsworth.
12 races were nominated for the club's 2012 Fell Race Championship: Edale Skyline, Kinder Downfall, Burbage Skyline, Totley Moor, Castleton, Grindleford, Hope Wakes, Hucklow, Barrel Inn, Ex-Terminator and Hope Moors and Tors. A minimum of 6 races must be completed to qualify.
Burbage Skyline May 2012 Photos
Sheffield Half Marathon 2012 Photos 
---
Produced in April of this year was an A4-size 6 page Striders Newsletter. Comment was given that it was the club's intention to cut back on the print version of Striders News in favour of electronic distribution. There was a stated intent of reducing the club's environmental impact and moving forward by embracing the new media of the 21st century. A reminder for those reading this later that the club has an active and vibrant community on Facebook and the club has a Twitter Feed.
Item 3.4 Communications. From minutes of the 28 June 2012 Committee meeting: "1-page monthly newsletter to be distributed electronically. Roger Stevenson has offered to help in the production of Striders News. SN to go to 6-monthly or annually, that must include all documentation for the AGM. Distribution list to be updated."
From the minutes of the Committee meeting of 1 November 2012, it would appear that work was in hand between Trevor Watson and Club Membership Secretary Stewart Robinson to further organise the list of members' e mail addresses for communication purposes.
From the minutes of the Committee meeting of 30 November 2012, Item 7: "Need to modernise Percy Pud and move to a more professional communications entry system."
Also in the April 6-page Striders Newsletter, a report of this year's AGM, a list of the 2012 Club Officials and committee members and a report on the London Marathon in which 8 Striders ran and recorded the following times: David Palmer 2:39:55; Steve Hargreaves 3:0:58; Daniel Palmer 3:29:33 (pb); James Fletcher 3:32:42; Amanda Cattell 4:05:49; Mary Picksley 4:07:40; Alison Purvis Gisbourne 4:20:47 (pb); Nancy Stuart 4:36:42 (pb).
As well as all this, there was a caption competition with a photo of Phil Howson carrying a red-and-white umbrella and a football, a report on the 5.6-mile Tiger's Todger fell race, Alistair Lawson ran the course of the Brighton Marathon 4 consecutive time (104 miles in 16 hours for charity), news of the forthcoming Dronfield Way Relay and a brief report on the Kinder Downfall fell race in which Phil Howson for all his effort had his name missed off the results!!
---
July, August and September 2012
Committee Members and Club Officials for 2012:

Chair: Matt Surgeon
Club Secretary: Norma Parkes
Treasurer: Adrian Moss
Membership Secretary: Stewart Robinson
Communications Secretaries: Trevor Watson and Luigi Cazzato
Competition Secretary, Road & Cross-Country: Richard Maxted
Training, Coaching & Venues Secretary: Stephen Hargreaves
Committee member: Louis Wood
Striders News Editor: James Hunter
Club Archivist: Roger Stevenson
Road Running Statistician: Mike Greer
Percy Pud Director: Richard Dunk
Cross-Country Team Captain: Ian Stinson
Club Kit Coordinator: Eileen Ludlow
Club Webmaster: Dave Beech

Certainly worth commenting that looking at the above positions and names is an indication of how far the club had come in the past 30 years. Now striding into the age of Social Media with a Club Webmaster!
A report on the USA Boston Marathon by a slightly anonymous Strider, first name Dave, who had a real bad time with the temperature between 78 and 90F and finally climbed on the sweep bus!
A heartwarming story from Alison Purvis Gisbourne who completed the London Marathon in 4:20:47. In a 19 month period prior to the marathon her weight dropped from 20 stone to 10 stone!!
Striders 30th Anniversary 10K July 2012 Photos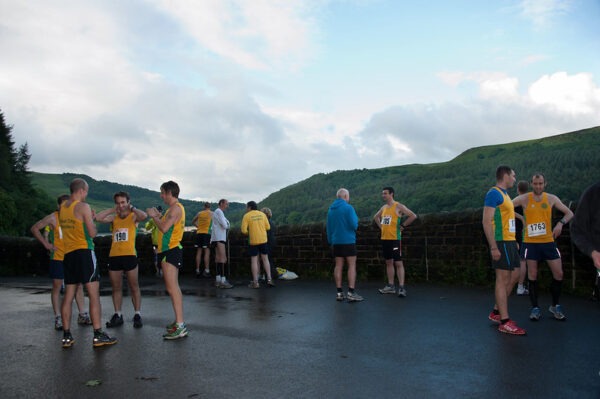 ---
Another electronic version of Striders News produced in August with a welcome article which read "We hope you like the new format and enjoy reading the content. We would also love to hear what you think. Please send any comments, suggestions or articles to the editor.
"Over the next few months the club intends to cut back on the production of the print version of the magazine in favour of the electronic newsletter, with the stated intent of reducing our environmental impact and of course embracing the new media of the 21st century. Don't worry though, if you would prefer to receive the printed magazine, we will continue to produce and deliver it to you as usual.
"On the topic of new media, maybe you missed the fact that the club has an active and vibrant community group on Facebook Or that we have a Twitter Feed which has a growing number of followers."
Further information in this edition comprised thanks to those who helped in the Club 10K and the Dronfield Relay, information relating to the forthcoming Round Sheffield Relay, a report on the Adidas 24-hour Thunder Run in Graves Park and details of the Tuesday and Thursday evening speed sessions.
At this stage in the history of the club, did we realise what a profound change there would be to communication between the club and its members and between individual members, and communication between the club, its members and the world of running in general?
---
October, November and December 2012
Many Striders over the years have gained knowledge and inspiration from reading books on running. This edition contained reviews of 3 books currently on the market: "No Need for Speed" by John Bingham; "Born to Run" by Christopher McDougall and "Daniels' Running Formula" by Jack Daniels.
Also in this edition a Runners World article from Nicola Smith on how to discover why cross-country running is the perfect strength and endurance boost.
7 Striders gave their services to Powerade as Pacers in the recent Great Yorkshire 10K. All went well with the Pacers finishing within 1 minute of their allotted pace: 40 min Mike Savage; 45 min Adam Whitworth; 50 min Dan Palmer; 55 min Kate Wilkinson and Colin West; 60 min Tony Horstead and 65 min Matt Surgeon.
An article reminding members of the need to wear high-visibility clothing on those dark nights.3 garments reviewed, headband, vest and long-sleeved top.
Details of the Thursday evening speed sessions taking place between September and the year end at Don Valley Stadium, also on those evenings a 6 mile road session.
February 2013
Minimal content would seem to indicate that club communication was now moving rapidly from hard paper to computer generated. Information in this newsletter re: the club AGM, thanks to those who helped with the organisation of last year's Percy Pud and some Percy Pud race-related information. A plea for members' stories for inclusion in the newsletter.
Worth a quote here from this newsletter "Please inform all Striders about the change to an electronic news sheet. If there is any Strider that has not passed their e-mail details to the club then please send an e-mail to the Membership Secretary, which is the same for any change in details."
And that was (almost) the end of Striders News. Easy Strider (see later) ran from October 2013 to July 2014, but then…
May 2015
2 years since the last edition, an indication surely that paper communicating by the club had almost come to an end!
In this edition a list of the following new members: Nick O' Sullivan, Michael Squires, Rowena Williams, Kathryn Briggs, Emma Borgllia, Jorge Bronze, Paul Shackleton, Michael Parker and Emma Jane McNulty. It's of some importance to include members' names in this history! Did those individuals continue their membership or did they fall away?
No longer a need for race results and reports to be in print, just look at the club's website!
There is reference to other clubs' web sites such as Totley AC, which gives details of their forthcoming Tiger's Todger race.
June 2015
Sad news of the death of Julian Paul, described as a warm and generous man. A Strider who was instrumental in setting up the inaugural Percy Pud and in the years that followed keeping the race going. He kept the Police and the local residents informed and drove Santa around the course in the lead car. The 2015 Percy Pud would be run in his memory!
News of an increase in the price of the club vest.
The importance of a member's English Athletics (EA) number.
The availability of the Club Committee meeting minutes on the club website.
Last call for entries for the club's Dronfield Relay and details required for those wanting to enter the Damflask Relays.
News relating to the Striders 10K, Steel City Mile and the Adrian Butler Memorial Curry Run.
In referring to the club archives, the last production of a paper copy of Striders News appears to be the June 2015 edition summarised above.
---
In October 2013 appeared the 1st edition on paper of a newsletter called Easy Strider, a hoped for monthly edition!
In this first issue, attention was drawn to the need to wear High Viz clothing when out running on the dark evening training runs.
Entry details were given for the club ballot for 2014 London Marathon places.
A results round up saw Dave Palmer win the 9 Edges race in a record time.
The Sheffield Way Relay was won by the Striders A team.
Alastair Lawson won the inaugural Sheffield Way Ultra Race, 50 miles off road in 8 hrs 49 mins.
Richard Pegg spent the summer running around much of Norfolk and half of Denmark.
News of upcoming speed sessions.
Selected upcoming local races: Cutlers Relay, Cusworth 10K, Chester Marathon.
Striders Cross-Country Championship Race in Graves Park on Sunday October 13th. 5.6 miles for men, Ladies to run 4.2 miles.
Windgather Fell Race. 1st race of the 2014 South Yorkshire Cross-Country League at Clifton Park in Rotherham. Yorkshire Marathon at York. British Fell Relay Championships in Llanberis, North Wales. Worksop Half Marathon. Frankfurt Marathon.
Fartlek training tips, that is "speed play" Varying the pace during a training run.
Notes on one of the training weeks undertaken by Dave Palmer. 6 out of 7 days of really hard work, described by the editorial as "a little bit bonkers and that it should really come with a health warning".
Easy Strider November 2013
Details of a Club Christmas night out at Amigos Mexican Kitchen on London Road to enjoy a Tapas buffet. Meet at 7:00 pm in the Cremorne Pub.
First mention of a Park Run, that is the Hallam Park Run, over 5K in Endcliffe Park.
Runs with a difference, such as an Urban Fell Race organised by Dark Peak Fell runners from Commonside in Sheffield and a Sewer Gas Lamp challenge, the lamps being some of Sheffield's architectural street gems.
A round up of events and those who took part.

Striders Cross-Country Race, winners were Sian Evans and Dave Palmer. Age category winners were Alison Bennett, Dawn Jackson, Carol Beattie, Keith Bean and Dave Beech.
Worksop Half Marathon. Sub-90-minute times by Alastair Lawson, Ian Dale, Andrew Davies and David Whitaker.
Paul Stuart and Jeni Pitkin ran in the wet and windy Windgather Fell Race.
The South Yorkshire Cross-Country Race in Clifton Park, Rotherham was run by Dave Ansell, Alastair Lawson, Dan Palmer, Nick Scott, Ross Drayton, Pete Brown, Sean Farrow, Russell Stevenson and his son William, Mick Wall, Dave Beech, Roger Watson and Alex Arblaster. No ladies entered!

Mention of 4 marathons and Striders competing.

Frankfurt: Chris Frazer, Matthew Hersee, Dave and Dan Palmer.
Amsterdam: Nancy Stuart.
Yorkshire: Louis Wood, Ben Heller, Steve Haake and Ian Blackburn.
Chester: Jennifer Rich, Anna Gruszczynska, Nicola Ross, Tony Horestead, Michael Twigg, Amy Duck, Tony Rooms, Magdalena Boo and Tom Nuttgens.

This edition contained a review of a book, too detailed to report on here, by Japanese novelist and amateur marathon runner Haruki Murakami. He gives a vivid description of running the 100K Lake Samora Ultra. A recommended read!
Finally there are training week details by Mir Jansen who was wanting to improve on her best Percy Pud time of 47 minutes.
Easy Strider December 2013
Details of forthcoming Cross-Country Championships.

Yorkshire at Lightwater Valley near Ripon.
Northern at Knowsley Safari Park near Liverpool.
National at Woolerton Park, Nottingham.

Striders hooded training and long sleeved tops are on their way.
Looking forward to an interview with Strider Mary Howarth after competing in the Marathon des Sables.
Just a ladies' team in the National Cross-Country Relay Race in Mansfield: well done to Carol Beattie, Alison Barrett and Jennifer Rich.
Local races to come: Bolsover 10K, Wansfell at Ambleside, Ward Green 6 at Barnsley, Revolution run at Rother Valley.
Training tip of the month by Gilbert Portinbrew, The Long Run, an article in sections: Why a long run; What are the benefits of your long run?; How long is a long run?; How fast should a long run be? Variety is the spice of life and it does what it says on the tin.
A Strider willing to be punished a second time, that is Ben Heller saying already he will run again the Sheffield Way Ultra in 2014.
What an amazing lady Strider is Carol Beattie who in 2013 competed in 39 races: 19 on the road, 8 Cross-Country, 10 Fell races and 2 trail races. In her opinion, there's "no better winter training than a lung busting run in the mud"!
The 4 Striders who won London Marathon Ballot places were Louis Wood, Richard Clamp, John Ashforth and Rowena Sharma.
Easy Strider January 2014
News that at the AGM those attending will be given a free drink!
The current webmaster Dave Beech is to stand down, to be replaced by a small group who it is hoped will revamp the club site. Those interested are asked to contact either the Committee or Dave Beech.
Futher evidence in this issue of the work involved for the Club Membership Secretary Stewart Robinson, with fees stated, how to pay, the need to confirm personal details on a form provided and resignation procedure.
Reported in the results round up was Dave Beech who competed in the Loftus Poultry Run and was said to have chased the turkeys for 8 miles!
Andy Buck and James Fletcher had run the 24-mile frostbound Trigger, Marsden to Edale.
Loads of mud was found on course at the Yorkshire Cross-Country Championship at Lightwater Valley.
The Grindleford Gallop on 8 March was already full.
For those really keen Striders, news of a weekend (Fri/Sat/Sun) of events close to Hebden Bridge: the short and steep Wickenden Hill Whizz, Reservoir Bogs 8 miles and 1500 feet and the 4 miles Tom Titman short and fast.
A few Striders had expressed an interest in learning map reading, a result of the increased club interest in fell running. Details given for Dave Taylor, an experienced fell runner and qualified teacher.
Millhouses Park and Woodbourn Stadium were the locations for the weekly speed sessions.
Condolences to Mary Howarth for her failed attempt in completing the Marathon des Sables. She was pulled out by the doctors after being sick and becoming dehydrated. In 1986 she was first lady in the 100K Grantham to Lincoln and so became National Champion. A this time she has completed 71 marathons and run fourteen 24-hour track races with a longest distance completed of 114.75 miles!!
Either a February issue of Easy Strider was not produced or a copy for February was not retained
Easy Strider March 2014
A get together of Striders announced in the Fat Cat pub at Kelham Island after the Sheffield Half Marathon.
A reminder that in order to compete in the South Yorkshire 5 mile Road Race League, all entrants must have a UKA Registration number.
Dave Palmer finished 2nd in the South Yorkshire Half Marathon.
Varsity 10K advertised, a new event on the race calendar, no details!
Running shoes recently purchased that are found not to fit too well are advertised frequently. An investment in a pair of £85 trainers by Magda Boo was an expensive mistake, she was only wanting £20 for them.
An interesting review of 5 very steep hills in Sheffield, which may or may not be considered for training on: Hagg Hill, Blake Street, Myrtle Road, Kent Road and Jenkin Road. Comments re: safety, lactate inducing, gear rating for motorists, time taken to ascend. We're never short of hills in Sheffield, so come on Striders was the call, what are you waiting for?
Cobnar Road at Woodseats was to become a favoured venue for hill work.
Favourable comments re: the navigation and map reading course recently attended by a group of Striders.
Easy Strider April 2014
Dam Flask Relay advertised. Men 4 stages, Women 3 stages of 3.6 miles each. Race start at Low Bradfield, Race HQ Cricket Pavilion.
An excellent 2-page report by Alastair Lawson on his run in the London Marathon: injury obsessions, gels, organisation, other runners, atmosphere, the final few miles, that finished feeling, on to the next time, it's all there!
The 2014 Sheffield Half Marathon, the race that never was because of the failure to provide water stations.
Andy Davies completes the Edale Skyline in 3hrs 25 mins.
Dave Palmer set a new club record for the Marathon at Rotterdam with a time of 2:30:50
On 12 April at the Hillsborough Park Run, Striders ran the following times: Ben Jones 18:07, Simon Bennett 19:04, Andrew Davies 19:05, Nat Smith 19-22.
Between 27 April and 8 June inclusive, 21 races advertised!
Easy Strider June 2014
A request for Striders wanting to enter the Fell Relay Championships at Middleton Fells, East Cumbria. Andy Buck organising.
Striders 10K at Ladybower approaching. An event looked forward to and always well attended.
Likewise the Dronfield Relay, another popular club event. Supposed to be a friendly event, but the competitiveness always comes into it!
Monday night training session requires a new venue rep.
The forthcoming Salt Cellar fell race requires as many folks as possible to help out with organisation/marshalling etc.
Leaders in the Long Distance Strider are Andy Buck (170 miles) and Carol Beattie (71.5 miles).
Men's Vets team win the South Yorkshire 5 mile Road League series.
Current leaders in the club Road Race Championship:

Senior Men: James Fulcher
Senior Women: Hannah Helmore
V40 Men: Mike O'Grady
V40 Women: Rachel Smith
V50 Men: Andy Buck
V50 Women: Dawn Jackson
V60 Men: David Hewitt
V60 Women: Carol Beattie

The June competition – Which Strider is worth the most at Scrabble Is it …. Matthew Zawadzki? Luigi Cazzato? Ania Gruszczynska? or perhaps Quinton Farquhar?
Between 2 September 2012 and 4 May 2014, Rich Hayes ran 18 events. Each one was a PB, starting at 57:54 for the Great Yorkshire Run and finishing with 40:59 for the Liverpool Spring 10K!!!
Easy Strider July 2014
The Striders Women's team, Jenny Rich, Sian Evans and Hannah Helmore, finished 2nd in the Damflask Relays.
An early start of 6:30 am advertised for the forthcoming Sheffield Way Ultra.
Another call for marshals to help with the organisation of the Salt Cellar Fell Race.
A comment about the fantastic increase in female members over the last year, but it had been noticed that not many female members are seen at races and events!
A tradition started by the late Adrian Butler, A run and then a curry, will take place on the 1st of September.
The Striders Cross-Country Championship Race will be on Sunday 12th of October in Graves Park.
Free to members of the club is a First Aid course held by the Edale Mountain Rescue at their Hope Cement Works HQ. Steve Hargreaves will organise those interested.
The Askern 10 took place with toilets but no showers!
A reflection by the Easy Strider editor on Park Runs, having completed over 80 different courses. The 1st run was at Endcliffe Park in 2011 with 164 other runners. A journey to Livonia, near Detroit, Michigan, USA, to start with only 13 other runners. Another 2 USA venues for a run in a park, North Carolina and Florida. A warm welcome guaranteed plus a great breakfast!. 3 of Englands runs recommended: Fountains Abbey, York and Lyme Park, Disley.
Club member Mark Gray gave the following learning points from his experience of a marathon in the sun, at Seville in Spain. Translation (i.e. learn a bit of Spanish). Pack well, don't forget anything. Keep those vital items in your hand luggage and your race shoes on your feet. Pre-race food, take it with you. Keep aware of hand luggage limits. A gentle run on the day before of 2–3 miles to get the legs working again after the discomfort of the journey there. Don't expect a good night's sleep the evening before the race. Get some good sleep in the days before you go. Again, an understanding of the language to be encountered is essential i.e. reading direction signs. Make sure you know where the drink stations will be and what is being served! Don't forget the sun cream. Love every minute of it and make it a holiday if you can.
---
This issue of Easy Strider and the two isolated issues of Striders News sent out in 2015 were the last communications in paper form sent out by the club. The club website and the Striders Facebook page were now in full swing. It's probably worth the comment that this was a defining time in the history of the club. Social media naturally offered so much more to the club in communicating with its members and to members communicating with each other.
How on earth did we manage with a monthly magazine? Well we did, and when Striders News dropped though the letterbox it was always eagerly read.
Now with a flick of a switch or a dab on a phone screen with a finger, the community that is Striders is within very easy reach.
Roger Stevenson
January 2021
This history will continue !