Sunday 29th March 2015
The Skyline this year had 294 starters. 243 finished, which is testament to the extreme weather conditions that the brave souls who ran it had to suffer through. To their credit, not one Strider who started the race dropped out. The Steel City 'Skyline Gladiators' have helped me no end in writing this report by offering up their own first hand accounts of events. They make good reading, so I will include them all…. though it will make for hefty reading!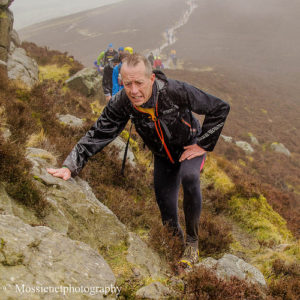 First male finisher was Nicholas Barber of the Pennine Fell Runners in a time of 02:52:51. First female finisher was Sally Fawcett of Dark Peak Fell Runners in 42nd position, in a time of 03:37:54.
Full results can be found at http://www.dpfr.org.uk/results/view/3796
9 Striders competed. Here's how they did…
| | | | |
| --- | --- | --- | --- |
| P | Name | Cat | Time |
| 83 | Michael Timm | M | 04:01:26 |
| 120 | Paul Stuart | MV45 | 04:18:00 |
| 142 | Ben Heller | MV50 | 04:23:37 |
| 149 | Andy Buck | MV55 | 04:27:24 |
| 160 | Steve Haake | MV50 | 04:32:04 |
| 186 | Helen Davis | L | 04:47:40 |
| 214 | Phil Howson | MV45 | 05:05:46 |
| 228 | James Fletcher | M | 05:14:28 |
| 229 | David Perkins | M | 05:14:32 |
Now for the first hand accounts…typos and any mistakes included for authenticity!
Ben Heller
An epic day, very much a game of two halves – great muddy fun on Win Hill and up to Lose Hill and along the Great Ridge.  The early rain abated, the sun came out, the wind died-down and all was well with the world.  Once we hit the cloud on Mam Tor and the wind picked up it was suddenly a very different proposition.  Everyone will have their personal war stories from then onwards, mine include jumping off a ledge on Brown Edge and both legs disappearing into a bog, then having to heave with all my might to get them out – I'm really glad I tied my laces tightly that morning otherwise my expensive new fell shoes would have never been seen again, and I would have joined the guy who ran the whole way barefoot (yes, really).  Coming off Ringing Roger I was literally unable to move – I didn't have the strength to fight into the wind, and the combination of hunger, ceaseless noise from the rain battering against me and cold left me very disoriented.  I knew I had to lose height, and once I had stumbled down 50m or so the world was a much more pleasant place.
This really is a fantastic race, I can't wait to do it again next year, but I've learnt a lot of things the hard way.
1. This is a serious proposition – if the cloud comes down and the wind picks up it becomes a question of survival, and that has to be the first priority above shaving a few seconds off a time.
2. I'm glad I reccied from Mam Nick onwards.  The year before I followed people round, this time the visibility was so low you had to know where you were going otherwise you could quickly get into trouble.
3. The old mountaineering adages of eat before you're hungry, put on clothes before you get cold really apply.  I didn't nearly eat enough, which isn't a problem in a low-level race, but could have been very serious yesterday.  Food needs to be easy to access, tasty enough to make you want to eat it and easy to chew with a dry mouth.
4. I need new kit:
5. Gloves that will stay warm when wet, won't soak-up much moisture and are easy to get on and off – I'm going to take mountaineering mittens next year, on top of thin fleece gloves that I can wear and still access my stuff;
6. A hat that will me warm, keep the rain out of my eyes, and won't blow away in the wind – again, mountaineering kit is probably the stuff.
7. A pack that is easy to access when on the move – a bum-bag seems a better idea than a rucksack, as it can easily be swung round to the front.
8. Next time I won't be afraid to stop somewhere sheltered and to sort myself out – letting a few people go past isn't such a big deal, getting hypothermia and needing to be carried off the mountain definitely is.
9. Once I got in I should have changed into warm, dry clothes immediately (and taken a small towel to dry-off as well).  I went for the food instead, but trying to eat mushy peas whilst shiveringuncontrollably is a pretty unpleasant experience.
10. Big respect to the marshals, especially the ones on Mam Tor, Rushop, Brown Knoll, Grindslow Knoll and Ringing Roger – they must have been frozen to the bone.
Helen Davis
Hello Sam, what can I say, that was one tough day out on the hills. Still finding peat bog where peat bog shouldn't be. If it wasn't for the hail and rain washing it off of would have come in looking like a bog monster.
As Ben says previously the race was going in alright up to Mam Nick. I had recce'd it 3 weeks prior and completely bonked just after Mam Nick cut off so aired on the side of caution to make sure I got around yesterday.
Just tried to stay in contact with people over Brown Knoll and came across Mr Phil Howson which gave me great pleasure to tap him on his shoulder after last year's comments! Must have past him by 10 meters when the infamous bog got me waist deep which was a great time for cramp to set in too. Luckily people didn't carry on running from the scary lady screaming and came and pulled me out as there was no way I would have been able to get out by myself. Managed to repay the favour a bit further on by pulling someone else out.
Gave the Marshall a kiss on Brown Knoll as I sort of knew the worst was over after that point. I was relying on the lady in front to navigate and we overshot the ridge over to Grindslow a bit but got back on track to fall again and cramp set in again. Must learn to pick my feet up. No time to dwell on it as still a way to the finish and didn't want it to take any longer than needed. Finished quite strong down ringing Rodger so probably was a bit too conservative but loved passing a few people at the end.
What I would take from it – Marshall are amazing, the right kit is a must, sealskins are amazing, no need to pay a fortune to enter a Tough Mudder or anything like that just go to Derbyshire in March. Fell runners are ace- everyone looked after everyone. Cider tastes amazing afterwards.
Paul Stuart
Hi Sam, well Phil Howson had said some days earlier "what could possibley go wrong" and nothing really did. The hills where still there ,the course was there,we all got around and we all came down unscathed. It was just the weather!.Well That turned up too. Rather a lot of it for my likeing.  I`d been up Brown Knoll a few weeks earlier in good weather and I never liked it then. Like Helen I was thigh deep in bog . So yesterday I had a cunning plan to use a path I`d seen on the map @ 1km further on from the marshal in the tent checkpoint. I asked him had many taken that route .None was the reply   .  Aah well fun and games here we go .So off I stumbled into the mist and side ways rain and always the noise of my jacket hood flapping around. My biggest fear was not keeping up with colourless sillhouettes staggering across the moor It just seemed an age to get there and always with the thought we wouldn`t find it .And that would be my last resting place. I had an idea that once at Edale Cross it would be all plain sailing my hands were frozen but my thinking was to keep the Seal Skin gloves in the bag for a real emergency -in case I was forced to stop.  A mistake really . By Grindslow I had to get warm . The marshals up there took me behind a rock away from the howling wind and tore my sodden gloves off and just as best they could possibly do ,forced my frozen useless clumps of hands into the dry seal skins. Just get off here  and get it done was my only thought as I picked my way carefully over the rocks to Ringing Roger . The wind up there was incredible . Just get down and keep dropping down ,it`ll get better .. With the finnish in site and just 400mtrs to go on a wet hill side . I fell and slid a good 20-30ft completley flat out ,shoulders,head,arse,back everything in contact with the wet muddy ground. Taxi for Stuart ! That was me done  . It took me 40 mins to get the dexterity back in my fingers to turn the ignition key in the car for warmth.. Not for me these races .. Not in this weather..
Phil Howson
Sam, Not much I can add to Ben and Helen's account other than, I really do not think I am cut out for the real fell races, 3 time fail at this and 3 peaks. Yesterday, I had decided halfway along Brown Knoll that racing was over, completing it safely was the only important bit. Even though the weather forecast had improved, I dug out two pieces of kit that I have not used for years. One was an old fleece buff, the other was the critical one, my old Buffalo mites. I stopped at Edale Cross, took, my time, put my woolly hat on under my hood (never used a hood while running before), took off my cycling gloves which were sodden and put on my fluffy mites. Eat a Mars bar and set off. Seriously could have done with more food and glad I did not need my spare dry fleece top of body bag, neither of which were compulsory, they should have been. Even though I know the area very well, I still thought I was following people the wrong way after Brown Knoll trig at the wall. It just shows how clag, cold and tired affect even my sharp mind. As said elsewhere, I do not want to scare people from attempting this, but it was my hill craft that made me make the correct decisions yesterday, not fell running experience or my normal brute force and ignorance. Have fun Sam making sense out of that.
Oh missed out the waste deep bog encounter I had on brown knoll, same as ben's, it was what killed my first gloves. I did not fall until the last 1/2 mile then did it twice, once on the zigzag in slow motion as the wind was still strong enough to break my fall. The second in the final field, just to entertain the marshals. Been swimming today with the kids in the leasure pool at ponds, so hoping my legs will work tonight, as it is the last big mileage week before mara taper.
Andy Buck
And my story – the last 5 miles:  16 miles in.  Cold and wet.  Stretched out supine in a few inches of cold, peaty water, cramp searing through my left leg.  Roll over, haul myself to my feet, stuff what remains of chunk of energy bar I was holding into my mouth, along with a good dose of millstone grit.  Race on.  Focus.  Crowden Tower next, steep descent, careful across the torrent that had become of Crowden Brook, ascent and back on the path.  Must not miss the right hander to Grindslow Knoll.  Swallow an ibuprofen tab.  The fiercest wind yet and piercing hail from the Knoll back to Grindsbrook Clough, navigate the northerly branch of the Clough, stick to the edge path, Ringing Roger seemingly miles away.  Legs feeling less painful – too cold to feel anything.  Ringing Roger at last, just the descent we've done many times to go.  The wind, vertical and in our faces, steep rocky 50 metres, then eases off.  Steady.  Down the zig zags.  No sprint for the line this year.  "Are you OK, do you know where you are?" asks the marshall at the finish line.  Jog back to the village hall (less painful than more time in the cold). Beeline for my bag.  Every stitch of clothing off, struggle into dry warm stuff – can it ever have been so difficult to get dressed?  Food.  More food.  Sanity returns.  4.5 minutes down on last year.  2nd M55, 3rd if we include M60s (the estimable Keith Holmes).  10 M55 men and 1 L60 woman (who else but Pat Goodall?) finishers.
2016 race? Bring it on!
Thanks to Mossie Net Photography for the fine photo of our new Chairman! Go here to see his photos… https://www.flickr.com/photos/mossienetphotography/sets/ Please consider donating to his appeal at: https://www.justgiving.com/mossienetphotography/