The 30th Percy Pud will take place on Sunday 3rd December 2023
The 2023 race is now full. There is no wait list, but people who can't run often advertise places on social media in the run up to the race.
If you don't have a place, why not volunteer to help the race run smoothly? You will get a free PP beanie hat, a free Christmas pudding and a fun packed morning. Please e-mail Barry Gyte: barrygyte@gmail.com to volunteer.
*
The 2022 race was won by Tommy Power (Hallamshire Harriers) in 31:00. First woman was Phillipa Williams (Dark Peak Fell Runners) in 33:59.
Many thanks to all the volunteers, runners and supporters who made it such a great day, despite the cold and damp.
---
When
Sunday 3rd December 2023, 9:30am start.
How to enter
Entries will open in autumn 2023.
Details of how to enter will be posted here prior to entries opening.
Race summary
We organise South Yorkshire's most popular 10km each year which takes place on the first Sunday in December.
The event has grown in popularity from the first race in 1993 when 600 finished the race to recent years when the entry has had to be limited to around 3,000.
You can read about the history of the race and it started back in 1993 on our dedicated Percy Pud 10k History article.
Such is the demand for numbers that in each of the last 10 years the race has sold out ahead of time.
Why is it so popular? Traditionally each finisher in the race receives a Christmas pudding for their efforts. Food and seasonal music are provided after the race. Of course, the route is not bad either.
For many, the Percy Pud signals the start of the festive period.
Charitable Donations
A big part of the club organising the race is to be able to put back in to the local community.  As such, many of the proceeds from the race are donated to local charities and organisations.
Here's just a selection of projects and charities that we have supported in recent years:
Ibbotson Memorial Field Trust ( Bradfield Community Village Hall)
St Nicholas Church (at High Bradfield)
Dungworth Primary School
Loxley Primary School
Loxley Recreation Field After School Nursery
Loxley Silver Band
Stannington Brass Band
Stannington Bowling Club
St Lukes Hospice Charity
Weston Park Cancer Hospital Charity
Cavendish Cancer Care Charity
Macmillan Support Charity
Kate Allatt ( Locked In Sroke Syndrome Charity )
You can also see further support we give to the local community on our dedicated Community and Charity page.
Race Packs and updating/transferring your entry
The race pack will be sent to the address you give when registering for the race.
If you need to amend or transfer your entry, please follow the instructions in the entry confirmation email.
There is no facility to amend or transfer numbers on the day. We are also unable to replace lost numbers, so please keep it safe!
On the day:
Do not cut or fold your race number. Please pin it to the front of your vest/t-shirt with four pins.
Emergency contact numbers and name(s), along with any medical conditions must be written on the back of your race number in the spaces provided.
We strongly advise against wearing headphones or using iPods/smartphones etc during the race.  Runners do so at their own risk. If you choose to use such equipment, we please ask that you be vigilant at all times and to please turn the devices off before the start of the race so that you are able to hear any announcements
If you have any concerns or questions about your entry please contact FR Systems directly via https://www.entryhub.co.uk/contact-us as we in the club do not control or administer the entry side of things.
FR Systems administer the whole entry / race pack system on our behalf.
Where, parking and facilities
The race starts and finishes on Loxley Road, Sheffield with the tent, toilets and facilities opposite the Admiral Rodney public house (S6 6RU).  Parking is available on the surrounding streets; Loxley Road, Rodney Hill, Chase Road, Ben Lane, Long Lane etc.  But please do not park anywhere on the course, ie near the start/finish area on Loxley Road.  Note, you may end up parking upto 10 mins walk from the start/finish area, so please give yourself enough time.  Full directions will be provided in your race pack.
Baggage
There will be a marquee in the field where bags can be stored, unfortunately these will not be monitored so please secure your valuables.
Course
The route takes you along the picturesque Loxley Valley on the north west outskirts of Sheffield. The course is a slightly undulating, out and back one with very few turns making it ideal for people aiming to set a personal best.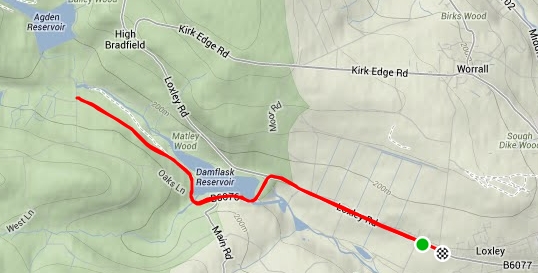 Drinks Station
There will be a drinks station at around 5km (3 miles) just after the turnaround point.
Pacers
There were no pacers for the 2021 race, but we are hoping to bring them back for the 2022 race. Details will be updated here closer to the race date.
Prizes
As per the poster below there will be prizes for top finishers in all 5 year age categories.  The prizes will be awarded after the race inside the marquee, so please stick around.
Previous Results and Course Records
The course records on the original course were set by:
John Mayock of Barnsley A.C. in 2001 (28 minutes 59 seconds)
Debbie Robinson of Tipton Harriers in 2003 (33 minutes 42 seconds)
In 2004 the start and finish were amended slightly because the finishing area used prior to that date was no longer available to the race organisers. Whilst the new course has a slight incline to the finish line it has the advantage of 4 less turns in the last kilometre. The records on the current course are currently held by:
Omar Ahmed of Birchfield Harriers in 2019 in 29:00 (28:59.2 to be precise)

Eilish McColgan of Dundee Hawkhill Harriers in 2019  (31 minutes 48 seconds)
Note: The £1,000 prize for a new course record relates to the current new course times (28:59:2 and 31:48)
Previous Results
Full results from previous years can be found here:
No race in 2020 due to Covid-19
You can also find previous results and race reports back to 2002 on our Percy Pud Archive page
In training for the race?
Are you in training for the Percy Pud?  Why come along to one of our training sessions under no obligation?
You don't have to join the club to come and try a training session, just come along for free and see what you think.
Each and every week we run evening sessions from Hillsborough, Heeley, Graves, Millhouses and Woodburn Road track, plus a daytime session on Tuesday from Millhouses.  No need to book or anything, just turn up, introduce yourself and have a nice run with us.
Organising Committee and Volunteers
Organisation for next years race starts the day after last years race finishes.  There is so much to plan for and book that its a good job that we have a dedicated organising committee.
It also goes without saying that the race could not happen without the time generously given by the volunteers across the whole of the race weekend.  Most volunteers are Striders club members and we need between 100 and 150 people around the course on race day in a variety jobs.
2023 Promotional Poster