Hope Valley Round
It may not be as big or dramatic as the Bob Graham or many other classic fell running challenges, but the Hope Valley Round is probably the closest and most accessible fell running 'round' for most Striders.
This page will keep a record of completions by club members.
The round starts and finishes at the Outside shop in Hathersage and takes in Shatton Moor, Bradwell and Old Moor, followed by the Mam Tor, Lose Hill and Win Hill summits. It comes in at around 20 miles with 4500ft of ascent.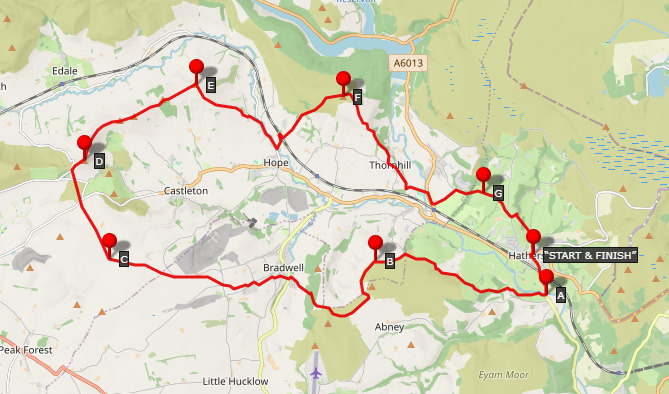 You can read about the history of the challenge and get full details of the route on the Outside Hope Valley Round webpage.
Striders' Completions
| | | | |
| --- | --- | --- | --- |
| Name | Date | Time | Direction |
| Nick Burns & Roger Walters | Friday 28th April 2023 | 4.25.37 | Clockwise |
| Daniel Horner & Chloe Barlow-Huuderman | Sunday 30th April 2023 | 5.14.50 | Anti Clockwise |
| Sally Twigg | Monday 1st May 2023 | 5.05.29 | Clockwise |
| Mark Platton, Vicky Hawkins & Kieran Surgeon | Saturday 20th May 2023 | 5.06.06 | Clockwise |
| Marie Cheng | Saturday 27th May 2023 | 4.47.00 | Clockwise |
| Kathy Liddiard & Laura Mella | Saturday 27th May 2023 | 5.05.13 | Clockwise |
| Dan Abbott | Wednesday 31st May 2023 | 3.27.53 | Clockwise |
| Adam McAuley & Nick Burns | Thursday 1st June 2023 | 4.14.21 | Anti Clockwise |
| Laura & Jim Rangeley | Sunday 3rd June 2023 | 5.40.50 | Anti Clockwise |
| Luke Desforges | Sunday 18th June 2023 | 3.43.44 | Anti Clockwise |
| Jessica Brooks | Thursday 29th June 2023 | 4.22.54 | Anti Clockwise |
| Hannah Jayne Wright | Sunday 2nd July 2023 | 8.07.00 | Anti Clockwise |
| Gillian Allen, Caroline Brock & Sian Evans | Sunday 16th July 2023 | 3.58.20 | Anti Clockwise |
| Sarah Thorne | Saturday 22nd July 2023 | 4.12.31 | Clockwise |
| Malcolm Baggaley, Kate Scott, Laura Mella, Emily Green, Dan Abbott, Tessa Bainbridge, Kathryn Liddiard | Sunday 30th July 2023 | 5.21.00 | Anti-Clockwise |
| Cara Hanson, Laura Fletcher, Kevin Haighton, Anne Baleux Petit-Jean | Sunday 20th August 2023 | 7.12.56 | Anti-Clockwise |
| Dan Abbott | Sunday 28th October 2023 | 3.30.00 | Anti-Clockwise |
| Cara Hanson, Steve Blake, Darrell Porter | Sunday 7th November 2023 | 5.09.07 | Anti-Clockwise |
DOUBLE ROUND
Name
Date
Time
Direction
Dan Abbott & Nick Burns
18th August 2023
9.07.14
C/W then AC/W