The Salt Cellar Fell Race
(part of the Accelerate Gritstone Series)
Date: Friday 4th August 2017
Start: Fairholmes Visitor Centre at 7pm
Distance: 7.1 miles
Ascent: 486m (Category BM)
Salt Cellar 2016 results available here
---
Pre-enter now for 2017 – click the WebScorer link below to pre-register for the race.
It would help greatly and save much time on race day if people could pre-enter where possible.  Note: no upfront payment required, non-members just pay £5 on the night before the race. The race is FREE to Striders members.
You can also pre-enter using the Apple iOS and Android app.
FREE results app for iOS & Android
---
If you have any questions regarding the Salt Cellar Race please email Dean Young via the Contact Form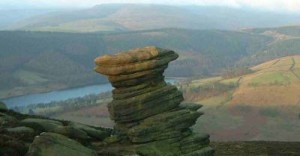 This is an open race, registered, permitted and insured through the FRA and organised by Steel City Striders. It is part of the Accelerate Gritstone Series. It starts and finishes under the Dam wall at Upper Derwent Reservoir with registration at Fairholmes Car Park on the northern most point of Ladybower Reservoir (SK173893). The route is 10.9 km/486m of accent (category BM), it heads up onto Derwent Edge and descends from Salt Cellar Boulder with some great views and terrain to enjoy along the way.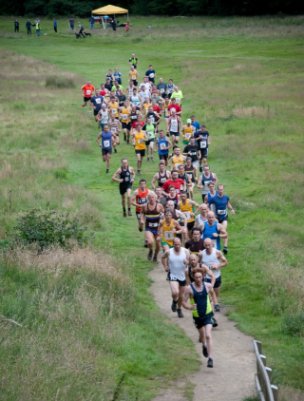 There will be marshals positioned at key points around the route and any turns without a marshal will be flagged. Entry is available on the evening for £5 per person but we strongly encourage everyone to pre-register at Webscorer before the race to make registration easier on the night. You will not be asked for money by pre-registering and you can just go straight to the desk to collect your number and pay your entry fee.
(Striders club members – entry is FREE and paid for by the club)
Some food will be available after the race for all competitors and this is included in the entry fee. Profit made from the event will be donated to Edale Mountain Rescue who provide emergency support for the event.
There is plenty of parking available at Fairholmes car park (£2.50 for 2 hours; free after 6pm) and in the lay-bys along the road leading to the car park (free, but 10 or more minutes jog to the start).
Please allow plenty of time to get to the start line for 7pm. There are toilet facilities at the visitors centre.
Course Profile

Map of the route and local area