Race Date: 14th January 2018
"Pack an overnight bag" — Race Report by Ashleigh Barron
Friday evening, and "Pack an overnight bag" was all Martyn had to say about my impending 30th Birthday celebrations for that Sunday. He knows I like surprises. And as far as I was concerned, Puglia Marathon in December had been an early Birthday treat so I would be more than happy to enjoy a bit of pampering before training kicked off again.
The weekend was to start with a surprise parkrun tour so I donned the usual uniform of lycra. Markeaton parkrun in Derby was the destination of choice and Martyn's start-line request was to "take it steady" for reasons unbeknown to me at the time. I thought it'd be nice for us to run it together in that case and enjoy the atmosphere sans bleeding eyes… We set off down the hard packed trail and it wasn't long before I couldn't hack it. Within the mile I could hear the words "7 minute miles is NOT STEADYYY!" fading backwards into the distance. When I re-united with Martyn afterwards he was peeved that I'd run off, but full of endorphins I lied a little and told him it DID feel easy and to shut up. We piled back into the van for our next destination…
The journey took a good couple of hours and several strong coffees. We arrived in Gloucester. Could we be enroute to the Cotswolds perhaps? Martyn had entered a postcode into the sat nav but was having trouble finding the destination. We were circling a strange, partially-built housing estate which felt like the same roundabout with the same four roads leading off it in every direction. We stopped for directions and were pointed towards a small sports hall… It was a race HQ, of course! I began to get excited. Two old dears were sat behind a table full of brown envelopes. Three distances on offer… Half Marathon, Marathon and 50k. I was handed my envelope. What distance would he have chosen for me? I broke the seal… #946 GLOUCESTER MARATHON. Yes! The perfect present for a nutter like me. But I hadn't got my kit? Not to worry, Martyn had packed all this in secret. I had the rest of the evening to come to terms with running 26.2 miles again within a month.
The van was full of presents, banners and balloons so we dressed the hotel room up and spent the evening enjoying a four-pizza-and-a-cake party in our room. I wondered how the race would go. Would we be too tired? Or would our bodies just get on with it? I didn't care, there was no pressure here – just a brilliant 30th Birthday adventure ahead of me.
The hotel was less than a mile from the start-line and the race didn't start until 10.30, so we had a nice lie in. The course heads out to a 4 lap loop before heading back to the start, and after each lap you are to grab a wristband in order to keep track of how many loops you've got through once the delirium kicks in.
The conditions were spot on and I settled into the loops. I felt a little tired but not enough to concern me. After receiving my 4th wristband I continue running, not seeing anyone divert course ahead of me yet. 24 miles in, I joked to the chap next to me "I wonder when we change direction? I don't fancy an extra lap". He saw I had four bands and informed me I should have peeled off a different way about half a mile ago. It turned out the man I was running with was wearing only three bands! It was a little confusing who was participating in which race and at what stage they were at as all three distances were running the same loop but varying amounts. I wish there had been a clear sign at that junction.
Unphased, I turned back and powered up the hill towards the T junction where I should have taken a right and not a left. I see a lady in pink storming down the correct route. I couldn't let this happen now after 24 miles so I dug deep and put my foot down. I felt strong coming over the line and finished in 3.09.02 – managing to keep the lead by about 20 seconds. I'd still managed a PB and astonishingly had run my first (unofficial) sub 90 half during the first half of a marathon.
Martyn had a strong race and finished in 3.38.23 – his main joy being that it hurt a bit less than the last one. A big well done to him, and I am thankful for such an amazing Birthday present.
It wasn't until a full week later that I finally brought myself around to look at the time I passed through the 26.2 mile distance to see what could have been… 3.06.03! A fantastic start to the year regardless – onwards and upwards.
239 people took part in the race, including two Striders. The race was won by Robert Turner of Edinburgh AC in 2.42.44 and the first lady home was myself in 3.09.02.
| | | | |
| --- | --- | --- | --- |
| P | Cat | Name | Time |
| 21 | F | Ashleigh Barron | 3.09.02 |
| 79 | M | Martyn Goldsack | 3.38.23 |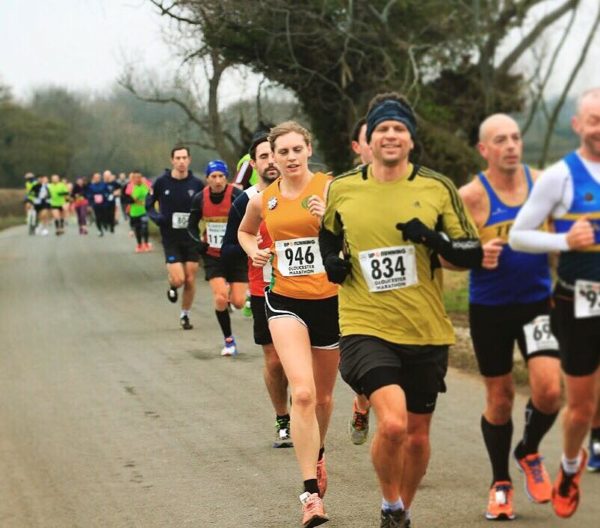 Full results available here.
Save
Save
Save
Save
Save
Save