Report By: Jennie Stevens
Race Date: 15th August 2021
Scafell Pike Trail Marathon is a 27 mile run, organised by High Terrain Events, which according to their website is 'a trail marathon incorporating England's highest peak. Based from Keswick the route follows beautiful lakeshore trails, wooded valleys to spectacular high mountain trails, incorporating some of the most dramatic rock scenery in the Lake District.'
It was first recommended to me a long time back by Scott Berry on one of our headtorch runs.  I booked on for August 2020, but like many other races it was cancelled last year.
For most of 2021, the race has been hanging over me like a lead balloon.  To be honest, it's a wonder that the likes of Kev Hewitt, Alison Barrett and Mark Platton are still talking to me considering the amount of self doubt and sheer panic about this race they have been subject to over the past few months!
I've done a lot of stuff this year, from long distance multi-day hikes to mountain marathons.  I've had a lot of fun and adventures, but I haven't really trained or run any distance.  Nor have I done much in the way of resting.  So, as the date for Scafell loomed closer, seeing the likes of Sarah Ward and Emma Clossick log endless and impressive hill reps and speed sessions onto Strava, I began to feel more and more unprepared and anxious.
By the beginning of August, I knew there was nothing I could do, and I started to feel less stressed.  On 8th August, 1 week before Scafell, I ran an 18 mile fell race in Saddleworth and it felt great.  I was chilled and non-competitive, just ran my own race and enjoyed the experience.  While conscious that there wasn't much recovery time for Scafell, at the same time it was a boost for my confidence and I set myself three rules as a consequence – finish the race, don't come last, and enjoy it.
Other than the training part, I'd planned well for the race.  I'd booked a family holiday in the lakes, near Kendal.  I'd arranged to get to Keswick by bus the day before to register, and I'd arranged a 'pop-up' campsite just 10 mins walk from the start.  However, just 2 days before the race I received an email from the campsite saying they'd had to close due to the field being waterlogged.  Bother.  I managed to find a site not too far from Keswick, but up a big hill, and at the wrong side.  This meant a fair bit of walking the day before, and also on race day.
As soon as I stepped out of my tent on race day morning I knew it wasn't good.  My legs didn't feel fresh, in fact they were stiff.  My visit to the toilet was, erm, unproductive (we all know how much of a worry this is before a big race!).  I packed up and set off down the hill, in the drizzle, to the registration/finish area and ditched my bag.  Then I started the walk to the start, around the far side of the lake.  By the time I'd arrived, 15 mins before the start, I'd walked over 4 miles and felt a bit knackered.  This is not a great way to be feeling before 'a trail marathon incorporating England's highest peak'…
And so began the competitor analysis.  I saw lots of young whippersnappers in fresh new gear, looking focused and unspeaking, legs taped up in various shades of neon kinesio tape.  I saw a fair few older competitors who looked like they'd spent a lifetime up on the fells.  The Salomon rep was going on about UTMB points and opportunities for the winners to run in the Azores.  I was feeling more and more out of place, until the RD came on and lightened the tone somewhat by saying 'some of you will just be hoping to make it round in one piece'.  Suddenly I could breathe again.  'That's me!' I thought.  And off we went to the start position.
The race itself is 27 miles and 6,000ft elevation.  The first 8 miles are fairly straightforward, with a little 'teaser' hill.  Then the long 4 miles climb to the summit of Scafell via the Corridor route and straight back down again.  There's another significant climb at 21 miles, then a steady descent back to the finish.
I'd done myself a plan to complete the race in 6 hours, with time targets for each of the 7 checkpoints (CP).  Not familiar with the area, I didn't really know what to expect, but I always find it easier to break long races down into chunks.
It was 8 miles to the first checkpoint.  It'd been raining all morning so far, and just after we set off, the sun came out.  It was beautiful running along the southern shores of Derwent water, but I wasn't feeling good.  I had weird and unexplained pain in my glutes and hamstrings that I have never had before.  I felt stiff.  I knuckled down in the knowledge that I had a tough few hours ahead of me.
On arrival at the 'teaser' hill, I realised it was bigger than it looked on paper and subsequently started to worry about the size of Scafell itself.  I pressed on, and realised with dismay that the pain in my legs was even more of a problem while running downhill, which is usually my strength.  I made the first descent in 'wooden leg' running style and arrived at CP1 only 2:30 mins late, so not too bad considering the painful start I'd had.
The climb to Scafell was long, with a fairly steady climb at first, but then it got gradually steeper and rockier the higher we went.  The sun hadn't lasted long and it was really wet by now, getting foggier and breezier by the minute.  Some areas of the ascent were hands and knees climbing, and others were just relentless trudging.  Towards the summit, the path disappeared and we just had to clamber across boulders.  Because of the rain, the rocks were so slippery and greasy, it was almost as if someone had been out that morning and poured washing up liquid on them – really hard going.  Despite all that, the climb had gone well for me and I arrived at the summit (CP3) only 1 min late.
The start of the descent was probably the most technical part of the race.  The rocks were lethal – big and sharp – and before long we were heading uphill again!  Finally though, we were on a path and I was able to run.  My legs were still stiff and descending was painful, but I was moving steadily and not feeling too tired.
By now I could recognise the other runners around me.  It's one of the things I like about long races like this – you settle into your own field of runners and you know after 10 miles or so that you are all of a similar ability, and probably going through similar levels of pain the further through the race you get.  Some had passed me earlier, then I'd passed them, and the same would happen a few times over.  Many of us arrived at Seathwaite – CP6 (same place as CP1) at a similar time.  I was only 15 mins behind schedule and feeling good about it – the conditions were terrible and the descent had been hard and slower than planned.  I filled one of my flasks with juice, glugged some flat coke, and set off again without wasting much time.
I only had 9 miles to go, with another hill looming.  Time to dig in.  I wasn't far off 6 hours and, although I knew I couldn't make it up, I was determined to come in under 6 1/2.  During the course of the next 7 miles no-one overtook me.  I overtook about 15 people – most of the people I'd been running alongside all day, and even more satisfyingly, some of the taped up younger runners that I'd seen at the start.
I pressed hard up the hill, feeling quite nauseous at this point, but I wasn't about to fall behind now.  The ascent finally over, there were 4 of us running through woodland.  They were hot on my trail.  I slipped on some roots and did a spectacular 'almost-save' and fell hard, with gasps from the guys behind me.  But I was on my feet again quickly and didn't lose my lead.  Soon we were on a section of easy trail and I pulled away from them and overtook a couple more.
With only a Parkrun distance to go, I was enjoying myself.  The route took us up on a gnarly bracken-clad path, with Derwent water a welcome sight in the distance.  I couldn't hear anyone else behind me by this point.  But then, I ducked under a low lying branch and my hair snagged on the branch and I was stuck!  It seemed like an age that I was trying to untangle myself and I think I was so determined to stay ahead by that point, I would have used scissors had they been available!  Finally free, no-one had overtaken, I set off again trying to make up lost time.
By the time I arrived on the tarmaced shores of the lake with only a mile to go, I was done in.  Everything hurt, I knew I needed fuel, but it was too late for that.  Before long, more and more of the people I passed started clapping and I knew I must be near the finish.  30 seconds more and there were handbells and louder clapping, and there it was, the cruelly placed uphill finish.  Spurred on by the attention, I managed a sprint up to the finish line to rapturous applause.  All done, in 6 hours, 13 minutes and 36 seconds!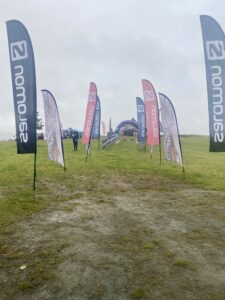 I was handed my medal and Ian Mulvey, the RD, came over and chatted to me for about 10 minutes while I watched some of the others come in.  It had brightened up a bit and it was a good atmosphere and I felt amazing and proud.  My 'A race' was finally over, and I'd done alright!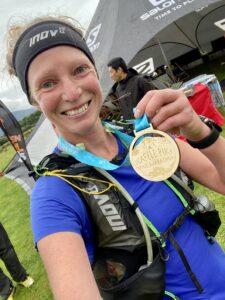 There were 239 competitors, including 6 DNF.  The winner was Tom Adams (INOV8) with a time of 03:32:30 and the first lady was Eleanor Davis (Preston Harriers) with a time of 04:08:13.  I'm in awe of those times in those conditions – Tom even broke the course record!  Really incredible.
| | | | | |
| --- | --- | --- | --- | --- |
| Pos | Name | Cat | Time | Cat pos |
| 116 | Jennie Stevens | F40-49 | 6:13:36 | 6 |