Race Date 2nd January 2023
Report by Dot Kesterton
England Masters Athletics (EMA) requires athletes to run a qualifying race for entry into the annual representation race where you get to wear an England vest and run with dozens of other qualifiers each in their identical red and white vest, sometimes against other home nations competitors.
Having topped the V70 race in 2022 at Bristol I entered the qualifying race for Chester in 2023 at the Abbey Dash 10k but with a sore knee had to withdraw. Luckily EMA added a couple of qualifying events so on New Year's Day while family and friends recovered from year end festivities I took the long road to Cockermouth in Cumbria for a scenic road 10k race on Bank Holiday Monday.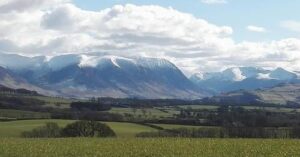 I have become an expert in race preparation having had some miserable and cold waits in long queues for registration, bag drop and toilets in previous races. Up at race HQ near the football ground early I picked up my number, chatted to other entrants and warmed up with a smug smile while the late arrivals joined the inevitable snaking queues shivering, hopping foot to foot and hugging their dryrobes round them.
 The course rises from Graysonside to the village of Lorton in the pretty Lorton Valley with the grand backdrop of the Lake District fells in the distance. After a slight delay whilst other runners finished their prep (slightly less smug now) we set off just before the half marathon runners lined up for their more circuitous route.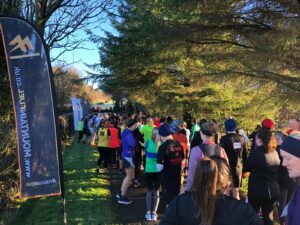 Sometimes the race goes well and sometimes less so. With numb feet despite a decent warm up I struggled to get into it over the first couple of miles. I was relieved to get to Lorton village at the turn and head back for the finish. I had been roundly overtaken by lots of super speedy runners so was pleased when I was able to pass one or two who were breathing hard or limping a little. My sore knee held up and I crossed the line in just over 47 minutes as first V70 of 2 making qualifying for Chester a formality.
In pale winter sunshine I enjoyed the post race soup and coffee before collecting my reward, a voucher for the climbing wall in Keswick. Do let me know if you'd like a voucher for the climbing wall in Keswick as I have one going spare.
If you're 35 or older and would like to have a go at an England race check out www.englandathletics.org/england-competitions
The 10k was won by Nathan Postill (MSen, Border Harriers) in 32:53 and by Camilla McKenespiey (FSen, Border Harriers) in 34:28.
For full race results see http://www.timingupnorthresults.co.uk/results.aspx?CId=16576&RId=6252&EId=3&dt=3
One Strider ran, coming first in her age Category.
postition
Category
40
Dot Kesterton
WV70
47:00