Race Date: Wednesday 8th June 2016
The second of four fixtures in the 2016 Northern Vets track and field league rolled into Sports City Manchester for the 9th running of the annual Joe Moran memorial track and field meeting.
The community track stadium at Sport City is in the shadow of Manchester City's Etihad stadium and has seating for 6,500 people. Quite an intimidated arena, but thankfully there wasn't the pressure of a baying ground.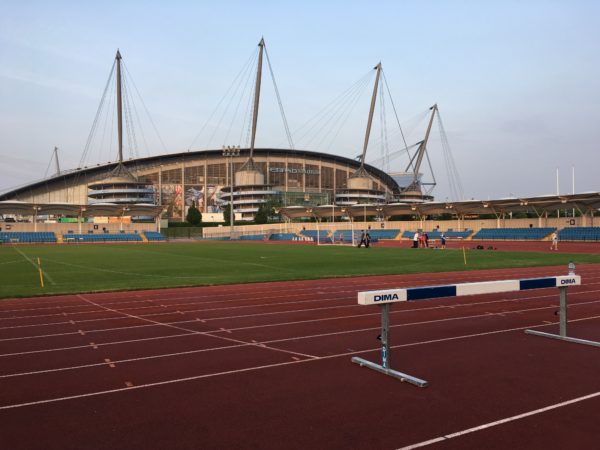 Unique to the Joe Moran meeting of the four vets meetings is that medals are on offer. Hence the higher turnout than previous meet at Spenborough.
A single £5 entry fee allowed you to enter any 4 events from the following; 100m, 200m, 400m, 800m, 1500m, 3000m, Long Jump, Javelin and Shot Put.
In the spirit of being dedicated to my goal I only took part in the 100m and 200m sprint events. Although I now wish i'd given 400m a whirl as it was the final event of the evening.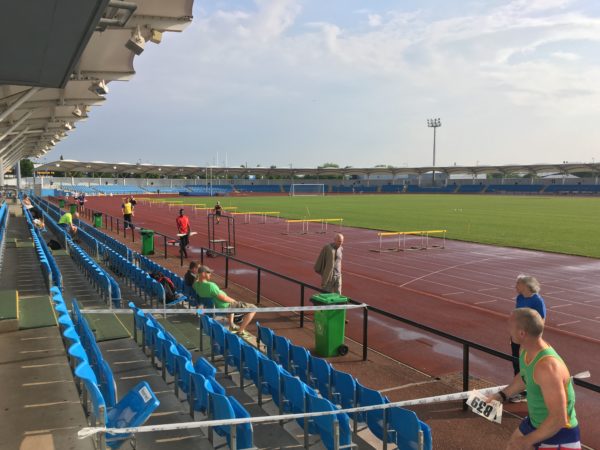 First up, the 100m. It was very hot, the sun was beating down and the air dry. Last time out I struggled with the start but I thought I got out better this time. I'd had a chat to a first timer before the race who said he had no idea how fast he was. I can report he was very fast, lol. In the end I finished 3rd in my race in 13.1, 0.1 seconds slower than last time.  I blame the heat, no good for gingers!
My three attempts at 100m this year now read 13.1, 13,0 and 13.1, so nothing if not consistent.
But i'm delighted to report I was second fastest V40 on the night and was presented with a silver medal for my efforts. Yes, a medal!!!!!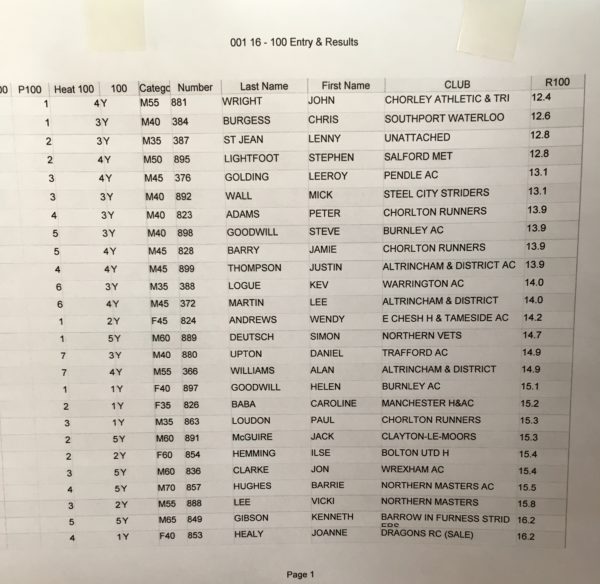 There was a wait for the 200m as the 3000m races took a while due to their popularity.
I ended up in a race of 6 other V40 runners. It would have been 7 of us, but for the judges moving one guy into the V35 race. This turned out to be a blessing as is turned out to be Mike Coogan, World Masters finalist over 200m and European V40 400m champion. He showed his pedigree by strolling home in his 200m race in 23.8
I tried to remember to set off a little faster than last time, but it didn't really happen. One guy on my inside went past me early doors, but having seen his pace in the 100m I knew this would happen. Although I didn't expect another guy on my inside to go past me on the bend, but this spurred me on as I came off the bend and gave it everything in the home straight to try and reign in him. He was about 2 metres in front coming out of the bend but gradually I chased him down then somehow caught and passed him in the final 10 metres to grab 2nd place in the race. Records show a 26.7 result and a new PB by 0.1 seconds.
Slowly, slowly, catchy monkey as my 200m record now shows 26.9, 26.8 and 26.7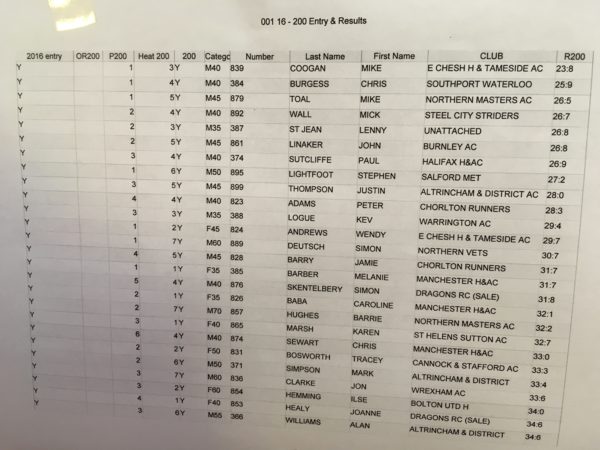 Because the afor mentioned flying machine Mike Coogan is also in my age category this meant I ran the third fastest V40 time on the night and won a bronze medal to go with my sliver from 100m.  The kids have enjoyed having those medals round their necks before school this morning.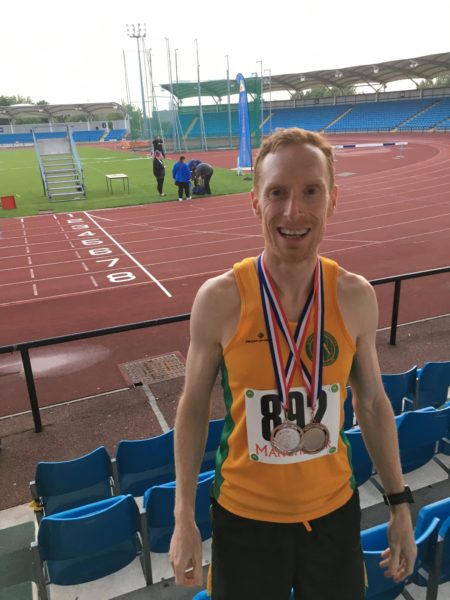 As you can tell, the 100m and 200m event is all about small margins. But sixth fastest 100m time of the night and fourth fastest 200m time at the event is not to be sniffed at. So i'm delighted i've got some form to work with, but I want to go faster. I think its time to dedicate some time to some really specific sprint work to see how far I can go with this.
I never imgained when I started this midlife crisis back in January that i'd have medals round my neck by June and i'd be in the UK V40 top 40 for 100m and top 50 for 200m. Its quite crazy really, so i'd say to any of you, come on, give it a go.  There are all ages from V35 upwards competing right upto V70+ and everyone is really friendly.
Full results and updated race age rankings via Power of 10.
Also, full results from the night can be found on the BB Results website.