Race date: Wednesday 13th April 2016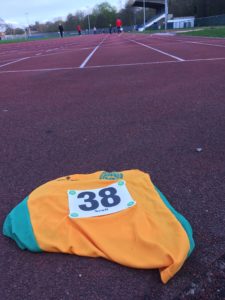 And so the second of my midlife crisis attempts at sprinting takes me back to the venue of my first runs just 4 week ago, Princess Mary Stadium, Cleckheaton, the home of Spenborough AC.
But the circumstances were wildly different this time. No U11's long jump or U15's 100m, it was V35+ only at the first of four Northern Masters Track and Field League meetings of the spring/summer.
Note: Northern Masters seem to be having an identity crisis at the moment, so you'll see them called both Northern Vets and Northern Masters.  But they are the same thing.
Track events on offer were 100m, 200m, 400m, 800m and 3000m. On the field you could turn your hand to Shotput, hammer and Long Jump. Entry fee was a one-off £5 for upto four events.
Entry numbers were low across most events, but the competitors were good humoured and there to enjoy themselves. That's not to say the competition wasn't fierce, us old guys and girls still want to win you know?
The 100m was the second event up. There was one ladies races and then enough men to make two races; under 50's and over 50's.
My under 50's race was made up of 6 runners. We approached the blocks and i'd been telling myself I needed to start better. So as the gun cracked I thought i'd done it, only to be foiled by the runner in lane one making a false start, grrrrr! Second time of asking the inevitable happened and I fell out of the blocks (factually, there aren't any blocks, unless you take your own). But regardless it was a terrible start and I was left with the prospect of chasing down four guys in front of me for 80m having given them a two yard start. I managed to rein one of them in on the line but couldn't get near the other two. Times show a dead heat for third place in 13.0 seconds.
| | | | | |
| --- | --- | --- | --- | --- |
| P | Name | Club | Cat | Time |
| 1 | Richard Higson-Blythe | Wakefield H | M40 | 12.3 |
| 2 | Malcolm McPhail | NMAC | M45 | 12.7 |
| 3 | Leeroy Golding | Pendle AC | M45 | 12.8 |
| 4 | Mick Wall | Steel City Striders | M40 | 13.0 |
| 5 | Richard Mair | Longwood H | M40 | 13.0 |
| 6 | Steve Goodwill | Burnley AC | M40 | 14.0 |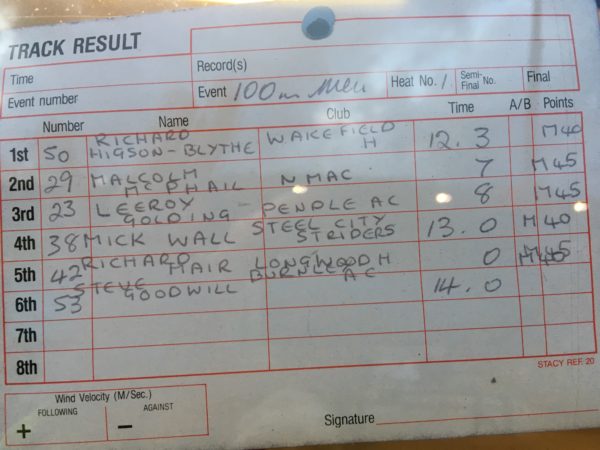 The records show that I have a new PB shaving a whole 0.1 seconds of my first outing. Progress I suppose, but damn that start.
As numbers were on the low side the events passed quickly and it wasn't too long until the 200m. Many of the 100m entrants had upped and gone home, so we were left with enough for just one ladies races and one mens race.
A fella from Spenborough that i'd chatted to at the open meeting a number of weeks ago was in this race. I'd narrowly beat him last time and I was keen to do the same again. Last race he was on my outside so it was easy to track him, but this time he was on my inside, so a different proposition.
Again, terrible start, but somewhat compounded by the unknown of how hard to go out in that initial 50m. I think I went off too slowly as I could hear Jason thundering up on my inside. So as we came out of the bend I put the hammer down and moved away from him. Sadly, because i'd been so preoccupied with my inside i'd failed to see two runners in the outside lane open up a big gap. The eventual winner was the same guy that won the 100m, but I probably could have got closer to the other chap. In the end, despite flying at the death and catching him with almost every stride I finished in third place in 26.8, so another PB by just 0.1 seconds. Slowly, slowly catchy monkey!
| | | | | |
| --- | --- | --- | --- | --- |
| P | Name | Club | Cat | Time |
| 1 | Richard Higson-Blythe | Wakefield H | M40 | 25.8 |
| 2 | John Linaker | Burnley AC | M45 | 26.7 |
| 3 | Mick Wall | Steel City Striders | M40 | 26.8 |
| 4 | Jason Newell | Spenborough AC | M40 | 27.4 |
| 5 | Stephen Lightfoot | Salford Mets | M50 | 30.8 |
| 6 | Mick Race | Salford Mets | M55 | 32.0 |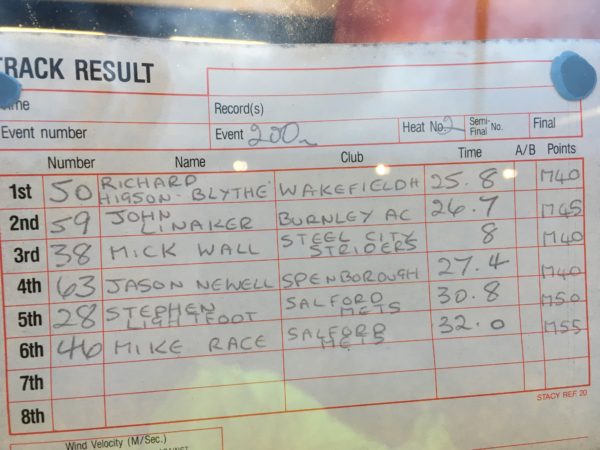 Full results for all the evenings events will eventually be available from the Power of 10 website.
You might think the 200m is just 2 x 100m, but it's totally different and I don't think i've mastered that one by any stretch of the imagination.
Next time, be a little more aggressive in the first 50m and maybe put the burners on a little earlier?
Things to work on: THE START. Maybe I look for a cheap pair of starting blocks on eBay?  Anyone got a set in their shed? 🙂
The whole event only lasted about 90 minutes tops, so you're not hanging around, especially if you get off before the end.  So easy get there, do your thing and then head off home.
If any Striders want to get involved in these vets races, it's quite simple, you just need to be 35 years and older. No membership required other than Striders. Just pay the fee on the night and away you go.
Northern Masters Track and Field League Fixtures
Wed 8th June: Sports City Manchester
Wed 6th July: Cleckheaton
Wed 27th July: Leigh Sports Village
Then later in the year there is the Yorkshire Vets championships
Sun 25th September: Cleckheaton
I'm hoping to make all of them, shaving 0.1 seconds at each one probably.