Race Date: Sunday 24th April 2016
Well – The London Marathon needs no introduction really, so on to the results!
The race winner was Eliud Kipchoge of Kenya in 2:03:05. The winning lady was Jemima Sumgong of Kenya in 2:22:58. There were a total of 39,139 runners who took part, of which 16 were Striders. There were some fantastic performances from the club. The times speak for themselves, with a clutch of new PBs very nearly across the board and a couple of new club records amongst the women! Mark Gray was the first Strider to finish, putting in a truly impressive performance. However, the most spectacular moment from a Striders point of view was this: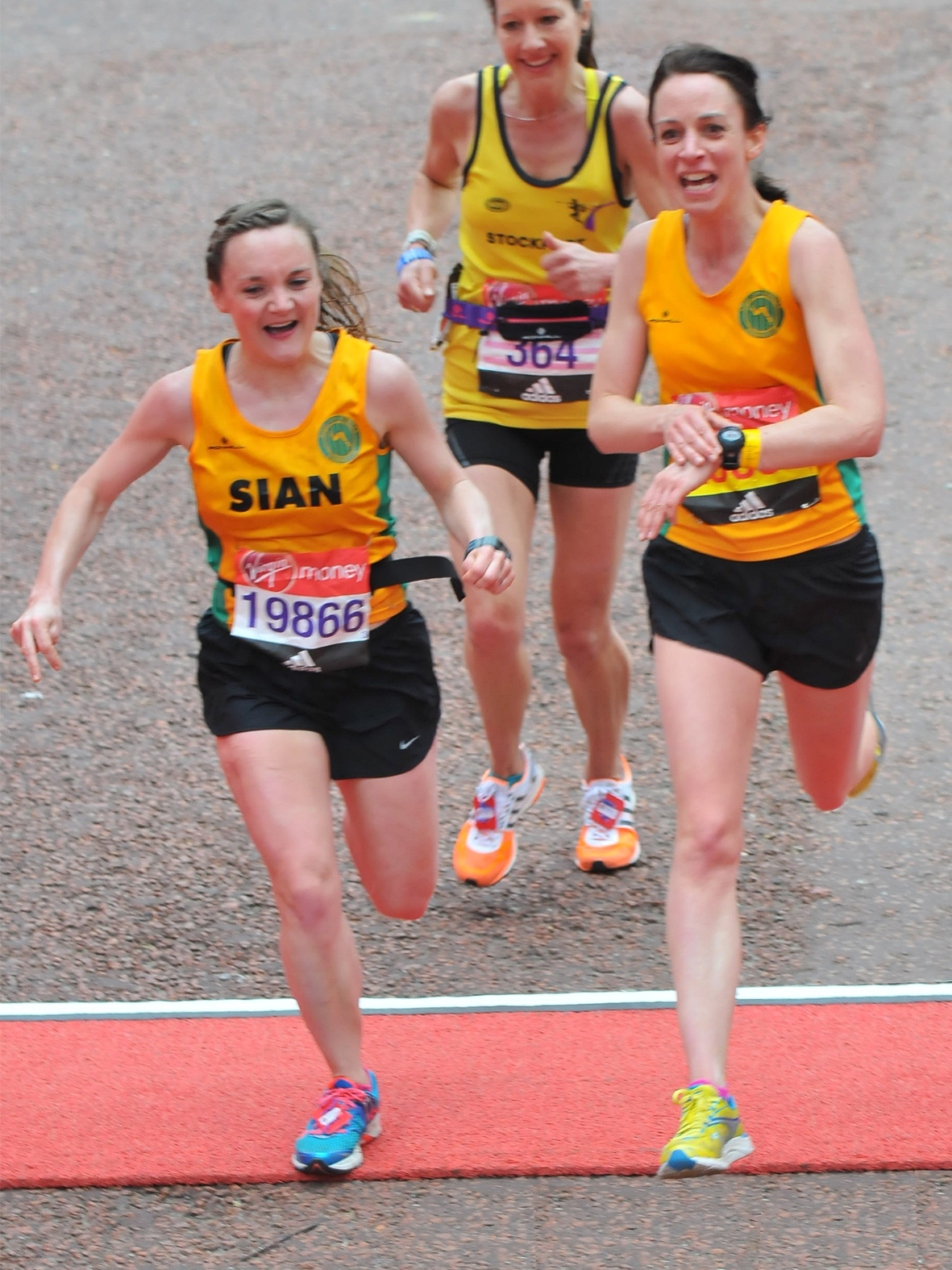 Sian and Jen are the joint new holders of the senior women's marathon club record based on their gun times. Both she and Jen ran quicker than Jen's old record of 3:11:29. They finished within a fraction of a second of each other, so their gun time must be identical. Jen's chip time is faster by 14 seconds though! What a battle!
As well as remaining the overall women's record holder for the marathon distance (Set in 1992), Mary Picksley has a new record to her name, 24 years later – in the female vet 60 category.
Here are the Striders results:
| | | | |
| --- | --- | --- | --- |
| Pos | Name | Cat | Chip Time |
| 314 | Mark Gray | M40 – 44 | 2:40:15 |
| 1022 | Nicholas Scott | M45 – 49 | 2:52:21 |
| 2860 | Jennifer Rich | F18 – 39 | 3:07:30 |
| 2889 | Sian Evans | F18 – 39 | 3:07:44 |
| 4032 | Caroline Brock | F18 – 39 | 3:15:31 |
| 4822 | Paul Johnson | M18 – 39 | 3:20:46 |
| 5069 | Lucy Broom | F40 – 44 | 3:22:28 |
| 5237 | Ross Drayton | M18 – 39 | 3:23:30 |
| 5609 | Sam Needham | M18 – 39 | 3:25:38 |
| 8531 | Michael Twigg | M45 – 49 | 3:39:51 |
| 13585 | Michael Parker | M45 – 49 | 3:58:03 |
| 15130 | Mary Picksley | F60 – 64 | 4:03:05 |
| 15864 | Daniel Lilley | M18 – 39 | 4:06:15 |
| 21875 | Mohammed Ahmed | M18 – 39 | 4:29:32 |
| 21899 | Richard Sands | M45 – 49 | 4:29:37 |
| 25362 | Jon DeAth | M18 – 39 | 4:43:44 |
Full results are available at: http://results-2016.virginmoneylondonmarathon.com/2016/?pid=leaderboard