Race Date: Friday 9th June 2017
Report by James Rose.
I'm sure the Castleton fell race needs no introduction to many. 6ish miles long, steeply up, undulating along the ridge to Mam Tor, steeply down. The last bit off the ridge down to the valley is a bit mad if you try to run it as fast as your ability (or bottle) will let you, I was certainly impressed by the insane mountain goat-whippet hybrid guys flying past me. Despite the amount of recent heavy rain, it was pretty dry overall, and the weather was good on the night.
Fantastically well marshalled and organised, you are never in danger of going off course, and it's a welcoming sociable atmosphere before and after. You even get orange squash ready already poured in cups, instead of a cow trough or rusty bucket or whatever. Thoroughly recommended.
The race was won by Alasdair Cambell (again) of Buxton (42:31), and Megan Wison (50:57) of Dark Peak.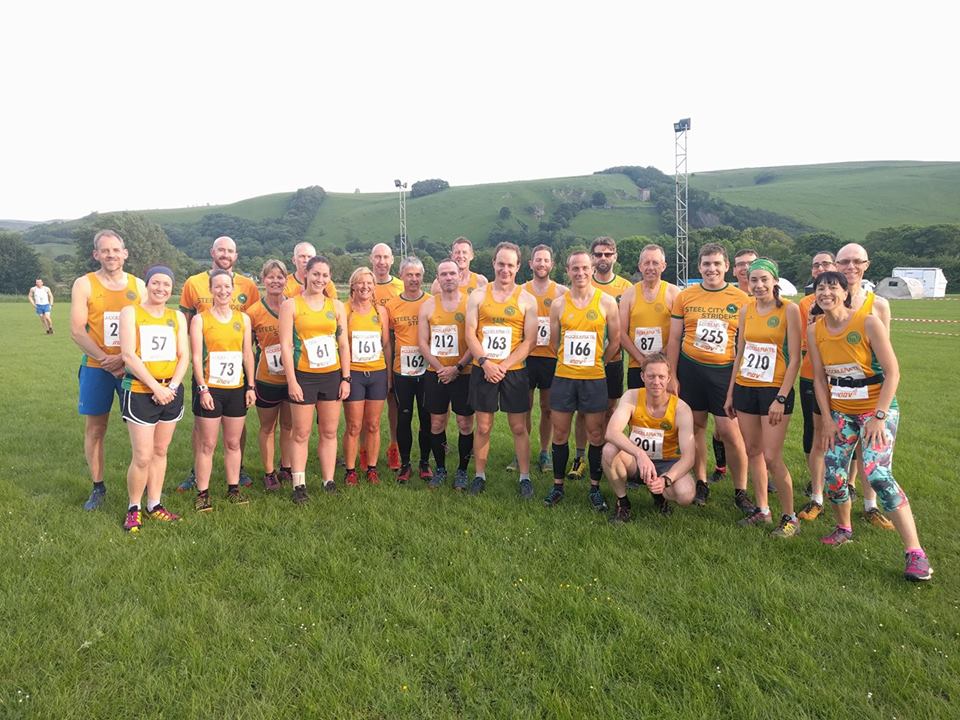 Full results
http://fellrunner.org.uk/results.php?id=4139
| | | | | |
| --- | --- | --- | --- | --- |
| 1 | James Rose | MSEN | Steel City Striders | 00:50:28 |
| 2 | Sam Needham | MSEN | Steel City Striders | 00:51:44 |
| 3 | Caroline Brock | WSEN | Steel City Striders | 00:53:24 |
| 4 | Paul Stuart | M50 | Steel City Striders | 00:54:45 |
| 5 | Michael Slater | M50 | Steel City Striders | 00:55:17 |
| 6 | Alasdair Menmuir | MSEN | Steel City Striders | 00:55:26 |
| 7 | Colin Hardy | M40 | Steel City Striders | 00:57:26 |
| 8 | Rob Davies | M50 | Steel City Striders | 00:58:25 |
| 9 | Michael Squires | M40 | Steel City Striders | 00:58:27 |
| 10 | Russell Stevenson | M40 | Steel City Striders | 00:59:44 |
| 11 | Andy Buck | M50 | Steel City Striders | 01:00:45 |
| 12 | Fran Cummins | WSEN | Steel City Striders | 01:00:50 |
| 13 | Andrew Davies | M40 | Steel City Striders | 01:02:19 |
| 14 | Lucy Broom | M40 | Steel City Striders | 01:02:58 |
| 15 | Mark Platton | M50 | Steel City Striders | 01:03:01 |
| 16 | Neal Pates | M50 | Steel City Striders | 01:03:25 |
| 17 | Keith Bell | M40 | Steel City Striders | 01:04:13 |
| 18 | Tom Nuttgens | M50 | Steel City Striders | 01:09:05 |
| 19 | Bob Grocutt | M50 | Steel City Striders | 01:10:33 |
| 20 | Thomas McCart | MSEN | Steel City Striders | 01:11:16 |
| 21 | Clare Trevitt | W40 | Steel City Striders | 01:11:17 |
| 22 | Victoria Hawkins | W40 | Steel City Striders | 01:13:31 |
| 23 | Jill Davies | W50 | Steel City Striders | 01:15:20 |
| 24 | Andy Green | M50 | Steel City Striders | 01:16:16 |
| 25 | Kate Scott | W50 | Steel City Striders | 01:18:40 |
| 26 | Blane Quigwy | M40 | Steel City Striders | 01:19:56 |
| 27 | Naomi Rabin | WSEN | Steel City Striders | 01:21:11 |