Race Date: Friday/Saturday 1st/2nd March 2019
The High Peak Marathon is an over-night mountain marathon for teams of four which follows a route based on the Derwent Watershed over the high moors of Derbyshire.  This classic 40 mile bog-trot around the wildest part of the Peak District was first completed in 1918 by Eustace Thomas of Manchester's Rucksack Club.  The High Peak Marathon was first organised in 1972 by members of Sheffield University's Youth Hostel Society. This was their idea of a challenge-  to take one of the Peak's longest, toughest routes and see who could complete it, at night, in winter (their definition of 'a good night out' was quite different from most of their fellow students!).  The event is now organised by the University of Sheffield Mountaineering club.
The High Peak Marathon is highly regarded by fell runners and walkers as a very special event. It attracts entrants from across the UK including many famous names in the sport. It can test a competitor's fitness, endurance and navigational skills to their limit.  The route is at least 40 miles long and for much of it the terrain is pathless peat bog.  The dark, lack of sleep and winter weather add to the challenge. Only 50 teams of 4 are accepted and entries are vetted for evidence of previous experience and navigation skills. Last year the event was cancelled due to heavy snow and the entries carried over to 2019.
The race was won by a mixed team, featuring spine record breaker Jasmin Paris and husband Konrad Rawlik, in a time of 08:32:42 (for 40+ miles, let that sink in). First all-male team was 11 minutes behind and first all-female team (featuring Nicky Spinks) finished in a time of 09:28:18. Among the teams, the 'Buffet Clearance Team' featuring our very own fell royalty Simon Bayliss, sneaked in just before the 12 hour mark in 11:59:24. A magnificent effort!
Full results can be found here.
| | | | |
| --- | --- | --- | --- |
| Pos | Name | Category | Time |
| 25 | Buffet Clearance Team (P Walwyn/J Firth/S Bayliss/P Calderbank) | MV | 11:59:24 |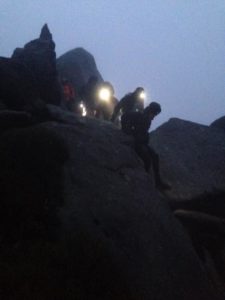 No idea whether this is Simon's team, but does give some indication of the challenge facing competitors in the High Peak Marathon