Kimberworth Canal Race
Report by Jo Gleig
Race Date: Sunday 3rd November 2019
Stuart Jones alerted the recent 5-10k Course attendees to the opportunity to run this flat 5 mile race along the canal, from the Bridge Hotel in Rotherham, and I decided to go along to try it, to see if I could improve my speed a bit. None of the other five to tenners turned up, so I was pleased to see Dawn Wilson in the pub car park, followed by Sarah, Stuart and Tony in the Bridge. The start was a few minutes walk from the pub – an out and back run along the towpath in the sunshine, with around 140 runners, mainly from local clubs.
There was an introductory chat which I couldn't really hear, but it was probably along the lines of Give way to Dogwalkers, and Don't fall in the Canal, and turn around and come back when you get halfway.
However, I have decided the trouble is with   'Flat' races is they aren't really exactly flat. I like to know where I am with a race. I like to know if I am going uphill or downhill, and I couldn't tell on this one. I am 'working towards' trying to get nearer to 10 minute miles, rather than 11 minute ones, over a reasonable distance, and my first mile was pretty close to this, even with having a bit of a chat to a friendly Kimberworth runner going about the same speed. But then I slowed down, and couldn't keep up with her, and got despondent (because I didn't know it was secretly uphill!)
Anyway at about 2 miles, most of the field were coming back past me, and saying cheery encouraging things, so that was fine, and after I turned round at the half way point I was pleased to see there were still quite a few runners behind me (that's what you count at this speed, not the number in front, that's just impossible!), including a dogged Kingstone lady who said 'should we just go to Meadowhall instead?'.
(I didn't like to say, but I would rather run any distance, uphill, in any weather than go to Meadowhall).
So if I had realised 'Back' was generally downhill, I think I would have been more enthusiastic, but I went and  let Mrs Meadowhall overtake me, although I did keep ahead of a Rotherham bloke, all the way back. Until approaching the finish, when I was thinking, oh this is a low key race, maybe they don't bother with funnels, this looks like the end. So I said to the marshal, 'is that it then?' she said 'yes love', so I stopped running, started fiddling with my watch, then looked up to see a funnel a few yards ahead and Rotherham Man went charging past me. Doh!
I didn't get anywhere near under 55 mins which I wanted, and came away thinking Must Do Better, Must Change Tactics, Must Get Fitter, but it was a very pleasant way to spend a Sunday morning, in the sun, with a lot of lovely people!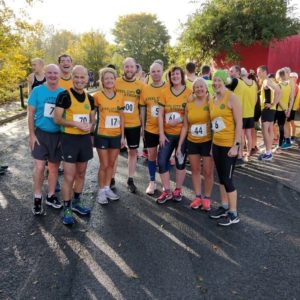 Link to Stuart's report and results here.