Tuesday 7th June 2022
Report by Tessa Bainbridge
As their website says, the 'Kimmy Kanter' has been held by the Kimberworth Striders Running Club every year since 1985. Not quite as old as the Steel City Striders then….just saying!
The 3.8 mile trail race (Race 3 in the Striders Trail Championship) is two laps through the woodlands and fields surrounding Millmoor Juniors FC training ground. The course is undulating but does not have any really serious climbs.
In terms of facilities the race location had plenty of parking, and with registration held at the Millmoor Juniors FC training ground, there was access to toilets and changing rooms. There were plenty of Striders in attendance along with lots of runners from a range of local clubs.
As we arrived early (hoping to avoid traffic which we did successfully) we were able to do a one lap reccy of the course. We found it very well marked with spray paint arrows, and highlights on pretty much every tree root that could cause a trip hazard!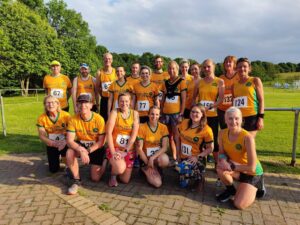 Then after the traditional Striders team photo, we headed down to the start and without being able to hear what the officials were saying, we were off.
Unfortunately, I started way too far back and found the narrow tracks through fields of high grass and woodlands made for difficult, and slightly frustrating, overtaking manoeuvres. I adopted the approach of just shouting "Coming past on your right!", which gained the joking response of "Bloody Striders" on one occasion to which I replied "I know, we are a right pain in the a*** aren't we!". I did manage to push forward, passed quite a few runners, and started to speed up on the second lap, even managing to pull off a sprint finish at the end.
Overall it was a very enjoyable race, the support of fellow Striders and the other club members was brilliant and the race was very well organised and marshalled.
After the race we all headed down to the Drawbridge pub in Kimberworth to attend the prize giving and to enjoy a buffet of roast dinner and chip butties. Unfortunately, because as we all know runners eat a lot, the food ran out so a few of us went hungry.
Highlights of the evening were celebrating fellow striders winning a number of prizes, watching one woman eat a whole plate of stuffing and seeing a man dip his bread in the ketchup, then gravy before popping the whole slice into his mouth. It was an education and I will definitely be back next year to start closer to the front of the pack both at the race and the buffet!
25 Striders ran.  The overall winner was Paul Johnson (MSen) of Barnsley Harriers in 22:30.  First Lady was our very own Caroline Brock (FV35) in 24:56.
Full Results link is here http://kimberworthstriders.co.uk/joomla3/index.php/2015-08-13-15-51-30/kimmy-kanter
Position
Runner
Time
Cat
Prize
4
Seth Kirby
23:33
MSenior
8
Caroline Brock
24:56
FV35
1st Lady
14
Malcolm Baggaley
27:10
MV40
19
Gillian Allen
27:55
FSenior
3rd Lady
26
Sarah Allcard
28:52
FV45
1st V45
28
Adam McAuley
29:05
MV50
29
Robin Nelson
29:10
MV40
34
Neal Pates
29:43
MV50
39
Laura Mella
30:12
FV35
1st V35
40
Christopher Brown
30:17
MSenior
45
Kathy Liddiard
30:31
FV35
46
Jacqui Herring
30:36
FV45
48
Dave Beech
30:43
MV60
53
Helen Royles-Jones
31:31
FSenior
65
Sarah Percival
32:49
FV35
69
John Armitage
32:59
MV50
84
Tessa Bainbridge
35:12
FV35
97
Sophie Mckie
36:12
FSenior
107
Laura Rangeley
37:07
FSenior
112
Simon Gleadhall
37:30
MV50
117
Nada Ross
37:35
FV55
119
Vikki McAuley
37:42
FV45
139
Nicole Nield
39:50
FV65
143
Jo Gleig
40:05
FV55
163
Rosie Smith
43:02
FV35