Sunday 24th April 2022
This two lap course starts in the centre of Southampton.   It goes over the famous Itchen Bridge and follows green parks, river and shoreline and is known for its great views.
Ollie Carlisle was the only Strider and this was his first (non-ultra) standalone marathon.  It was pretty hot down south on Sunday.
Over to Ollie Carlisle….
The problem with spring marathons is that most of the training is done over the cold winter months and then on race day summer arrives. So it proved for the 2022 Southampton Marathon. It was beautiful day on the south coast for this two lap course, so any gains from the route being significantly flatter than most of my training runs in Sheffield were offset by having to cope with the heat, and some fairly fierce coastal winds. But that didn't detract from a well-organised event with lots of support and variety along the way.
I had only ever run one ultra marathon before, and as I'm approaching 40 decided it was time to set a maker time for a standard road marathon in my 30s so I have something to beat in my next decade. I decided to run Southampton when I found out my little sister (who lives down there) was running the half marathon, which starts at the same time and follows the same route. Whilst flatter than Sheffield it was relatively undulating, particularly over the famous Itchen bridge, which was crossed four times in total. The route also followed a pretty path down by the sea, went alongside the pitch at Southampton FC's St Mary's Stadium, and across Southampton Common, home to the UK's largest Parkrun. Whilst there was good spectator support on the first lap, around three quarters of participants were doing the half, so on lap two the course suffered from having far fewer fellow racers and supporters.
I had been aiming for 3 hours 30 minutes, and was well on track having done the first half in 1 hour 40 minutes, but in the second half the conditions and my early speed caught up with me, and I ended up limping over the line in 3 hours 38 minutes, in 144th place out of just under 1000 entrants. Not bad, and still room to improve!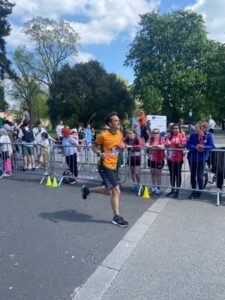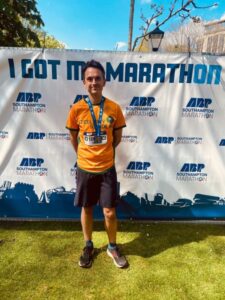 One Strider ran.  The race was won by Chris McGurk (MSen ) of Kent AC in a time of 2:30:17 and by Victoria Walls (FSen) (unaffilliated) in 3:04:34.  There were also a Half Marathon, 10k and 5K races.