Race date: 24 September 2023
Race distance: 10 mile
Race report by Stuart Jones
After last year's race report, when Striders' web editor described my presented mood as 'glum', you might be surprised to find I was back for a second go at Raby Trail 10 miler. It is included in my second-claim Club's championship, and the nearest counting event to home, so I felt obliged.
Last year I picked up a set of left leg injuries at the event, and I'm still dealing with one of them – acupuncture from the physio is the latest attempt to sort out the stringy bit deep within my hamstring. With a Half Marathon two weeks away, I was hoping to come through unscathed, and not much more. A position similar to last year would be nice, and a similar time, too.
Now, according to Fair and Kaplan ('Estimating Aging Effects in Running Events', 2018) after the age of 40 you can expect a gradual decline of about 1% a year (with the effect of compound interest – it's one percent from the previous year, not from your life-time pb). On that basis, everything else being equal; including my fitness, health, speed and stamina, I should have been only 51 seconds slower this time.
I'd better get my other excuses lined up, then, because I was around 5 minutes slower than last year…
Thai food for dinner the night before, leading to poor sleep,
Driving 200 miles the day before, something I'm not used to and which did leave my legs stiff,
Club training runs here not doing the same distance as with Striders; a session might only cover a parkrun distance,
Building upper body strength, at the expense of aerobic workouts, when landscaping our new garden,
New trail shoes, worn for only the third time,
A fifteen-minute delay on the starting line, meaning my warm-up faded away. (This was due to a tractor rally causing holdbacks in the dale, and the late arrival of a good number of runners.)
The route was generally wetter and muddier this time but also had stretches of newly flattened stone and chippings, which were both good tests of the new shoes.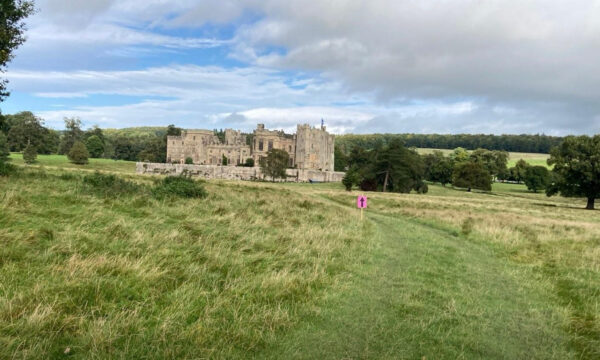 I was nearly five minutes slower, getting to the finish line in just under an hour and a half. My absolute position was, however, the same as last year, finishing 20th overall. My age group position (last year I was first in age group) was also unchanged – first of five in the 60 to 69 age group. Maybe, then, my performance hasn't changed so much?
Pair of socks, drinks, a couple of snack bars and a wooden medal, along with the choice of three distances based on repeats of the five-mile lap, great venue and an appearance of the deer herd alongside the route, and all for the £26 entry fee.
Inevitably I will have to run it at least one more time, if only to test the science.
92 runners completed the 10 mile race.
First to finish was Paul Davidson of Phoenix Flyers (in 01:07:50)
First female to finish was Paul(a) Lewis – unattached (in 01:15:30)
First, and only, Steel City Strider was Stuart Jones (in 01:28:41)
Full results are online and here.
Stuart Jones – not glum; more 'satisfied'
Strider in The North