Race Date: Friday 2 August 2019
The annual Salt Cellar race, which once again formed part of the Accelerate Gritstone series, was run in bright sunshine on a warm Friday evening. A last-minute route change meant that the rock formation that gives the race its name was missing this year, but the alternative course still offered the same taxing climbs, terrifying descent through darkened woods and, for anyone who could spare a moment from watching where they put their feet, incredible views.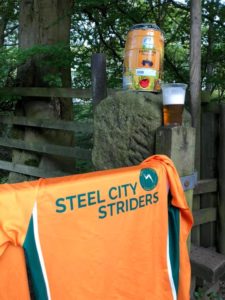 After the traditional mad dash across the grass to get a good position for the punishing dam steps, the 7-mile course headed along the access road before bearing right up the hill on a relentless climb up to the trig point at Back Tor. Runners who'd forgotten their insect repellent could enjoy being temporarily out of range of the midges before taking a turn around the tor and doubling back the way they'd come, as far as Bamfo
rd House. There, they turned left across (and up) the hillside, taking in some short sections of the usual course backwards and making the rest of the 400m climbing the course offers. Then it was a drop back down to the access road, where Matt Surgeon had relocated Trevor's Gate in order to allow competitors to make their traditional toast to Trevor Burton.
Finally, a mile along the tarmac led to the last mad plunge into the woods and out into the finish zone.
The hundreds of photos across the Striders Facebook page and beyond give a picture of what a great race the Salt Cellar is: the terrain, the atmosphere, the challenge, the organisers and marshals and of course the runners make it an absolute credit to the club.
The race was once again gratefully supported by Accelerate, Inov-8 and Just Natural at Crookes. As always, all profits from the race will be donated to Edale Mountain Rescue.
Final word of thanks has to go to all the Steel City Striders members who volunteered for marshalling duties. There were loads of Striders stationed out on the course providing encouragement and support,. The club committee and Salt Cellar organisers can't thank you enough, as without you there would be no race.
Thank you everyone for your continued support towards this great event.
Category winners were as follows:
Female
Overall – Megan Wilson (Dark Peak)
SEN – Megan Wilson (Dark Peak)
V40 – Rachel Burton (North Derbyshire RC)
V50 – Julia Nolan (Dark Peak)
V60 – Pat Goodall (Totley AC)
Male
Overall – Ben Hague (Rotherham Harriers)
SEN – Ben Hague (Rotherham Harriers)
V40 – Stuart Bond (Matlock AC)
V50 – Mike Nolan (Dark Peak)
V60 – Bob Foreman (Matlock AC)
V70 – Alan Browne (North Derbyshire AC)
Full results:
| | | | | | | |
| --- | --- | --- | --- | --- | --- | --- |
| P | No | Name | Club | Cat | M/F | Time |
| 1 | 24 | Ben Hague | Rotherham Harriers | Senior | M | 49:43.3 |
| 2 | 249 | Stuart Bond | Matlock Athletic Club | V40 | M | 51:34.1 |
| 3 | 83 | Harvey Martin | Ripley RC | Senior | M | 53:01.4 |
| 4 | 23 | Ben Cartwright | Matlock Athletic Club | Senior | M | 53:32.7 |
| 5 | 257 | Luke Beresford | Ripley RC | Senior | M | 54:31.6 |
| 6 | 26 | Ben Spratling | City Of Norwich AC | Senior | M | 55:21.8 |
| 7 | 142 | Mark Anderson | Totley AC | V40 | M | 55:48.5 |
| 8 | 93 | Jack Foxall | Dark Peak | V40 | M | 55:53.9 |
| 9 | 203 | Robert White | Buxton AC | V40 | M | 56:19.9 |
| 10 | 138 | Malcolm Johnson | Stockport Harriers | V40 | M | 56:21.6 |
| 11 | 289 | Thomas Beaumont | Totley AC | V40 | M | 56:38.8 |
| 12 | 121 | Joseph Wade | Dark Peak | Senior | M | 57:27.3 |
| 13 | 145 | Mark Chaney Baxter | City Of Norwich AC | Senior | M | 57:33.4 |
| 14 | 157 | Megan Wilson | Dark Peak | Senior | F | 58:11.5 |
| 15 | 272 | Jordan Street | Clowne Road Runners | Senior | M | 58:19.0 |
| 16 | 163 | Mike Nolan | Dark Peak | V50 | M | 58:38.7 |
| 17 | 300 | Joel Siddall | North Derbyshire RC | Senior | M | 58:44.7 |
| 18 | 34 | Caroline Lambert | Ribble Valley Harriers | Senior | F | 58:49.2 |
| 19 | 136 | Louis Wood | Steel City Striders RC | V40 | M | 59:13.9 |
| 20 | 47 | Daniel Wheat | Southwell Running Club | Senior | M | 59:25.5 |
| 21 | 144 | Mark Burley | Macclesfield Harriers | Senior | M | 59:51.8 |
| 22 | 185 | Philip Morris | Handsworth Roadhogs | Senior | M | 1:00:20.4 |
| 23 | 116 | Jose Dias | Danum Harriers | V40 | M | 1:00:23.4 |
| 24 | 25 | Ben Jones | Steel City Striders RC | Senior | M | 1:00:52.9 |
| 25 | 118 | Joseph Howard | Unattached | Senior | M | 1:01:26.2 |
| 26 | 29 | Caitlin Rice | Ribble Valley Harriers | Senior | F | 1:01:48.6 |
| 27 | 153 | Martin Hedge | SHHH | Senior | M | 1:02:02.2 |
| 28 | 283 | Ivo Gormley | Good Gym | Senior | M | 1:02:04.7 |
| 29 | 154 | Martin James | Doncaster AC | V40 | M | 1:02:08.7 |
| 30 | 297 | Simon Farrell | Unattached | Senior | M | 1:02:10.2 |
| 31 | 201 | Robert Bishop | Steel City Striders RC | Senior | M | 1:02:25.1 |
| 32 | 50 | David Hanks | Barnsley Harriers | V40 | M | 1:02:55.7 |
| 33 | 263 | Amber Philp | Cambridge and Colridge | Senior | F | 1:03:04.5 |
| 34 | 200 | Rob Pilling | Steel City Striders RC | V40 | M | 1:03:15.2 |
| 35 | 226 | Stephen Davison | Sheffield Running Club | Senior | M | 1:03:17.5 |
| 36 | 113 | Jonathan Sewell | Buxton AC | V40 | M | 1:03:22.1 |
| 37 | 169 | Nicola Squires | Ribble Valley Harriers | Senior | F | 1:03:24.2 |
| 38 | 291 | Matthew Jones | Ripley RC | V40 | M | 1:03:46.6 |
| 39 | 293 | Shaun Chambers | Daddies Escape | V50 | M | 1:03:59.9 |
| 40 | 197 | Rob Betts | Steel City Striders RC | V50 | M | 1:04:02.4 |
| 41 | 92 | Ian Bradbury | Unattached | V40 | M | 1:04:08.5 |
| 42 | 74 | George Mitchell | Unattached | Senior | M | 1:04:21.7 |
| 43 | 120 | Joseph Mallinshaw | Steel City Striders RC | Senior | M | 1:04:22.3 |
| 44 | 301 | Nick Bimacomse | Totley AC | Senior | M | 1:04:24.7 |
| 45 | 240 | Tony Hall | Dark Peak | V50 | M | 1:04:43.8 |
| 46 | 284 | Ian Drysdale | Unattached | Senior | M | 1:05:10.2 |
| 47 | 298 | Tim Slack | Dark Peak | Senior | M | 1:05:19.9 |
| 48 | 223 | Sian Evans | Steel City Striders RC | Senior | F | 1:05:22.5 |
| 49 | 280 | Daniel Stanley | Unattached | Senior | M | 1:05:28.5 |
| 50 | 152 | Martin Dearden | Staffordshire Moorland | V40 | M | 1:05:39.7 |
| 51 | 45 | Clare Oliffe | Dark Peak | Senior | F | 1:05:45.7 |
| 52 | 238 | Tom Topham | North Derbyshire RC | Senior | M | 1:06:09.7 |
| 53 | 275 | Megan King | Goyt Valley Striders | Senior | F | 1:06:16.0 |
| 54 | 188 | Rachel Burton | North Derbyshire RC | V40 | F | 1:06:22.5 |
| 55 | 245 | Ian Drage | Stilton Striders | V40 | M | 1:06:24.1 |
| 56 | 235 | Tom Jolley | Unattached | Senior | M | 1:06:43.9 |
| 57 | 296 | David James | Unattached | V40 | M | 1:07:06.4 |
| 58 | 179 | Paul Stuart | Steel City Striders RC | V50 | M | 1:07:14.0 |
| 59 | 2 | Adrian Fisher | Steel City Striders RC | V40 | M | 1:07:17.4 |
| 60 | 48 | Darren Barnett | Steel City Striders RC | V40 | M | 1:07:19.1 |
| 61 | 198 | Rob Dawson | Steel City Striders RC | V40 | M | 1:07:21.4 |
| 62 | 22 | Ben Allen | Handsworth Roadhogs | V40 | M | 1:07:34.4 |
| 63 | 286 | Peter Durkin | Unattached | V40 | M | 1:07:38.3 |
| 64 | 224 | Simon Conroy | Dark Peak | V40 | M | 1:07:53.6 |
| 65 | 20 | Aron Spall | North Derbyshire RC | V40 | M | 1:08:00.3 |
| 66 | 140 | Marcus DEARNS | Steel City Striders RC | Senior | M | 1:08:03.8 |
| 67 | 18 | Andy Sheppard | Steel City Striders RC | V40 | M | 1:08:06.0 |
| 68 | 75 | Gillian Allen | Steel City Striders RC | Senior | F | 1:08:08.9 |
| 69 | 227 | Stephen Kenworthy | Dark Peak | V50 | M | 1:08:19.4 |
| 70 | 117 | Joseph Delahunty | Dark Peak | Senior | M | 1:08:28.5 |
| 71 | 254 | Andrew Reid | Porter Valley Plodders | Senior | M | 1:08:30.6 |
| 72 | 251 | Andrew Shelbourne | Holmfirth Harriers | V50 | M | 1:08:32.4 |
| 73 | 3 | Adrian Gough | Barnsley Athletic Club | V40 | M | 1:08:35.2 |
| 74 | 30 | Callum Critchlow | Unattached | Senior | M | 1:08:36.1 |
| 75 | 192 | Richard Bouglas | Buxton AC | Senior | M | 1:08:39.1 |
| 76 | 265 | Bob Foreman | Matlock Athletic Club | V60 | M | 1:08:42.0 |
| 77 | 95 | James Boardwell | Dark Peak | V40 | M | 1:08:46.9 |
| 78 | 114 | Jonathan Shaw | Steel City Striders RC | Senior | M | 1:08:51.2 |
| 79 | 67 | Frances Roberts | Steel City Striders RC | Senior | F | 1:08:51.9 |
| 80 | 79 | Hannah Walker | Unattached | Senior | F | 1:08:52.8 |
| 81 | 110 | Jonathan Hallam | Unattached | V40 | M | 1:08:58.1 |
| 82 | 21 | Ashley Flint | Belper Harriers | Senior | M | 1:09:03.8 |
| 83 | 128 | Keith Sambrooks | Totley AC | Senior | M | 1:09:14.5 |
| 84 | 295 | John Thompson | Fat Boys RC | V40 | M | 1:09:21.2 |
| 85 | 250 | Tim Sterland | Unattached | Senior | M | 1:09:23.6 |
| 86 | 69 | Garry Elkington | North Derbyshire RC | V50 | M | 1:09:31.3 |
| 87 | 84 | Haydn Williams | Bowline Climbing Club | Senior | M | 1:09:36.2 |
| 88 | 233 | Tania Pendreich | Unattached | Senior | F | 1:09:38.4 |
| 89 | 103 | John Hampton | Unattached | V40 | M | 1:09:47.2 |
| 90 | 16 | Andy Paisley | Belper Harriers | V40 | M | 1:10:06.8 |
| 91 | 294 | Andy Hartley | Fat Boys RC | V60 | M | 1:10:15.6 |
| 92 | 71 | Gemma Cox | Unattached | Senior | F | 1:10:23.1 |
| 93 | 264 | Matthew Womersley | Penistone  AC | Senior | M | 1:10:25.3 |
| 94 | 52 | David Veryard | Bakewell | V50 | M | 1:10:29.7 |
| 95 | 207 | Ruth E Keeley | Belper Harriers | Senior | F | 1:10:38.9 |
| 96 | 225 | Simon Rayner | Danum Harriers | V50 | M | 1:10:40.3 |
| 97 | 229 | Steve Larkin | Unattached | V40 | M | 1:10:43.1 |
| 98 | 273 | Gordon Hale | Unattached | Senior | M | 1:10:49.8 |
| 99 | 211 | Samantha Willis | Buxton AC | V40 | F | 1:11:03.2 |
| 100 | 190 | Rebecca Lineker | Ripley RC | Senior | F | 1:12:33.1 |
| 101 | 221 | Shane James | North Derbyshire RC | V40 | M | 1:12:35.8 |
| 102 | 96 | James Hogg | Steel City Striders RC | Senior | M | 1:12:38.1 |
| 103 | 261 | Vicky Bridges | Strideout | Senior | F | 1:12:51.9 |
| 104 | 260 | Mike Annett | Dark Peak | V50 | M | 1:13:07.7 |
| 105 | 122 | Julia Nolan | Dark Peak | V50 | F | 1:13:12.1 |
| 106 | 232 | Tammy Hague | Rotherham Harriers | Senior | F | 1:13:37.5 |
| 107 | 194 | Richard Hind | Clowne Road Runners | V50 | M | 1:14:21.0 |
| 108 | 104 | John Houghton | Steel City Striders RC | V50 | M | 1:14:32.5 |
| 109 | 271 | Cathy Ayton | Ilkestone | Senior | F | 1:14:36.0 |
| 110 | 12 | Andrew Lock | Steel City Striders RC | V40 | M | 1:14:40.3 |
| 111 | 126 | Katie Hateley | Steel City Striders RC | V40 | F | 1:14:42.9 |
| 112 | 57 | Derek Cave | Unattached | Senior | M | 1:15:06.0 |
| 113 | 173 | Paul Fryers | Penistone AC | V50 | M | 1:15:16.5 |
| 114 | 115 | Jonathan Williams | Unattached | V40 | M | 1:15:21.3 |
| 115 | 278 | James Ward | Rolls Royce Harriers | V50 | M | 1:15:28.6 |
| 116 | 56 | Debbie Hope | Buxton AC | V40 | F | 1:15:29.8 |
| 117 | 247 | Steve Wickham | Erewash Valley RC | V60 | M | 1:15:34.4 |
| 118 | 170 | Pat Goodall | Totley AC | V60 | F | 1:15:46.2 |
| 119 | 256 | Mel McCart | Unattached | V50 | M | 1:15:53.2 |
| 120 | 5 | Alex Fielden | Unattached | Senior | M | 1:15:54.7 |
| 121 | 73 | Gemma Wallace | Steel City Striders RC | Senior | F | 1:15:55.5 |
| 122 | 80 | Hannah Warrener | Unattached | Senior | F | 1:15:57.4 |
| 123 | 218 | Sarah Walch | Penistone  AC | Senior | F | 1:15:58.9 |
| 124 | 281 | Sally Hook | Unattached | V40 | F | 1:16:04.4 |
| 125 | 119 | Joseph Lee | Steel City Striders RC | Senior | M | 1:16:09.1 |
| 126 | 262 | Kent Martin | Unattached | V40 | M | 1:16:10.7 |
| 127 | 205 | Rose James | Doncaster AC | V40 | F | 1:16:13.0 |
| 128 | 230 | Stuart Reeves | Unattached | Senior | M | 1:16:15.6 |
| 129 | 54 | Dean Bradley | Kingstone Runners | V40 | M | 1:16:16.5 |
| 130 | 43 | Claire Haycock | Smiley Paces | V40 | F | 1:16:22.2 |
| 131 | 181 | Peter Bailey | Buxton AC | V50 | M | 1:16:29.9 |
| 132 | 148 | Mark Halsey | Buxton AC | V40 | M | 1:16:41.3 |
| 133 | 202 | Robert Scriven | North Derbyshire RC | V40 | M | 1:17:10.3 |
| 134 | 41 | Chris Walker | Steel City Striders RC | V40 | M | 1:17:12.1 |
| 135 | 107 | JOHN PIERREPONT | Unattached | Senior | M | 1:17:26.1 |
| 136 | 246 | Richard Rule | Springfield Striders | V50 | M | 1:17:49.3 |
| 137 | 210 | Sam Ainscough | Steel City Striders RC | Senior | M | 1:18:11.9 |
| 138 | 130 | Kieron Brice | Barnsley Harriers | V40 | M | 1:18:14.2 |
| 139 | 27 | Beth Cole | Smiley Paces | Senior | F | 1:18:20.2 |
| 140 | 288 | Simon Hitchinson | Unattached | V50 | M | 1:18:35.5 |
| 141 | 285 | Steven Battle | Clowne Road Runners | V50 | M | 1:18:41.5 |
| 142 | 274 | Andy Stubbs | Belper Harriers | Senior | M | 1:18:50.9 |
| 143 | 159 | MICHAEL RICHARDSON | Handsworth Roadhogs | V50 | M | 1:19:00.5 |
| 144 | 199 | Rob Moore | Dark Peak | V50 | M | 1:19:07.0 |
| 145 | 241 | Tony Rhodes | Derbyshire Dynamos | V40 | M | 1:19:14.7 |
| 146 | 268 | James Ellwood | Porter Valley Plodders | V40 | M | 1:19:26.4 |
| 147 | 243 | Tracy Hughes | Barnsley Harriers | V40 | F | 1:19:29.8 |
| 148 | 59 | Dot Kesterton | Steel City Striders RC | V60 | F | 1:19:42.3 |
| 149 | 17 | Andy Pembroke | Steel City Striders RC | Senior | M | 1:19:49.2 |
| 150 | 38 | Chris Harle | Unattached | V60 | M | 1:20:02.3 |
| 151 | 244 | Wei Chen | Steel City Striders RC | V40 | M | 1:20:12.4 |
| 152 | 220 | Sarah Witham | North Derbyshire RC | V40 | F | 1:20:38.9 |
| 153 | 171 | Paul Beckett | Dark Peak | V40 | M | 1:20:40.6 |
| 154 | 98 | James Rees | Steel City Striders RC | V40 | M | 1:20:45.6 |
| 155 | 44 | Claire Wolstenholme | Sheffield Running Club | Senior | F | 1:21:12.8 |
| 156 | 7 | Amy Baron-Hall | Unattached | V40 | F | 1:21:20.5 |
| 157 | 141 | Margaret Duncan | Sheffield Triathlon Club | V50 | F | 1:21:42.4 |
| 158 | 139 | Mandy Taylor | Steel City Striders RC | V50 | F | 1:21:49.9 |
| 159 | 106 | John Parry | Unattached | V50 | M | 1:21:52.7 |
| 160 | 88 | Helen K Wright | Penistone AC | Senior | F | 1:21:55.1 |
| 161 | 19 | Anne Hegarty | Totley AC | V50 | F | 1:22:21.8 |
| 162 | 63 | Ellen Wilson | Unattached | Senior | F | 1:22:27.2 |
| 163 | 42 | Claire Conway | Totley AC | Senior | F | 1:22:40.0 |
| 164 | 143 | Mark Ansell | Steel City Striders RC | Senior | M | 1:22:43.6 |
| 165 | 276 | Frances Norman | Steel City Striders RC | Senior | F | 1:23:00.0 |
| 166 | 177 | Paul Neal | Fylde Coast Runners | V50 | M | 1:23:02.8 |
| 167 | 11 | Andrew Glaves | Steel City Striders RC | V50 | M | 1:23:14.0 |
| 168 | 290 | Nick Whittingham | Penistone AC | V60 | M | 1:23:18.9 |
| 169 | 94 | Jacqui Herring | Steel City Striders RC | V40 | F | 1:23:29.1 |
| 170 | 255 | Darren Pallett | Unattached | V40 | M | 1:23:41.1 |
| 171 | 49 | David Arundale | Dark Peak | V60 | M | 1:23:52.6 |
| 172 | 258 | Michael Stubbs | Unattached | V40 | M | 1:23:58.5 |
| 173 | 299 | Gavin Elliott | Heanor RC | V40 | M | 1:24:02.7 |
| 174 | 193 | Richard Hickling | Belper Harriers | V50 | M | 1:24:08.9 |
| 175 | 237 | Tom Ren | Unattached | Senior | M | 1:24:17.5 |
| 176 | 186 | Philip Swirles | Steel City Striders RC | V40 | M | 1:24:33.5 |
| 177 | 174 | Paul Gray | Dark Peak | V50 | M | 1:24:53.0 |
| 178 | 37 | Chris Duro | Derwent Runners (Derby) | V50 | M | 1:24:54.1 |
| 179 | 166 | Nick Ham | Glossopdale Harriers | V50 | M | 1:25:00.4 |
| 180 | 13 | Andrew Walch | Penistone AC | V40 | M | 1:25:01.4 |
| 181 | 10 | Andrew Elliott | North Derbyshire RC | V50 | M | 1:25:23.7 |
| 182 | 87 | Helen Cameron | Sheffield Running Club | Senior | F | 1:25:26.8 |
| 183 | 287 | Bob Grocutt | Steel City Striders RC | V50 | M | 1:26:05.0 |
| 184 | 9 | Andrew Deery | Unattached | Senior | M | 1:26:13.0 |
| 185 | 231 | Sue Barker | Unattached | V50 | F | 1:26:20.3 |
| 186 | 108 | John Sylvester | Steel City Striders RC | V40 | M | 1:26:36.1 |
| 187 | 155 | Matt Gibson | Steel City Striders RC | V40 | M | 1:26:54.8 |
| 188 | 267 | Jayne Sales | Melbourne Forest Racers | Senior | F | 1:27:10.1 |
| 189 | 55 | Dean Harding | Steel City Striders RC | Senior | M | 1:27:10.7 |
| 190 | 269 | Bob Gardner | North Derbyshire RC | V60 | M | 1:27:24.0 |
| 191 | 195 | Richard Smith | Unattached | Senior | M | 1:27:47.3 |
| 192 | 292 | Alison Butlin | Ripley RC | V40 | F | 1:27:54.0 |
| 193 | 51 | David Parry | Steel City Striders RC | V60 | M | 1:28:00.3 |
| 194 | 124 | Katherine Sambrooks | Steel City Striders RC | Senior | F | 1:28:43.4 |
| 195 | 132 | Lee Mills | Steel City Striders RC | V40 | M | 1:28:59.4 |
| 196 | 85 | Heather Fryer Winder | Buxton AC | V50 | F | 1:30:09.7 |
| 197 | 109 | Jonathan Ayres | North Derbyshire RC | Senior | M | 1:30:47.6 |
| 198 | 127 | KEITH LINDLEY | Unattached | V60 | M | 1:31:40.5 |
| 199 | 131 | Laura Holdsworth | Unattached | Senior | F | 1:31:46.8 |
| 200 | 82 | Harriet Drouin | Penistone AC | Senior | F | 1:32:02.2 |
| 201 | 162 | Mike Arundale | Dark Peak | V60 | M | 1:32:28.5 |
| 202 | 259 | DebbieMcCart | Unattached | V50 | F | 1:33:12.5 |
| 203 | 253 | Nicola Saunders | North Derbyshire RC | V40 | F | 1:33:22.0 |
| 204 | 277 | Beth Elliott | North Derbyshire RC | Senior | F | 1:33:23.1 |
| 205 | 242 | Tracy Gregory | Buxton AC | V50 | F | 1:33:24.8 |
| 206 | 39 | Chris Hunt | North Derbyshire RC | Senior | M | 1:33:26.1 |
| 207 | 70 | Gary Bates | North Derbyshire RC | V40 | M | 1:33:29.4 |
| 208 | 266 | Geoff Andrew | Unattached | V60 | M | 1:33:36.2 |
| 209 | 208 | Sally Owen | Matlock Athletic Club | V50 | F | 1:33:37.5 |
| 210 | 100 | Jill Davies | Steel City Striders RC | V50 | F | 1:33:53.7 |
| 211 | 270 | Steve Monaghan | North Derbyshire RC | V50 | M | 1:34:16.9 |
| 212 | 209 | Sallyann Winslow | Steel City Striders RC | V40 | M | 1:34:27.4 |
| 213 | 133 | Les Thurston | Matlock Athletic Club | V60 | M | 1:35:14.2 |
| 214 | 165 | Nick Hails | Steel City Striders RC | V40 | M | 1:35:51.2 |
| 215 | 89 | Helen Smith | Ripley RC | Senior | F | 1:35:55.0 |
| 216 | 15 | Andy Horsfall | Handsworth Roadhogs | Senior | M | 1:36:47.4 |
| 217 | 90 | Helen Wright | Dark Peak | Senior | F | 1:37:13.2 |
| 218 | 191 | Rich Purdy | Danum Harriers | V40 | M | 1:38:45.9 |
| 219 | 134 | Lindsay Evans | Totley AC | V50 | F | 1:39:01.3 |
| 220 | 58 | Diane Clewes | Totley AC | V50 | F | 1:39:51.4 |
| 221 | 302 | Louise Richards | Unattached | Senior | F | 1:42:07.4 |
| 222 | 228 | Steve Dewick | Dark Peak | V50 | M | 1:47:22.3 |
| 223 | 248 | Caroline Wickham | Erewash Valley RC | V60 | F | 1:47:23.8 |
| 224 | 222 | Shane Porteous | Steel City Striders RC | V40 | M | 1:52:10.2 |
| 225 | 31 | Cara Hanson | Steel City Striders RC | Senior | F | 1:52:11.0 |
| 226 | 279 | Carl Mead | Stilton Striders | V50 | M | 1:52:13.6 |
| 227 | 206 | Rosie Smith | Steel City Striders RC | Senior | F | 1:52:15.6 |
| 228 | 4 | Alan Browne | North Derbyshire RC | V70 | M | 2:16:00.0 |
| – | 1 | Abbie Pearse | Steel City Striders RC | Senior | F | DNF |
| – | 112 | JONATHAN OGDEN | Mid Life Crisis Gladiators | V40 | M | DNF |
| – | 252 | Mark Law | Holmfirth Harriers | V50 | M | DNF |
| – | 282 | Dan Riley | Pennine Fell Runners | V40 | M | DNF |